Rhylee Gerber From 'Below Deck' Reveals She Was Not Tipped for the First Charter on Valor
Rhylee Gerber from Below Deck shared with Colin Macy-O'Toole during his Radio Check podcast that she was not given tip money after working half of a charter upon her arrival on Valor.
Gerber was seen arriving mid-charter and getting to work immediately. She was needed so quickly because lead deckhand Brian de Saint Pern was unable to work due to a knee infection.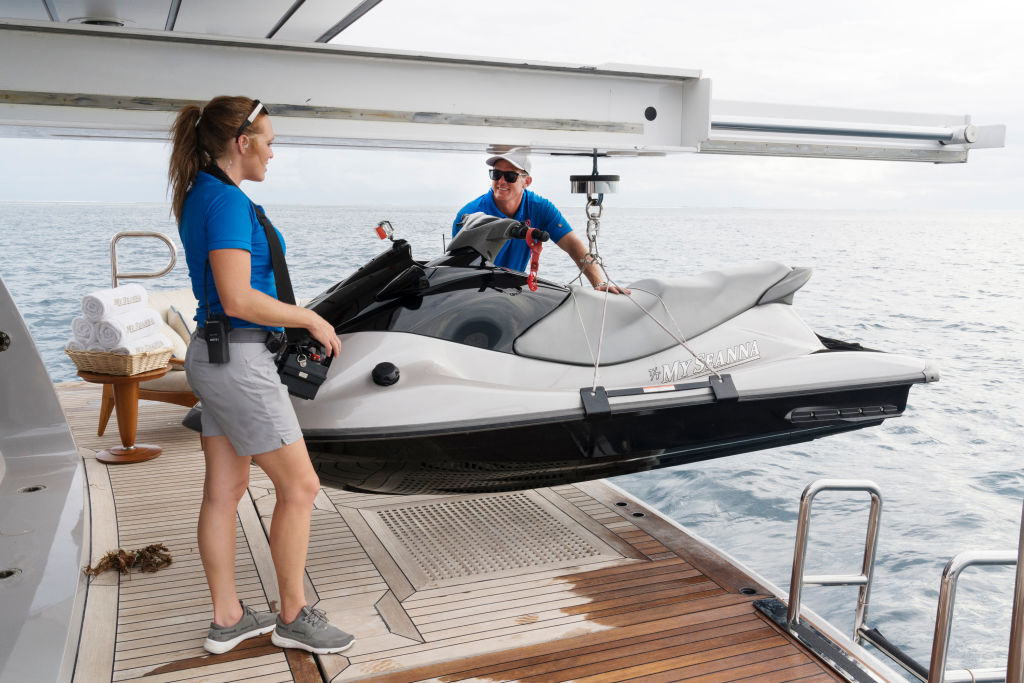 At the end of the charter, viewers saw the crew receiving their tip, but Gerber says she was not given any tip money for her work. She told Macy-O'Toole that although she was brought back on board, Captain Lee Rosbach told her upfront she wasn't going to recieve any tip money for that charter.
Don't plan to get a tip
Gerber recounts that deckhand Tanner Sterback was sick but still received his tip. "You can't help it if you get sick, you can't help it if there's an injury," she remarks. Gerber says usually when you don't work, you don't expect to recieve a tip. But, "Usually, when you are a good person, and when you see somebody working hard and busting their ass," the crew member typically receives some compensation.
She recalls that Sterback received his full tip after being out sick half of the charter. "Captain Lee, his words verbatim were, 'I wouldn't have it any other way.' Brian, we see is having a knee injury," she continues. "On this charter, he's down for half the trip."
Gerber recounts arriving on Valor around noon. "The minute I get on the boat, which they didn't show this, one of the first three sentences Captain Lee said to me was, 'Just so you know, you're not going to get a tip this charter because the guys have been doing all the heavy lifting.' So immediately, I was taken aback by that. But my reaction was, 'Ok, yes, sir.' Understood."
She feels like it is last season all over again
Even though she accepted that she wasn't going to recieve any tip money, she had a sinking feeling. "Inwardly knowing this is exactly what's happening now," she continues. "This is the tone, it's right in front of Ashton [Pienaar] he's saying this. Kate [Chastain] was there too. This is how it's going to be. My value on the boat is going to be devalued from the get-go," she says. "And it comes straight from the top."
Gerber hoped producers would have included the footage in the episode and was disappointed it wasn't shown. Especially when it came to the tip meeting and de Saint Pern receives his full tip. "People want to know why I have such disdain for these crew members I work with? And why there's a lack of respect on my part for them? It is directly, specifically, correlated to how I am treated on board." She adds if people wonder why she's so "mouthy" it is because "I am treated 100% differently than the guys on board for no good reason."
The tip was extremely weak to begin with, but Gerber clearly did the work. She shared that eventually, she told Chastain that she was upset that she was not compensated. "I did a day and a half of work, just like if Tanner or Brian were out sick," she says. "I was running full speed. And I was doing exactly what I was supposed to be doing. And my value on deck was not recognized in a monetary sense."
Later, she said Chastain may have mentioned something to Pienaar. A few days later, he offered Gerber $100 from each deckhand's tip share. She said, "Thank you for recognizing it was a sh**ty thing to not give me a tip. But, its also it's really still f***ing insulting to give me $100 of your share when I did half the f***ing work."