Rhylee Gerber from 'Below Deck' Shares Her Awe-Inspiring Road Trip to Alaska
When Rhylee Gerber from Below Deck decided it was time to head home to her beloved home state of Alaska, she decided to take in all the splendor and beauty only found during a road trip.
Gerber loaded up her truck and sweet pup Dolce for the road trip of a lifetime. She is generously posting photos to Instagram along the way, which are breathtaking and awe-inspiring.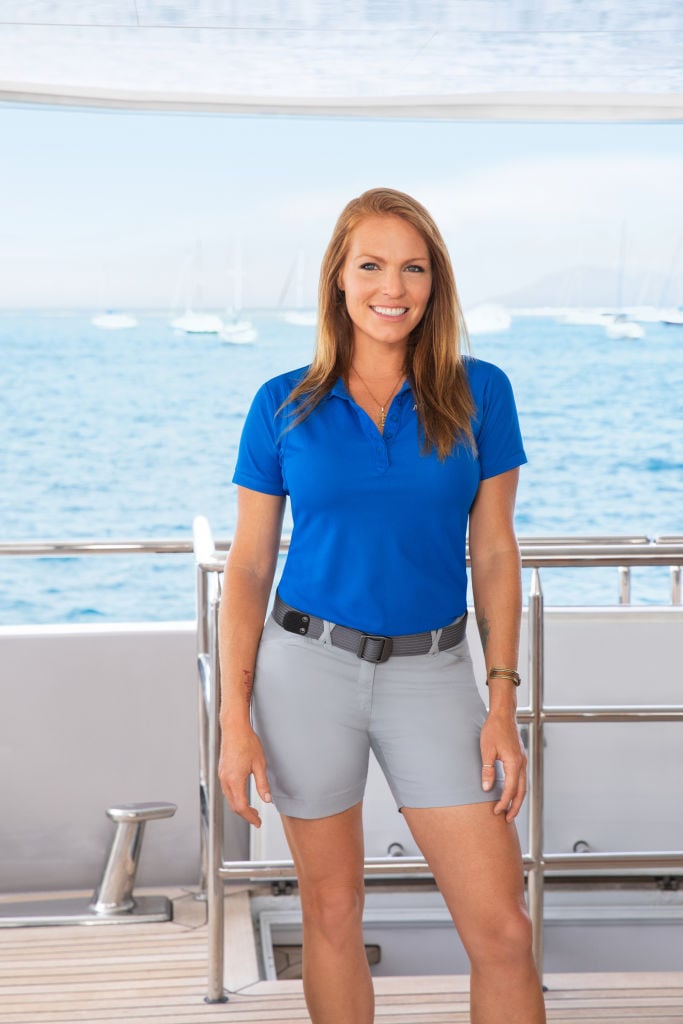 While her trip started as just a woman and her dog, she ended up picking up a friend to join her for the second leg. So what has she done so far and what has she seen?
She risked her life for these shots
When Gerber stopped in Badlands National Park she snapped some breathtaking images ripe for National Geographic. "Second time through #Badlands  this time almost killed trying to take a pic," she wrote.
Gerber shared a series of photos that included one with Dolce and several of her sitting in the middle of an empty highway. She hilariously added to another shot, "No redheads were run over in the shooting of this photo."
A few Below Deck and Below Deck Mediterranean friends commented. "2 posts in 1 day?" Colin Macy-O'Toole remarked. Tyler Rowland added a hands up emoji. Meanwhile, Bobby Giancola offered, "Have a very good friend in Bozeman if you need anything Rhylee."
Gerber got up close with the wildlife
She managed to nab a few shots of many of the creatures she and Dolce encountered. While driving through Yellowstone National Park she managed to snag a cool video of wild buffalos just sauntering down the street. "Wherever I go, I'm glad that I came," she wrote.
Instagram followers remarked at how wild it was to see the buffalos just walking down the street. "i love it and they don't even care abt the cars in their way!" Gerber replied.
Gerber also captured a natural hot springs in action too. Her followers were inspired and thrilled with the videos and images. "On my list to see for sure! Send snow please," one person wrote.
She also got a speeding ticket
Sometimes it's hard to avoid the many speed traps, especially when you are on a long road trip. Unfortunately, Gerber ended up getting pulled over by a cop. She posted what happened to her story.
"I just got a speeding ticket," she said nodding. "Because I went from a 70 mile an hour zone to a 40, to 30, real quick." She thought maybe she'd be able to get out of the ticket. "I'm nice, I'm polite," she remarked. "My sh*t is in order. And it's a backroad."
But she blames this for not being able to get out of her ticket. "You know what's really f**king hilarious? I have a pimple," she says pointing to a juicy pimple on her jawline. She says she tried to dry it out by applying toothpaste to it but then forgot to remove the toothpaste. And the cop got a nice shot of her toothpaste pimple, she said laughing.
The excitement continues
She eventually picked up an adorable male traveling companion as the trio camped and stopped at more nature sites. In one shot she's sitting bare by a lake where she bathed. "Won't do me no good washing in the river, can't no preacher man save my soul," she wrote.
Her car also encounters more wildlife along the ALCAN Highway. "Lions, tigers and bears..oh my!" she wrote as more buffalo are walking by her vehicle. She included videos of bears that seemed dangerously close.
Gerber's latest add is a photo in Carmacks, Yukon Territory. "Five Finger Rapids where Dolce conquered her #fitbit goal on the stair master," she wrote. "It was well worth it tho!" Sounds like our favorite Below Deck deckhand may almost be home.