Rihanna is Throwing Major Shade at Donald Trump in This New Instagram Photo
Rihanna told the world she was a "savage" in 2016, and she's been proving it ever since.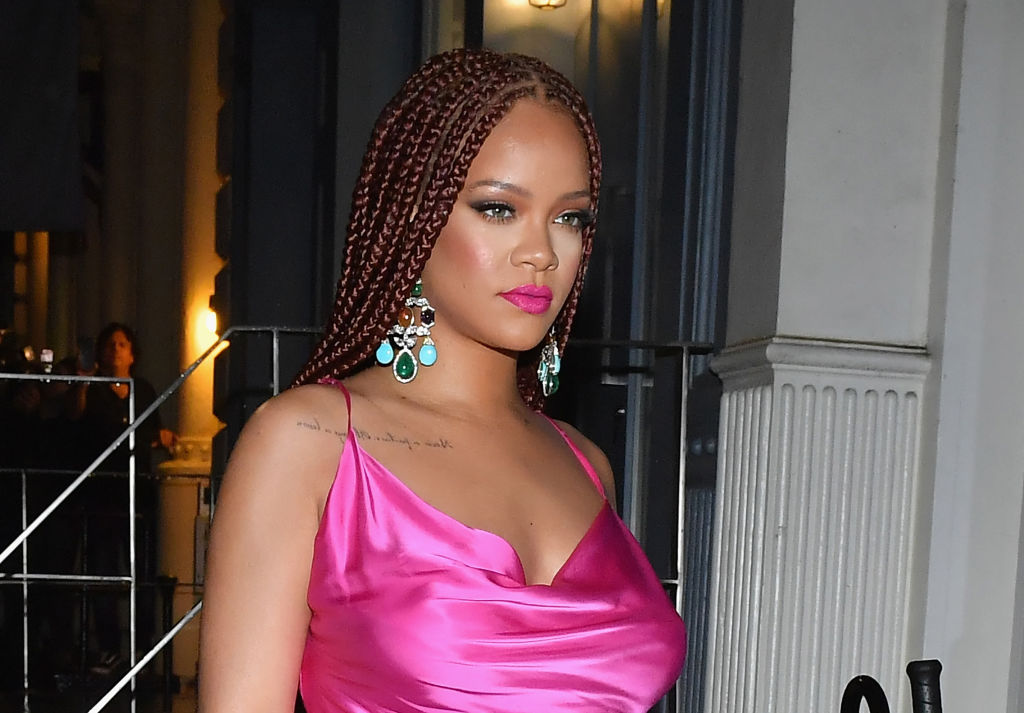 When she's not trolling fans who won't stop harassing her for new music (sorry, Rih Rih), she's making bold political statements in front of the world. Her latest one came on June 22, when she took to Instagram to call out President Donald Trump over his crackdown on immigration.
How did Rihanna shade Donald Trump?
As the president continues to crank out policies and proposals making it harder for immigrants to obtain U.S. citizenship, the Barbadian beauty took to Instagram on June 22 to post a photo of a gaggle of diverse women posing next to a shirt celebrating immigration. She captioned the post, "hey @realdonaldtrump" alongside a hand waving emoji.
It's not the first time Rihanna has snubbed Trump, either. After finding out the president was playing her song "Don't Stop the Music" at political rallies in 2018, Rihanna tweeted that she wouldn't let it go on for much longer.
"Me nor my people would ever be at or around one of those tragic rallies, so thanks for the heads up," she wrote on Twitter.
Shortly after, Rihanna reportedly sent Trump a cease-and-desist letter to stop using her music.
Is Rihanna an immigrant?
Yes. Rihanna was born in Barbados and moved to the United States as a teenager to pursue her music career. As of writing, she is not a U.S. citizen.
That doesn't keep her away from political activism, though. For example, Rihanna took it upon herself to make sure her fans knew how and where to vote ahead of the 2018 midterm elections. When a fan called her out over her citizenship status, Rihanna fired back, "I'm an immigrant tryna get yo country together. Did u vote?"
Rihanna uses her background for inspiration
In June 2019, she released the second collection for Fenty, in which she honors immigrants. The collection features a shirt that has the origin and definition of the word "immigrant" on it — which Rihanna told The Cut was a "favorite" of hers.
"For me, it's a prideful word," she said. "To know that you can come from humble beginnings and just take over whatever you want to, dominate at whatever you put your mind to. The world becomes your oyster, and there's no limit."
She continued, "Wherever I go, except for Barbados, I'm an immigrant. I think people forget that a lot of times. I think they see Rihanna the brand. But I think it's important for people to remember, if you love me, everyone out here is just like me. A million Rihannas out there, getting treated like dirt."
What has Donald Trump said about Rihanna?
Trump hasn't made any direct comments about Rihanna. But in June 2019, social media users noticed that Trump had liked a tweet containing an excerpt of an interview in which Rihanna discussed the importance of a work-life balance.
"You need to make time for yourself because your mental health depends on it," she said in part. "If you're not happy, you're not going to be happy even doing things that you love doing. It'd feel like a chore. I never want work to feel like a chore."
It appears that Trump has since un-liked the tweet.
But who knows. This latest drama could prompt him to respond to the "bad gal."