'Riverdale' Fans Think Charles Is Secretly Working With Edgar
The Season 3 finale of Riverdale left fans with a lot of information to process and some exciting new revelations to consider. Fans have been flocking to the internet to disclose what they think is going to happen in Season 4, and there are some very interesting theories out there.
With the shocking appearance of Charles, Betty's brother who is very much alive despite everyone thinking he was murdered by the imposter Chic, some fans believe Charles' homecoming isn't the happy reunion it seems. In fact, some even believe he may be in cahoots with one of the most evil characters in the entire show. 
Where Season 3 ends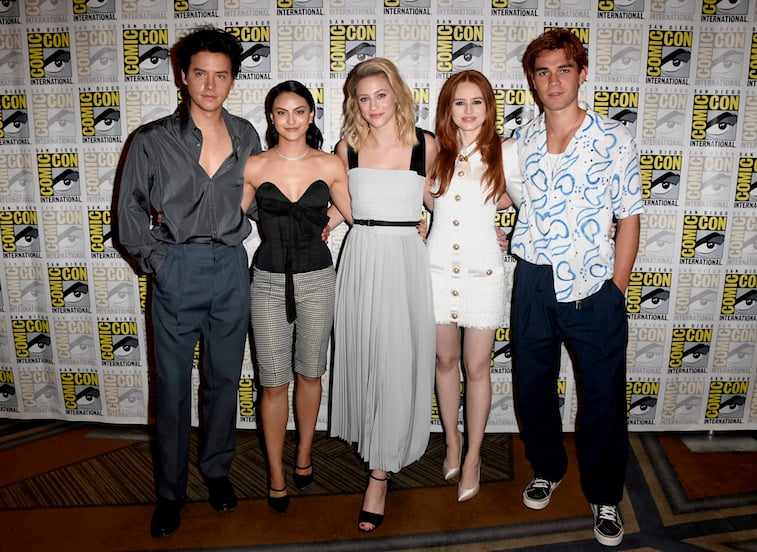 After freeing her friends and family from the Farm, Betty arrives home only to be greeted by Charles, her brother who was presumed dead, thought to be killed by Chic. However, Charles is alive and well, and eager to become a part of the family once more, though he'll first have to gain Betty's trust. An FBI agent is also present at the Cooper home, who explains to Betty that her mother Alice had been working undercover at the Farm in order to expose the organ harvesting program.
The episode closes with an ominous flash-forward, depicting Archie, Betty, and Veronica out in the middle of the woods, covered in blood, burning Jughead's beanie. Betty says they must part ways if they want to avoid being captured. The heart-stopping implication here is that Jughead has been killed by his best friends, and they're trying to get away with it.
So where does the newly introduced character of Charles fit into this complicated murderous web? Though some people think that Charles may be here to assist in tracking down Alice, other fans believe he is secretly working with Edgar, the criminal leader of the Farm, who was the mastermind behind the entire organ-harvesting scheme.
Why would Charles be working with Edgar?
In a post to the Riverdale community of Reddit, one fan wrote, "I don't trust Charles. I don't necessarily doubt that it's him but I think he might be working with the Farm."
The Redditor goes on to explain her theory in full. The night Chic "killed" Charles, Charles didn't actually die but was on the verge of death. However, he was close enough to death that Chic believed Charles was dead and left the scene to avoid being prosecuted. Edgar then stumbled across Charles' injured body and saved him. In return, Charles joined the Farm and joined forces with Edgar. 
This theory explains one puzzling moment earlier in Season 3, when Cheryl saw Jason at the Farm and Alice said that she saw her son, Charles. Perhaps Alice actually did see Charles, in the flesh, because he would have been staying at the Farm.
So why does Charles show up back at the Cooper home in Riverdale? Well, this particular fan believes that Edgar sent Charles there to regain Betty's trust and get himself in good standing with the Coopers. 
What can we expect from Season 4?
If this theory is true, we can only imagine what devastating and violent intentions Edgar might have and what he may be capable of making Charles do, especially considering that he is responsible for saving Charles' life. There are other storylines that have been introduced that may involve the evil duo, including one possibility that threatens the entire community of Riverdale.
In the Halloween episode of Riverdale, "Chapter Sixty-One: Halloween," Riverdale families received videotapes revealing that their houses had been under secret surveillance. Could Edgar also be behind the videotapes and surveillance?
If so, how is he going to use the videotapes? Will he blackmail residents of Riverdale or was sending the videotapes simply a show of power? 
Perhaps we wouldn't be so concerned about Edgar and Charles working together if we knew that the Fab 4 would also be working together to derail Edgar's plans. However, with the Season 3 finale flash-forward of Betty, Veronica, and Archie burying Jughead's beanie, there's a very real possibility that the four friends have finally reached their breaking point, perhaps even leading to the death of one of the show's most beloved and central characters, Jughead.
We've got our fingers crossed that this is just another stunt being pulled by the Riverdale writers and that Jughead will survive Season 4.