'Riverdale': How Fans Felt About Fred Andrews' Death and Luke Perry's Tribute Episode
Here's how 'Riverdale' fans reacted to Fred Andrews' death and Luke Perry's tribute when the episode premiered on Oct. 9.
On March 4, 2019, the Riverdale family lost Luke Perry, who played Fred Andrews, to a stroke. Still in the midst of its third season, series creator Roberto Aguirre-Sacasa promised The CW series would address Perry's tragic death with a tribute episode in the fourth season. Then on Oct. 9, the teen drama made its season 4 debut, titled "In Memoriam," to honor the beloved actor.
The beautifully done tribute included scenes to highlight Fred as a character and Perry as an actor. In the episode, almost every Riverdale character was briefly featured, affected by Fred's death in some way. A special cameo by Perry's friend and former Beverly Hills, 90210 co-star, Shannen Doherty, was also made to show Fred died a hero. It's clear "In Memoriam" was the perfect way for the cast — and viewers — to say their final goodbyes. And of course, the episode left fans in tears.
How fans reacted to Fred Andrews' death on 'Riverdale'
For the most part, most viewers paid their respects to the beloved actor and character after the Riverdale Season 4 premiere aired on The CW.
"Rest in Peace 'Fred Andrews' Rest in Peace Luke Perry," a Riverdale fan wrote on Twitter.
"I don't think i've ever cried so hard over a Characters death," another viewer tweeted. "My Emotions are going down..RIP Luke Perry, you'll be in our memories forever."
Fans also applauded the Riverdale team for how they handled the tribute episode.
"It was a very moving tribute to both the character of Fred and the actor Luke Perry," a fan shared on Reddit. "Like you could really tell that when they spoke highly of Fred and the things he's done how they just really respected and loved Luke. All of the performances were fantastic, the whole going to retrieve the body and confrontation with the driver and his dad storyline was great."
"The episode was very different from recent [Riverdale] episodes and it was beautiful," another Reddit user wrote. "Beautiful cinematography and the acting was great! Luke's death was handled in a respectful way and he stayed in focus."
What the 'Riverdale' cast thinks of the Luke Perry tribute episode
Although fans said goodbye to Fred on Riverdale, the cast had to deal with their grief while filming the tribute. When speaking with the New York Post, Molly Ringwald, who plays Mary Andrews, shared her thoughts on making the episode.
"I pretty much cried from beginning to end," Ringwald said. "It was like saying goodbye to [Perry] and dealing with the sadness of that."
Skeet Ulrich, who plays FP Jones, also explained what it was like from his perspective. "[It was] literally almost impossible to utter lines," the actor revealed. "The emotion you try to bury from the four months prior to [Perry's death] happening until we're asked to re-examine it in the episode … it's one of the hardest experiences I'd had [to do] on film."
Meanwhile, in an interview with People, Ulrich delved deeper into honoring the late actor. "It was very difficult for us all," he said. "It meant reliving something incredibly painful. We felt the need and the want [to pay him tribute], but I don't think any of us wanted to live in that again — [the first episode of the season was] a beautiful episode, but incredibly hard to perform."
How The CW series will be affected moving forward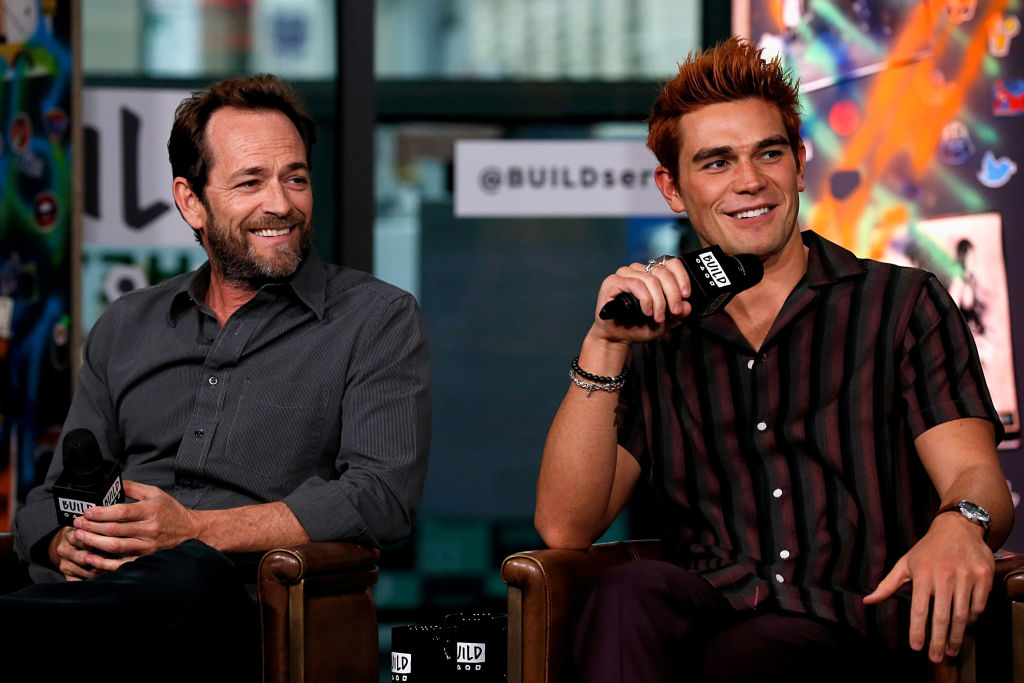 With Perry's tribute episode behind us, fans might be wondering how Riverdale will be affected without Fred. According to The Hollywood Reporter, Aguirre-Sacasa confirmed Fred's death will not lead to any major mysteries in season 4.
"Very early on, we landed on the idea that Fred should have a heroic death that would be impactful for Archie," the creator said. "We really said that this episode really isn't going to launch any huge stories for the season. It was really going to be focused on that."
Nevertheless, Fred's passing will still have a great impact on the show, particularly on Archie's (KJ Apa) arc. As Aguirre-Sacasa explained, Fred has always been the "moral center" and "one good parent" in Riverdale. And now, with Fred gone, Archie is pressured to "follow in Fred's footsteps."
"It did suggest a path for Archie, which is about growing up a little more quickly than he would have and giving senior year this almost melancholy feel," Aguirre-Sacasa said.
He also confirmed Archie will continue to deal with his father's death, even as wild storylines emerge throughout season 4. Aguirre-Sacasa told THR:
The truth is, something like [his father's death], Archie will be wrestling with it for the rest of his life, other characters less so. One of the things that's been interesting is, you know, when a tragedy like that happens, everyone grieves and then people move on at different points. But for the person who's at the core of it, they live with it every day. So we don't pretend it didn't happen. It's still very much permeating Archie's story. But we did want to start episode two on a little bit of a lighter note, and get back into the high school world.
Regardless of what happens as Riverdale Season 4 continues on The CW, fans witnessed a beautiful tribute for a truly beloved actor. May he never be forgotten.
Check out Showbiz Cheat Sheet on Facebook!