'Riverdale' Season 4 Mid-Season Finale Recap: Betty, What Did You Do?
No one is giving up their pursuits in the mid-season finale of Riverdale, and things quickly escalate between rivals—be they family members or random foes—that have been going at each other for the past few episodes. Here's a recap of who tried to one-up their adversary in "Tangerine," and who succeeded.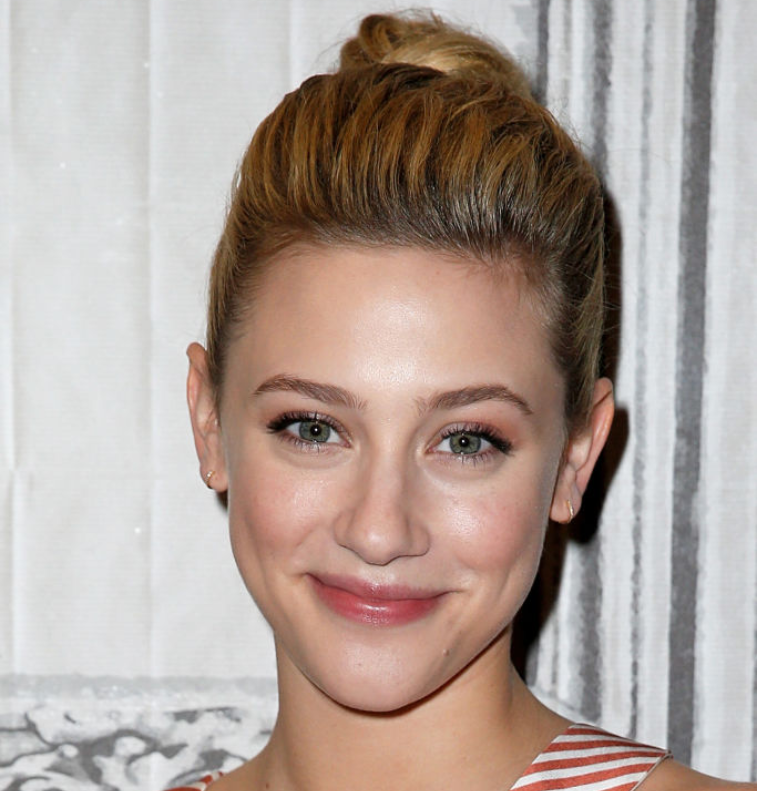 Let the games begin
Jughead is reading a Baxter Boys book aloud to his writing group with Dupont overseeing. He then surprisingly names Jughead the newest ghostwriter for the series, with a caveat. He has to "play by the rules." This prompts Jughead to leap into his investigation of Forsythe Pendleton Jones, Sr. again. He makes some calls for help.
Hiram is sabotaging Veronica's college admissions which she learns after reading a rejection letter from Dartmouth. She doesn't understand what happened but says she still has an interview with Columbia, but Hiram teases her by saying it's difficult to get in there and she could always start her rum empire from Riverdale Community College.
FP confronts Archie about being the vigilante, and he cops to it. He tells FP about the hotline and says he's tired about what's going on in town. FP tells him to focus on the kids and the center, and offers to help Red out with the crime-fighting.
The mayor's office suspends Pop's liquor license—which is really Hiram playing games with Veronica's speakeasy. Pop Tate makes a passing comment (no offense) saying her dad wasn't raised right, to which Veronica smiles and says, "Actually he was, and you just gave me and idea." Looks like Veronica is calling in reinforcements.
Betty is awakened by Alice and learns Polly attacked a nurse and "almost clawed her face off." The video appalls Betty, and Charles says Polly will only talk to her. Betty goes to the hospital and Polly says she doesn't remember mutilating the nurse—whose name happens to be Betty. She's chained to the bed and begs Betty to help her.
Veronica meets with her abuelita to ask about the rum business and the family recipe. But grandma wants to know about college and what's been going on. Veronica goes full tattletale.
Some efforts pay off
Jughead is still digging into the Baxter Boys history and finds a new lead on his grandfather's possible whereabouts.
Betty is sleuthing on behalf of Polly, and says Polly got a phone call right before she attacked the nurse. She tells Alice this, who stops to answer the phone. Alice hangs up, grabs a large butcher knife from the drawer, and walks toward Betty with it. She's hypnotized, and right before she has a chance to stab her daughter, Betty snaps her fingers.
Veronica's grandmother visits Hiram at the mayor's office and she smacks him in the face for his bad behavior. Veronica gloats about that and the fact she has the rum recipe. It's on now.
Archie's mom tells him his dad's former partner wants to buy out the business, but Archie's not interested. They're interrupted when he gets a call from one of the kids saying that some boys went after Dodger's people, the Dickinsons. The kids were beaten up.
Betty is working with Charles to piece together who's calling the shots with the hypnotic phone calls. Betty thinks it's Evelyn calling from prison, and she's right.
Jughead finds his grandfather living in a trailer in some remote area. He tells the man he's his grandson, and he reluctantly lets Jughead inside. Inside the trailer, Jughead's grandpa says whatever his father said is probably true, but Jughead wants to talk about the books first.
Flip to Cheryl and she is doing some weird ritual with Jason and Julian seated next to her, and she's filling Thistlehouse with toxic fumes. Little do we know she's trying to flush out her torturer, and wearing a gas mask, sees that it's her own mother, Penelope. Shocking but not.
Confrontations are everywhere
Archie goes to see FP about the boys, and FP is angry. He tells Archie if he helps him deal with the Dickinsons, he has to stop the vigilante business. FP changes into his Serpents attire and the two confront the bad guys, picking a fight.
Cheryl is picking a fight with her mom, who is tied up in constraints. She is putting her on trial like the "Red Queen" for murder and attempted murder.
Things switch and Archie and FP are celebrating their victory at Pop's place while eating pie.
Grandpa tells Jughead he quit Stonewall and all he had was that one Baxter Boys story, which he sold to Dupont for $5,000. He got bitter when he saw the franchise take off and make millions, leading him to drink. Jughead shares he thought Dupont was killing people to keep the secret under wraps, but now thinks he's wrong.
Betty goes to see Evelyn Evernever who admits she's triggering hypnosis by turning people into "Betty" to kill "Dark Betty." She coughs up the word "tangerine," which said three times, will activate the mental kill switch. She taunts Betty by repeating it until she hangs up the jail phone on the third go.
Back at the diner, FP and Archie get up to leave, but a masked man walks into the spot, aims a gun at them, and shoots. Archie pushes FP out the way but not before he's hit. He's wounded, but alive. At the hospital, Fangs shows up and confirms it was the Dickinsons getting back at them with one shot before leaving town. Archie is thirsty for revenge.
Betty tells Charles about the activation word, and they test it out. It doesn't work on her. Or so it seems.
Cheryl questions her mother about her cruelty. Penelope says she can't stand that Cheryl is happy with her dead son Jason. Cheryl declares her guilty and plans to ship her off, and calls for Toni to bring the chloroform.
At La Bonne Nuit, the Columbia University recruiter shows up thanks to Hiram's antics. Veronica is caught off guard that she's there, but keeps her composure.
Archie confronts Dodger and his mother Darla as they're packing up. The mom urges Dodger to shoot him, but he'd rather fight Archie in a bare-knuckle brawl. They go at it and the scene is interspersed with shots of Veronica performing at the speakeasy. Dodger pulls out a knife, but Archie starts getting the best of him. He almost pounds him to death when Darla screams, and he threatens to kill the whole family if they come back to town. Archie's center kids see him and call him out.
Hiram tells Veronica he owns the patent for the rum and threatens to sue her if she uses it. He then says good luck getting into Columbia as an underage party girl.
Betty is hallucinating about herself as a child when she killed the family cat, and the dream scenery shifts from daylight to nighttime.
Jughead visits his dad in the hospital and tells him about his grandfather living in an old bus in Seaside. He talks to FP about the Baxter books and the contract, and his grandpa's regrets about being a terrible father and husband. He asks if he can bring him to visit the hospital. FP agrees it's ok.              
Everyone seemingly makes peace
Cheryl has transported her mother to the bunker, which, as she points out, has running water and food. Penelope is angry and we think she'll find a way to escape at some point.
Betty talks to Charles about the trance she was in, and discusses killing her shadow self of "Dark Betty" before she was born. Charles repeats the trigger word and Betty is sent into a trance state. She walks outside her house where little Betty is kneeling over Caramel, picking up the rock. Betty takes the rock from her before she can kill the cat, and tells the girl to go play. She then snaps out of it, thinking it's over. Charles is optimistic.
Veronica meets with the Columbia recruiter who is still interested in hearing a good story.
Jughead goes back to the bus to get grandpa, but it's dark and he's gone.
Toni tells Cheryl it's now time to bury Jason, and she is finally ready.
Archie is home, bloodied and battered, and his mom walks in and sees him. He tells her he did it to himself, and he wanted to hurt Dodger and his family. He's trying to understand his anger, and he says he's never felt further from his dad. His mom tells him he's just hurting.
Jughead tells FP that grandpa is gone and he's signing the contract, and it's time to let go of the past. Back at Stonewall, someone slid a note under his room door urging him to go to specific location. There are torches and the writing cult appears, saying it's an initiation. Bret hands him a rock to crack open a fake skull. Inside, there's a tie pin for their secret society.
In one of the final scenes, Cheryl has called together her friends for Jason's sendoff at the river. There's a fire burning, and Jason's body is in a canoe. She sets his water-bound funeral pyre on fire and they cast him into the water.
In the end, Archie is eating alone at the center when a man enters the place. He's choked up and introduces himself as Fred's brother.
Betty can't sleep and looks into the mirror, and she repeats "tangerine." Alice hears the sound of glass breaking, and goes to check on Betty, who says she wanted to make sure the dark part of herself was gone. "It is." But the mirror is broken.
A quick flash forward shows it's nighttime, and Jughead's body is sprawled out on the ground in the woods. Archie is kneeling beside him and says, "He's dead. Betty, what did you do?!" We won't find out until Riverdale returns in 2020.