Will There Be a Season 5 of 'Riverdale'? The Cast Teases the Show's End
We're well into senior year on Riverdale Season 4. But, of course, fans of The CW series are freaking out about what's to come after graduation. The teen drama has already hinted Riverdale's key characters — including Archie (KJ Apa), Betty (Lili Reinhardt), Jughead (Cole Sprouse), and Veronica (Camila Mendes) — could go their separate ways for college, threatening the future of the show in the process. So will there be a season 5 of Riverdale and how long until the series ends? The cast recently opened up about their hopes moving forward. And quite frankly, their remarks will keep you calm until an official cancellation or renewal has been announced.
Has 'Riverdale' been renewed or canceled for season 5?
As of this write-up, The CW has yet to reveal whether Riverdale will be renewed or canceled for season 5. According to TV Series Finale, the fourth season is down in ratings in comparison to the third season. However, with the spinoff series, Katy Keene, about to premiere on Feb. 6, it seems unlikely Riverdale will end in the near future.
That said, it's possible The CW could deliver some news in early 2020. On Jan. 31, the network officially renewed 10 shows for the 2019-2020 season, according to Variety. Along with Riverdale Season 4, The CW gave the green light for other hit series — such as Charmed, Legacies, Arrow, The Flash, and Black Lightning — just to name a few.
"The early renewal of these signature CW series gives us a head start on laying out the 2019-2020 season, and this is just the beginning, " The CW President, Mark Pedowitz, said at the time. "These shows provide a strong foundation for our multiplatform programming strategy. And we look forward to building on this with even more returning and new shows as we approach the May upfront."
Regardless, the fate of Riverdale Season 5 is simply too early to tell at this point. And ultimately, fans will just have to wait and see what the network decides.
KJ Apa says how long 'Riverdale' will go on until it ends
When speaking with The Hollywood Reporter prior to the Riverdale Season 4 premiere, creator Roberto Aguirre-Sacasa hinted the new season will emphasize "this is the last year this group of friends, this group of people, might be together." But does this mean Riverdale will end once the main characters go their separate ways? Not necessarily.
On Dec. 11, Apa spoke with Entertainment Tonight, and the actor was asked how long he expects Riverdale to go on until it ends for good.
"As long as the fans keep watching," Apa said. The 22-year-old also pointed out that just because the characters are graduating, doesn't mean the show will end. As we have seen with the parents, the mysteries surrounding the small town are always popping up, looming over everyone.
"I mean, the show's not called Riverdale High. It's called Riverdale," Apa said. "So you never know what can happen afterwards."
He then joked, "Maybe Archie will get held back a year."
The cast predicts what will happen if 'Riverdale' Season 5 is renewed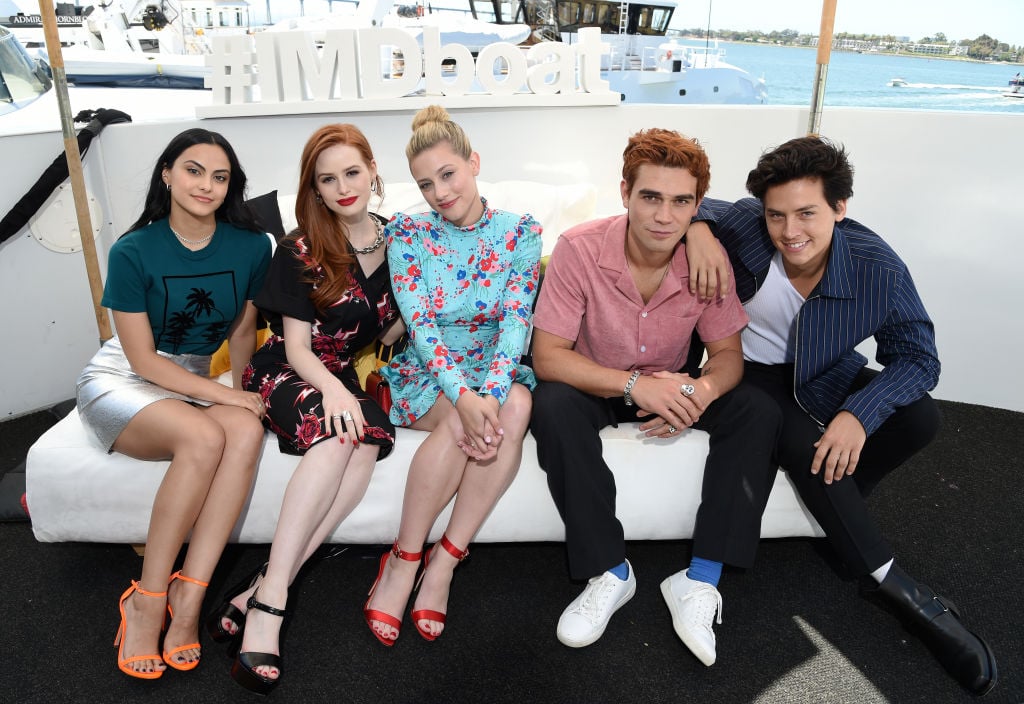 Meanwhile, in the same interview with Entertainment Tonight, Reinhart, Mendes, and Sprouse delved into what will happen if Riverdale Season 5 is given the green light.
"This is senior year. When season four wraps, I'm pretty sure the kids will have graduated, so as far as where it goes from here, I don't know," Reinhart said. "I think there's opportunities for the kids to leave Riverdale, but there's also opportunities for them to stay. And I think there's a lot of unfinished business for a lot of them."
Reinhart also wondered if some of the characters — like Veronica and Betty will stay in Riverdale for a bit longer.
"It seems like they might all feel the need to stay and take care of things with their families or their businesses," she said. "Obviously, Veronica has these 12 businesses she's running. I think Betty probably wants to stay close with her mom at least for a little while. They've got some stuff to figure out. I think they're all going to take a gap year and just chill for a minute."
Mendes then mentioned she doesn't "want the kids to be in high school forever." And it seems the actress wants to see what happens to everyone after graduation.
"I think Riverdale is very much a show about the cycle of life, and things growing up," Mendes said. "So I think it'd be really cool to see them go off to college and grow up and see what they make out of their lives. Maybe the show ends with someone having a kid. You know, who knows? I'm just pitching things."
Sprouse echoed his costars' excitement over the future of Riverdale, noting it'll be interesting to see where The CW series branches out to once the characters graduate.
"I think one of the initial questions for the abstract of the show was, 'Are we going to age over time?' And you know, naturally, as we grow older and we look older, we had to solve that problem, so it's nice that we're aging," Sprouse said. "And it also kinda frees up the universe a little bit inside Riverdale to play around with that concept. I'm excited to see where we all go."
Read more: When Will 'Rick and Morty' Season 4 Be on Hulu? Fans Are Dying to Know the Upcoming Release Date
Check out Showbiz Cheat Sheet on Facebook!