'Riverdale's' Camila Mendes Said Show's Wardrobe Fittings Motivated Her to Seek Therapy for Bulimia
Riverdale's Camila Mendes recently spoke at the PopSugar Play Ground Women's Festival in New York City. Mendes, who plays Veronica Lodge on the CW show, has been open in the past on her struggle with an eating disorder, and shared some of her personal experiences of dealing with body image at the event, according to Yahoo.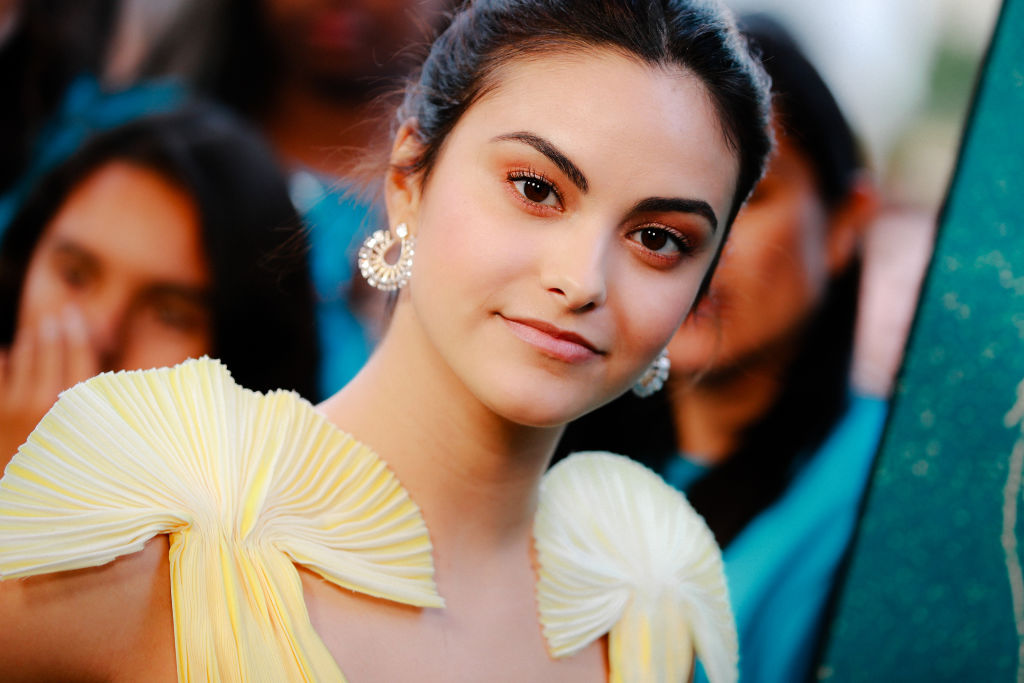 The clothes became a trigger
Mendes talked about how playing Veronica involves wearing very form-fitting, revealing outfits, which set off a lot of self-doubt for the actress. "It was like so the opposite of what I like to wear and it was really uncomfortable," Mendes said, according to the New York Post. "It made me really insecure, so it got to a point where I couldn't get through a fitting. Thirty minutes in, I was crying … I was like, 'Why don't things fit me a certain way?'"
The pressures of show business played a role in her eating disorder, which had started in high school and continued through college. "I don't even think I knew I had an eating disorder until I was in the industry," Mendes said at the event. "The pressure of playing a character like that definitely made me question myself." 
According to the Hollywood Reporter, Mendes began confiding in her colleagues, including a production assistant who helped her get into counseling. "That's when everything changed," she said. "I highly recommend seeing a therapist."
A family issue
Mendes had gotten used to minimizing her body issues, especially since they seemed small compared to her sister, who was already battling bulimia. "I had this mentality … [my sister's] situation was a lot more serious than mine, so I'd always find comparisons like, 'Oh, I'm not like that so I must not have an eating disorder like I just purge every once in a while, it's not a big deal, right?'" she said, as reported by the New York Post.
In an interview with Shape last December, Mendes talked about how she highly restricted every morsel of food she would allow herself to consume. "I had such an emotional relationship with food and anxiety about everything I put into my body. I was so scared of carbs that I wouldn't let myself eat bread or rice ever," Mendes told Shape. "I'd go a week without eating them, then I would binge on them, and that would make me want to purge. If I ate a sweet, I would be like, Oh my God, I'm not going to eat for five hours now. I was always punishing myself."
The Hollywood Reporter article noted that through therapy and help from a nutritionist, Mendes was able to have a healthier relationship with food and now collaborates with Project HEAL, a nonprofit organization that provides resources and funding to those seeking recovery from eating disorders. Mendes is hoping her partnership with the organization will help to raise awareness and bring clarity to an issue that is often misunderstood.
Taking a stand
Before the Shape interview, in February 2018, Mendes publicly stated on Instagram that she was #donewithdieting, asking her followers to join her in the quest toward health.
"My passion for education, cinema, music, etc. — all the interests that used to occupy my mind — had been eaten away by my desire to be thin, and it made me miserable," she wrote in the post. "I'm done believing in the idea that there's a thinner, happier version of me on the other side of all the tireless effort. I can say from experience that eating disorders are serious mental illnesses… A healthy body is the ideal body type, and that will look different for every person."
Mendes' quest toward health is sure to inspire others to pursue wellness over culture's idea of beauty.