Rob Kardashian Reveals the 1 Person Who Motivated Him to Lose Weight
Rob Kardashian's weight has fluctuated quite a bit since his family rose to fame on their popular reality television show. Kardashian used to star alongside his siblings on Keeping Up With the Kardashians, but he only appeared on the show during its first few years. Kardashian dealt with major weight gain, and he disappeared from the show and became somewhat of a recluse. But now, recent photos show that he has lost a significant amount of weight — and there is one person he credits.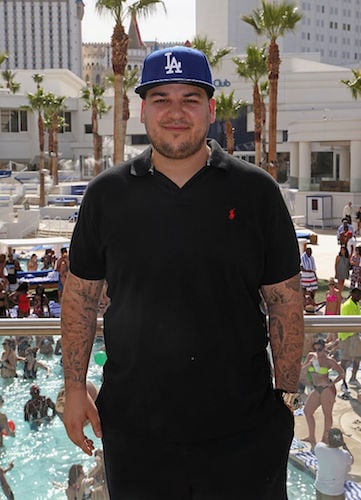 Kardashian used to be a regular on 'KUWTK'
When KUWTK first premiered, Kardashian's life was a focal point of the show because he was the only son. He was hardly old enough to drink when the family's life became one giant documentary in the form of a 30-minute reality television show on E!. As the only son, he instantly became a heartthrob, and alongside Kourtney Kardashian's then-boyfriend Scott Disick, he brought plenty of comedic relief. People loved Watching Kardashian and Disick's brotherly relationship unfold; the men are still close today, even though Kardashian doesn't appear on the show.
Kardashian battled with weight gain for several years
Kardashian only appeared on the family's show up until season 7; then, his screen time dwindled. He found himself in a tough spot and started to gain a lot of weight. He wasn't seeing the same success his sisters were, though he did manage to launch a sock line with the help of his mother, Kris Jenner. But the weight took a toll on him, and he retreated from the spotlight entirely. Though he still remained close with his family, tensions grew when he began dating Blac Chyna, the ex of Kylie Jenner's then-boyfriend, Tyga. However, his family always had his back, despite that he wasn't interested in being on the show.
A source reported that Khloé Kardashian inspired him to get in shape
Khloé Kardashian's show Revenge Body helps people become the best version of themselves after going through a difficult time. Khloé's divorce from Lamar Odom gave her a different outlook on life, and she started working hard to be in the best shape she could be in. Now, Kardashian has done the same, thanks to his sister. A source told E! News that Khloé helped her brother realize he needed to hit the gym, and she served as his main motivation. Kardashian recently posted a photo with his mother on Halloween, and people were shocked to see that he lost about 20 pounds.
A comeback to 'KUWTK' is up in the air
Though Kardashian appears to be in a much better place these days, a comeback to KUWTK remains to be seen. A life in reality television can be a lot to handle, and with things finally going well for Kardashian, he might not want to put himself right back into the spotlight. However, he could start coming around more and more during filming, though he'll likely still take time to work on himself for now.