Rob Kardashian Wants To Start Dating Again and is 'Hopeful' He'll Find Someone He Can 'Share His Life With'
Although Rob Kardashian has been out of the dating game for a while, he's ready to get back out there and start mingling.
The former reality star is looking to give love another try now that he's in the process of bettering his overall health. Instead of his personal struggles being his main focus, Kardashian is now ready to channel his energy into finding a potential love interest.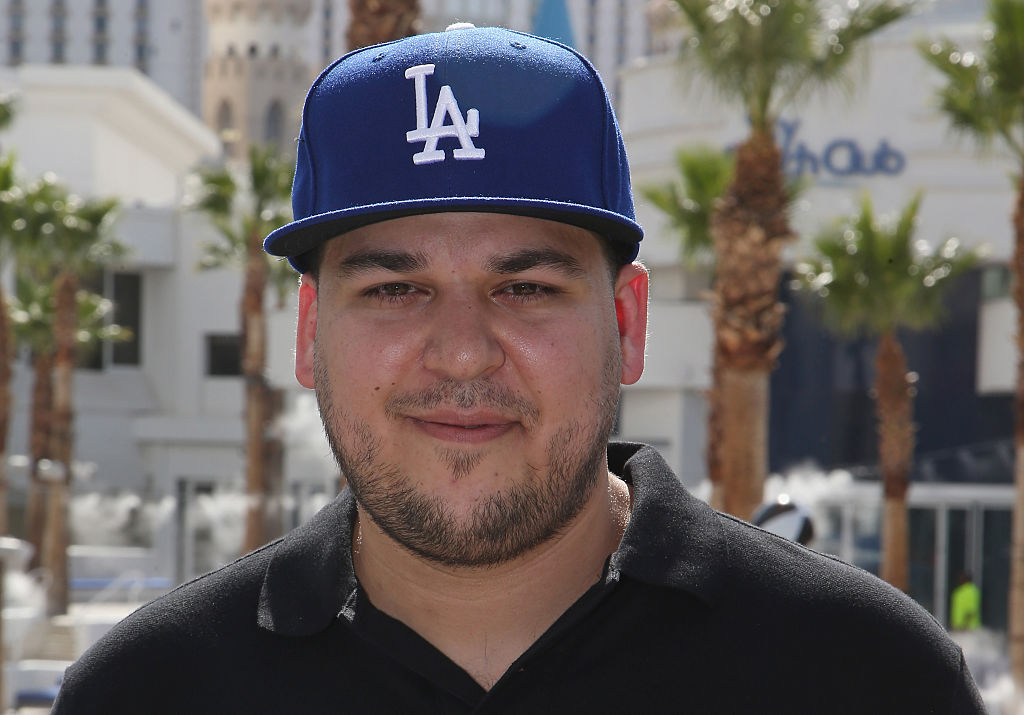 Who has Kardashian dated in the past?
In the past, Kardashian hasn't had the best of luck with women and has experienced many of his relationships coming to a sudden end.
Though his romances have come and gone, there were only a few relationships that Kardashian hoped would last longer than they actually did.
The first time many of us can recall seeing Kardashian in love was when he dated singer/actress Adrienne Bailon.
Longtime fans of Keeping Up With the Kardashians will remember that the pair started dating around the time the show premiere in 2007.
Their love story turned out to be one of the main focal points during the earlier seasons and many of us watched as this couple's relationship went from picture perfect to non-existent.
After just two years of dating, Kardashian and Bailon split in 2009 after he cheated on her— which the reality star admitted to on KUWTK.
After going their separate ways, the reality star did everything in his power to win his ex back. He even booked a flight out to NYC to confess his love to her.
Sadly, the former couple never rekindled their romance and decided to move on with their respective lives.
Seven years after ending things with Bailon, Kardashian began dating Blac Chyna in January 2016.
The couple revealed their romance on social media and many were initially shocked by this news seeing as though Chyna split from Kylie Jenner's then-boyfriend, Tyga, two years prior.
Four months after going Instagram official, Kardashian proposed to Chyna and many could see that he was serious about this relationship.
However, the couple's feelings for each other soon turned sour and many watched as their romance went from bad to worse.
In the months following the premiere of their spin-off series, Rob & Chyna, the pair were engulfed in a series of intense fights and ended up called off their engagement in December 2016.
Later that same month, the former couple welcomed their daughter, Dream, but didn't get back together.
He is ready to find his ideal match,
Following his rollercoaster relationship with Chyna, Kardashian decided to take a break from dating for while.
Instead of focusing on love, the former television personality put his energy into bettering his physical and mental health as well as being a hands-on father to Dream.
Now that he is in a much place than he was before, the 32-year-old is ready to find love again and knows exactly what he's looking for this time around.
"Rob is single but would like to date. He wants to find someone to spend time with and share his life with," a source recently revealed to E! News. "He doesn't want to be single and has tried to meet someone.. He's starting to feel better about himself and is feeling more hopeful."
The insider added, "He knows that he has made bad decisions in the past and wants to do things differently."
While Kardashian still considers himself single, he was recently spotted getting pretty cozy with Kylie Jenner BFF, Stassie Karanikolaou.
Earlier this month, Kardashian was seen with his arm around the model's waist as they walked to her car following Kendall Jenner's lavish 24th birthday bash.
Although it seemed as though a love connection was brewing between the pair, their flirty exchange was just a one time thing.
While he wants to start dating someone new, Kardashian is afraid to fall for the wrong girl and doesn't want to experience another failed relationship.
Luckily, the reality star's mother and sisters are helping him through this journey and will make sure he finds the right woman.
"He doesn't want to get swept up and fall hard for the wrong person," the source shared. "Kris gives her input and encourages him. She does not want another [Blac] Chyna drama, and feels like she needs to stay on top him."