Rob Lowe Gets Slammed For Harsh Comments About Prince William Letting Himself Go Bald
Actor Rob Lowe has come under fire for his comments made to a British publication about Prince William's hair loss.
Here's what the Parks and Recreation alum said and why some think he went way too far with his remarks. Plus, find out who else has been mocking the Duke of Cambridge for going bald.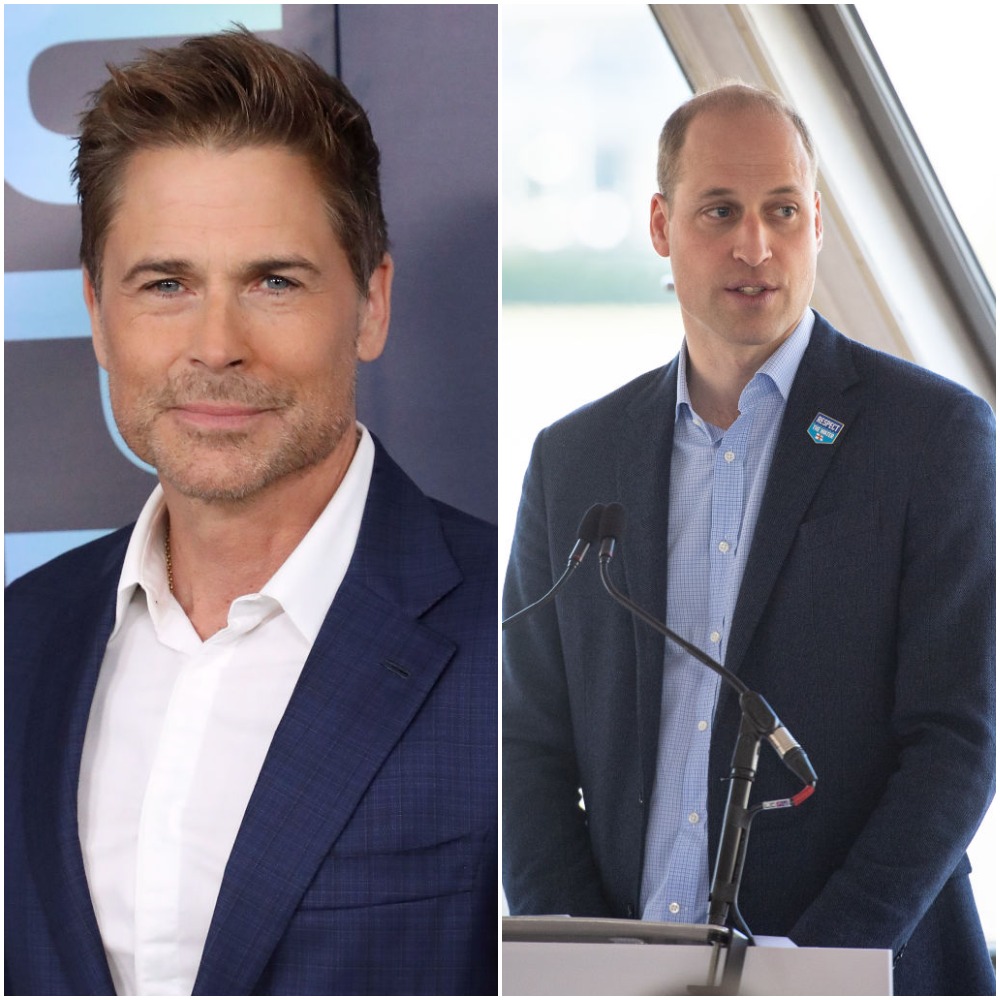 Lowe said Prince William's hair loss was 'traumatic'
During an interview with The Telegraph to promote his upcoming crime drama, Wild Bill, the star made fun of Prince William's hair loss but not too many people were laughing about it. In fact, some were applauded by what he said.
Lowe opined that British men are "low bar" and pointed to the prince's hair loss as an example.
"Can we talk about William? I mean the future king of your country let himself lose his own hair!" Lowe exclaimed. "So when I say British men set a very low bar … Honestly, one of the great traumatic experiences of my life was watching Prince William lose his hair. He's going to be the f**king king of England! And … and there's a pill!"
Lowe then talked about that happening to his own hair saying, "The first glimmer that a single hair of mine was going to fall out, I was having stuff mainlined into my f**king veins. And that's what I did for the next 30 years."
Social media users slam actor for comments
Lowe may have been joking but his comments drew a ton of ire via social media. After the article was published on May 28, royal fans weren't having it and took to Twitter to call out the St. Elmo's Fire star for insulting the future king.
"You must be joking! Why on earth would you mock anyone for their hair loss?!" one Twitter user wrote. "Not even Prince William. Anyone! Are you really that shallow?"
"Did you even stop to think how it would make William feel for you to draw attention to this???" another tweeted at the actor. "Are you NOT listening to William's mental health statements?"
"Not cool at all, Rob — insulting not only the Prince but all British men, over something as ridiculous as hair," a third user wrote.
And another added, "What if William had alopecia and you're making fun of him not having hair, smh."
This person teases William about going bald
There is another person who has been mocking the Duke of Cambridge for losing his hair but we know it's all in good fun when it's coming from his wife, Kate Middleton.
BBC Radio 1 star Clara Amfo met the royal couple last year. She revealed that William and Middleton love a good laugh and the duchess teases the prince about his hair.
"Kate had no qualms making fun of William's hair situation," Amfo told Hello!
She added that "Prince William is the most fun royal that I've met. He's got a lot of banter actually. He's a very funny guy. And the banter between him and Kate — his and Kate's energy is really funny. They vibe off each other very well. They were like a really loving, comedy act."
Read more: Kate Middleton Stopped Prince William From Doing This To His Body