Robert Downey Jr.'s Next Big Project Is Something Tony Stark Would Have Loved
The connection between Robert Downey, Jr. and technology is not a wide one and frequently considered more than a little meta if not comparisons to the fictional Tony Stark. Everybody couldn't believe the connection when the news hit this last summer Downey would team up with a tech company to design and use artificially intelligent robots to help clean our oceans.
All of the Stark metaphors commenced, making Downey look like a real superhero. Now his interest in AI is going to a new level by hosting a new series about it for YouTube. As an eight-part limited series, the show will look at all the latest advancements in the field of artificial intelligence.
No doubt Downey's role with the technology will also be addressed. However, will he also bring warnings about the potential dangers of AI becoming too intelligent?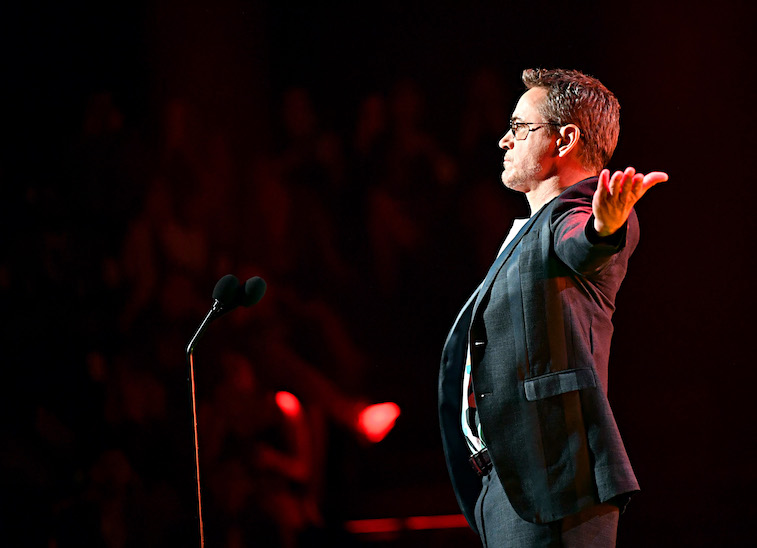 What's the name of the new Robert Downey, Jr. YouTube series?
It's called The Age of A.I. (debuting December 18), which might sound like a bland documentary title, yet the content looks to be more than a little revealing. Hearing the latest advancements about AI will likely shock viewers on just how advanced it's become, despite still having plenty more room to grow.
One thing the show will tell viewers is AI isn't at the level of an omniscient being yet like a real HAL 9000. Hopefully, Downey will touch on this and assure viewers those creating AI won't let it become too intelligent after warnings from movies for decades.
What the show will tell everyone is the positive things AI is doing to make the world run more efficiently, including helping us find answers to our biggest challenges. As seen in the trailer, Downey cryptically tells the viewer "We're at the dawn of a new age."
There's no arguing this based on things AI is being used on, ranging from understanding population growth to helping us find intelligent life in the universe. Of course, it's being used for a million practical things in what the world produces.
YouTube is lucky to have Downey aboard an educational show
Lending Robert Downey, Jr.'s name to this show obviously added a layer of luster it otherwise wouldn't have without his involvement. As a YouTube show, it might have gotten lost in the dust of streaming shows since a scientific documentary probably isn't the first search topic on any platform.
Some might lament this reality, but let's hope just as many people would have watched without Downey as host as much as they will with latter hosting. Maybe he wouldn't have done the show without having it mentioned he's working on an AI project himself. The promotional aspect might seem typical in landing an A-list name outside of Downey's own AI plan possibly saving Earth from further ecological disaster.
In addition to the above topics, there may also be a look at how AI factored into the storylines of the Avengers movies, particularly Tony Stark creating an AI version of himself (in the comic books).
Above topic is one many hope will happen later if the MCU brings Tony Stark/Iron Man back in some future form.
Is the documentary a subtle nod that an AI Tony Stark might happen?
Those who've read Marvel comic books for years will know the AI version of Tony Stark was created by Riri Williams, another protege of Stark's. She becomes Ironheart later and creates the AI Stark as a form of mentor to her.
Utilizing this into a future MCU movie or streaming series seems inevitable, depending on whether Downey will play the AI version of his character, or created purely by CGI.
Let's hope The Age of A.I. will include the possibilities of this and how it could be used in the real world. All reality of recreating departed people in an AI form is already being worked on. Soon, it may be possible to interact with those who've died thanks to an AI program mimicking human information left behind.