'Rocketman': What Elton John Songs Are in the New Movie?
First Queen's Freddie Mercury got the biopic treatment, and now Elton John, that other icon of '70s rock, is receiving his due on the silver screen.
Rocketman, which opens on May 31, stars Taron Egerton as the flamboyant singer. It chronicles his life from a childhood piano prodigy growing up in suburban England through his rise to fame, battle with drugs, and eventual recovery.

A showcase for Elton John's best songs

Rocketman might tell Sir Elton's life story, but this jukebox musical is also a showcase for his vast musical output, with the screenwriters using his songs to help move the film along. Egerton took on the task of singing all the songs in the movie (with soundtrack producer Giles Martin supervising production), thus providing his own interpretation to the hits fans know so well.

"It was so important that the music I composed and recorded had to be sung by Taron," John has said. "I wanted his interpretation of me, through Bernie's lyrics and my music — not just acting. I left Taron in the hands of Giles Martin, who I trusted implicitly because he's brilliant."

The movie features new versions of the following songs;

"The Bitch Is Back"
"I Want Love"
"Saturday Night's Alright (for Fighting)"
"Thank You for All Your Loving"
"Border Song"
"Your Song"
"Amoreena"
"Crocodile Rock"
"Tiny Dancer"
"Take Me to the Pilot"
"Hercules"
"Don't Go Breaking My Heart"
"Honky Cat"
"Pinball Wizard"
"Rocket Man"
"Bennie and the Jets"
"Don't Let the Sun Go Down"
"Sorry Seems to Be the Hardest Word"
"Goodbye Yellow Brick Road"
"I'm Still Standing"
The movie also features an entirely new song written by Elton John and Bernie Taupin and performed by John and Egerton: "(I'm Gonna) Love Me Again."

The songs that aren't in the movie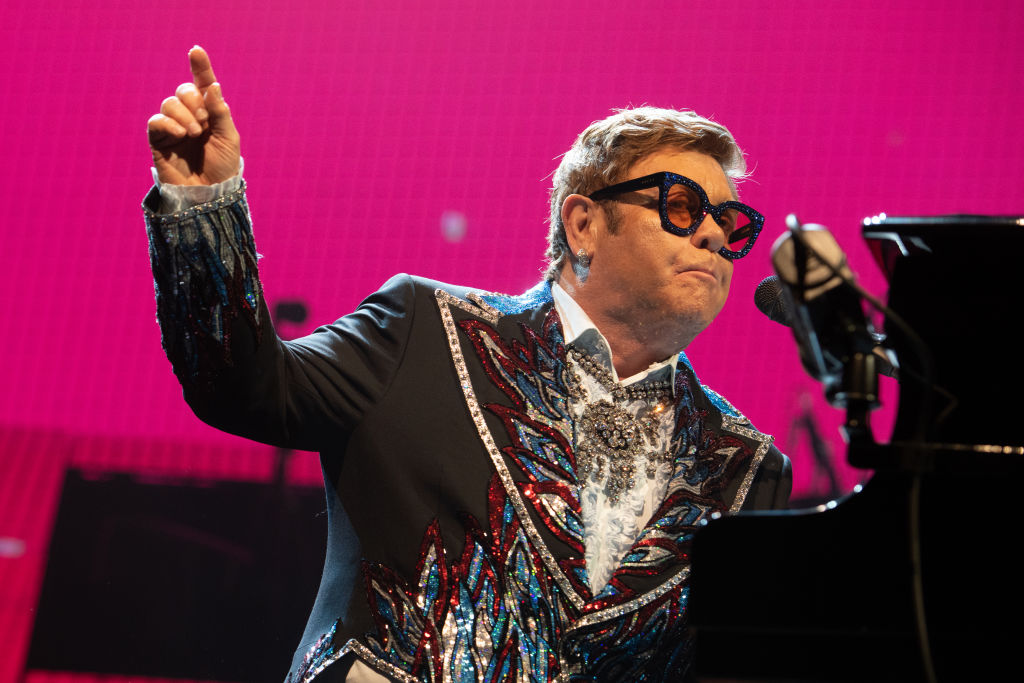 While we haven't seen the movie yet, a few of Elton John's most recognizable songs didn't make it onto the Rocketman soundtrack. That's not surprising, given the depth of his output over the past few decades. However, fans might miss hearing songs like "Daniel," "Levon," or "Sacrifice."

Also missing is "Candle in the Wind," originally written in honor of Marilyn Monroe and rewritten in 1997 to honor Princess Diana. Nor will fans hear his songs from the 1994 soundtrack to The Lion King, such as "Can You Feel the Love Tonight" and "Circle of Life."

What Egerton says about singing Elton John's songs

During a conversation on Beats 1, John and Egerton talked about what it was like to have the younger actor reinterpret some of the best-known songs in pop music history.

"It's not easy to sing Bernie and I's songs. And you've managed to do it with great aplomb. Do you find it difficult to sing them?" John asked his on-screen alter ego.

"I think it would have found it harder if it wasn't for the fact that you were so encouraging. I think that was a big part of what was an enabler and facilitated me to feel relaxed enough to do them in the way that we have," Egerton replied.
Check out The Cheat Sheet on Facebook!