'Rogue One' Reshoots: Why We Shouldn't Be Worried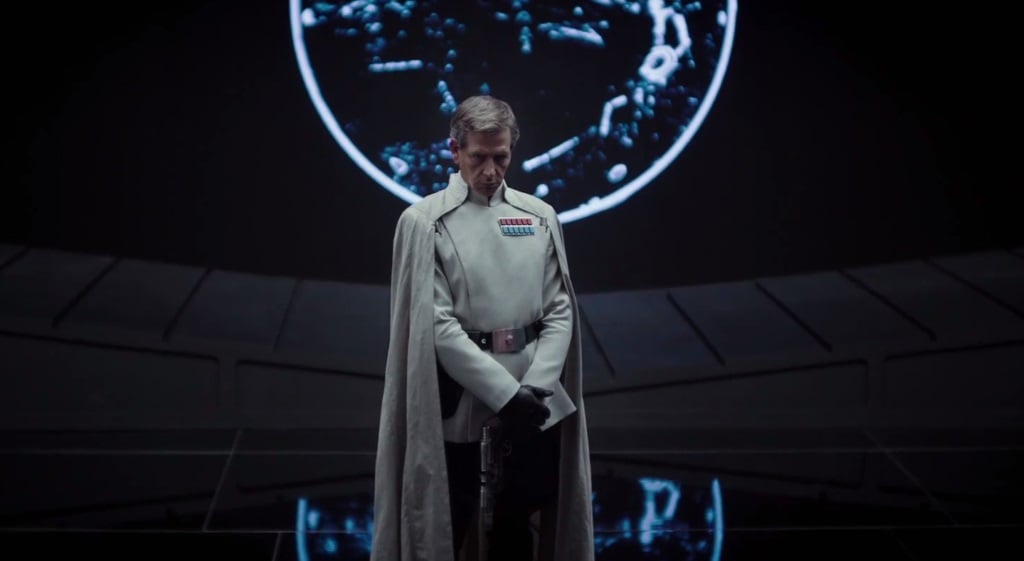 Compared to the in-your-face marketing barrage employed by Lucasfilm for Star Wars: The Force Awakens, things have been comparatively silent in the Rogue One department. We're just a few days away from the much-anticipated release for the first Anthology movie in the franchise, and all we've really gotten is a few trailers, a sizzle reel, and a leaked (and unfinished) visual guide. All told, it's been odd to see such a passive campaign for a franchise that's never been shy about making its presence felt. Now though, we know why Disney has been so reticent.
The reasoning behind the hesitant marketing for Rogue One can largely be attributed to rumors reported by Page Six, stating that "the execs at Disney are not happy with the movie." THR reports that the cast is getting called in for four weeks of reshoots as a result, in an effort to "to lighten the mood, bring some levity into the story and restore a sense of fun to the adventure." For a Star Wars fan, very little (if any) of this sounds good. A movie that was meant to launch a trilogy of spin-offs already seems to be off to a rough start, and all that's with a relatively green director in Gareth Edwards leading the project.
So everything is terrible, Rogue One is going to suck, and we should all just punt our hopes and dreams down the road until Episode VIII releases in 2017. End of article, let's pack up and go home…right? Well, not exactly. Now bear with us here, but this is actually good news for Rogue One, and here's why.
First off, it's worth pointing out that the reason behind the reshoots isn't "This movie sucks and we need to make it better." THR's source aptly pointed out that "this takes place just before A New Hope and leads up to the 10 minutes before that classic film begins. You have to match the tone!" Sans reshoots, "one source describes the cut as having the feel of a war movie," which isn't quite the vein of your classic Star Wars film. If anything, calling in reshoots to adjust the tone demonstrates an impressive level of self-awareness not shared by many other studios in Hollywood.
There's also a fair share of evidence to suggest that Disney and Lucasfilm's goal isn't simply to produce an adequate placeholder in their release schedule until the main trilogy picks up again. "Anything less than extraordinary won't do," a studio insider tells THR, showing a clear commitment to excellence, and an unwillingness to settle for a subpar Star Wars movie in any context.
The cherry on top of all this involves a rumored cameo from an iconic Star Wars character. As we know now, Lucasfilm only recently found their man in Alden Ehrenreich for 2018's Han Solo Anthology movie. That news came down right around the time Rogue One had already wrapped up principal photography, making it nigh impossible to include Ehrenreich without green-lighting rewrites.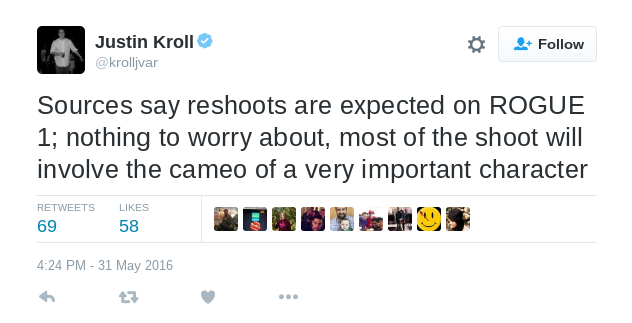 While this is far from confirmed publicly by Lucasfilm, there's talk that the young actor might be brought in on the planned reshoots for a brief appearance. Variety reporter Justin Kroll even goes so far as to estimate that "most of the shoot" will revolve around "the cameo of a very important character" (read: Han Solo). Whether Rogue One can make this happen without it feeling like a ham-handed 11th-hour insertion is another matter entirely, but it'd be exciting nonetheless to see what Ehrenreich can do as the famed smuggler.
There are still plenty of reasons to be concerned about Rogue One. Four weeks of reshoots for a film led by a director whose crowning achievement was a middling Godzilla reboot is enough to give pause to anyone. But given the commitment to excellence Disney has for Lucasfilm, we have no reason to belief they'll accept anything less than a stellar addition to the Star Wars franchise.
[Update, 12/6/16: Added director Gareth Edwards's recent comments about the 'Rogue One' reshoots.] 
Recent comments by director Gareth Edwards have also helped ease fan fears over the reshoots. "With a lot of films you go 'that's good,' and walk away," the director told Mashable. "But Star Wars has to be fantastic. So you shouldn't let go of the camera, or the edit suite, until they [pry] it out of your hands."
There's a lot riding on this project for Lucasfilm. A subpar movie casts a pall over their entire calendar of planned spin-offs. We know the studio has designs of keeping the Star Wars saga alive indefinitely, and much of that plan likely leans on films outside the main trilogies. Simply put, they can't afford to stumble right out of the gates with Rogue One. So yes, we're a tad apprehensive, but knowing the stakes gives us at least a shade of optimism in the face of this. It'll just be up to Disney to deliver on the potential of this project.
Follow Nick on Twitter @NickNorthwest
Check out Entertainment Cheat Sheet on Facebook!