15 Tom Hanks Roles That Made Him 1 of Hollywood's Top Actors
Tom Hanks is one of the most critically acclaimed actors in Hollywood — and for good reason. Throughout his impressive career, he's excelled in practically every genre, leading some of the most well-received movies in history. It's hard to narrow down his best projects, but the following portrayals are applauded by both critics and audiences.
Check out the actor's 15 best roles, ranked by memorability.
15. The Ladykillers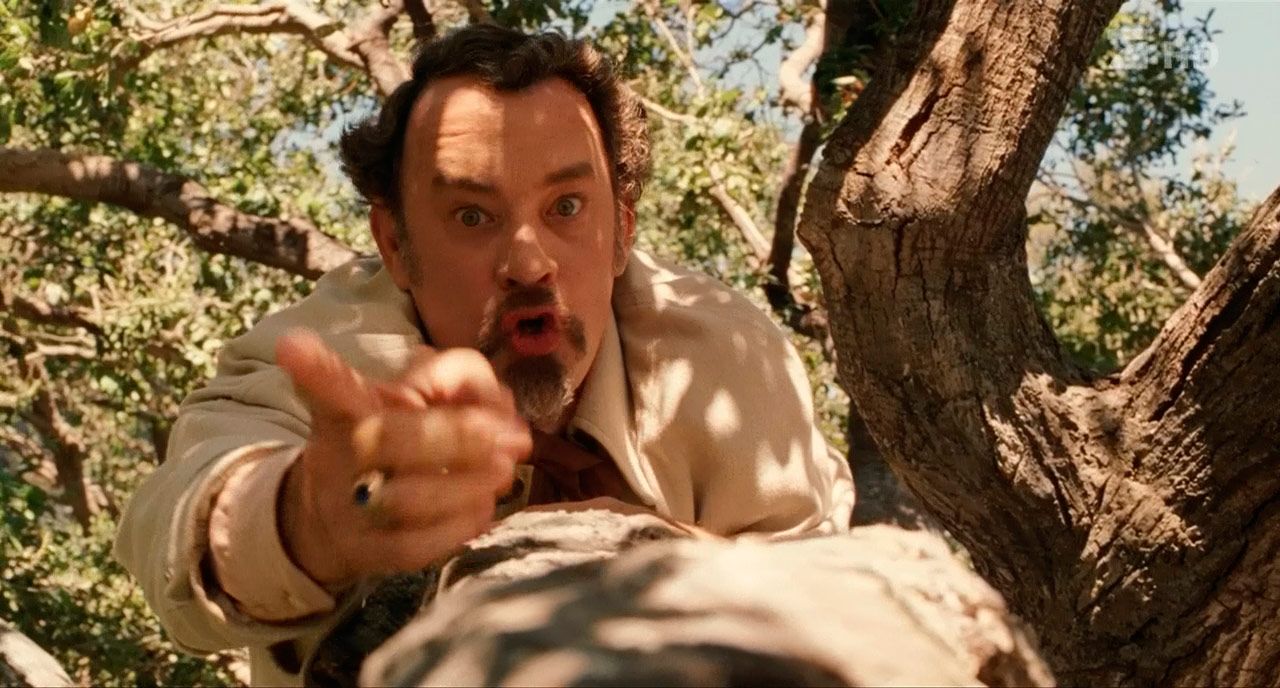 Fun fact: Hanks did not watch the original 1995 Ladykillers film because he did not want it to influence his performance in the remake.
Hanks delivers one of the strangest, most outlandish roles he's ever played in this 2004 comedy from the Coen brothers. Playing a thief and potential murderer, Hanks plays a more villainous role than usual, and he makes the most of it. As Entertainment Weekly put it, "[Hanks] lends the movie the full, devious force of his bristly spirit."
Though critics may not consider it among the Coens' best works, the movie marks one of Hanks' most inspired performances.
14. Sleepless in Seattle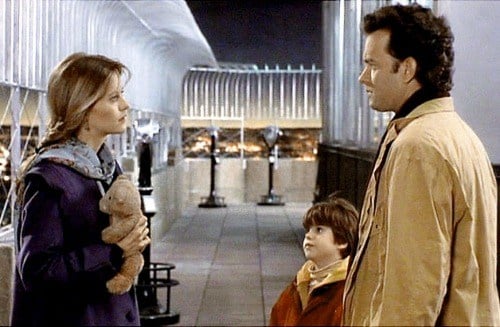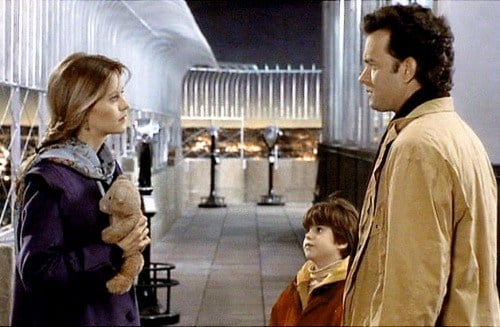 Fun fact: Hanks originally turned down the role because he didn't think he was the right fit. After the script was rewritten, he agreed to the role. Where would Sleepless in Seattle be without him?
Hanks delivered two of the most memorable romances of the '90s alongside Meg Ryan, with the one-two punch of 1997's Sleepless in Seattle and 1998's You've Got Mail. Both movies, directed by Nora Ephron, have their fair share of loyal fans, but Sleepless is arguably the more famous one, earning over $227.7 million worldwide.
It marked the duo's first reunion since 1990's Joe Versus the Tornado, reinforcing the magic of Hanks and Ryan on screen together — a combination that leads even unforgiving audience members to overlook the movie's schmaltzier moments.
13. A League of Their Own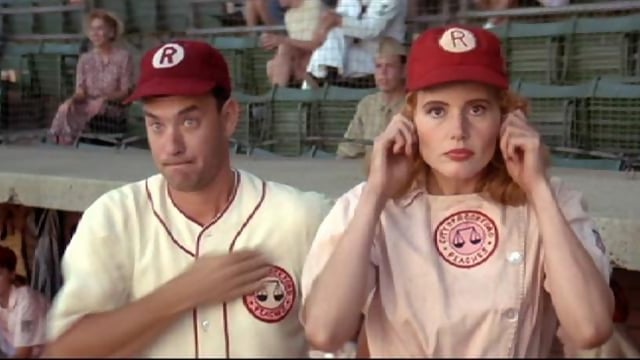 Fun fact: Cast members performed for the 1,700-plus extras during shoots. Hanks did puppet shows behind the dugout and Rosie O'Donnell did her stand-up comedy routine.
It isn't his most critically acclaimed role, but Hanks' performance in this classic baseball movie is one of his most memorable. The actor played exasperated Jimmy Dugan, the reluctant manager of the new All-American Girls Professional Baseball League. Eventually, he starts coming around to the females on the team.
The portrayal proves that before dominating drama, Hanks was — and remains — one of the most finely tuned comedic actors, making even the grouchiest character an ultimately likable, even affecting persona.
12. Toy Story series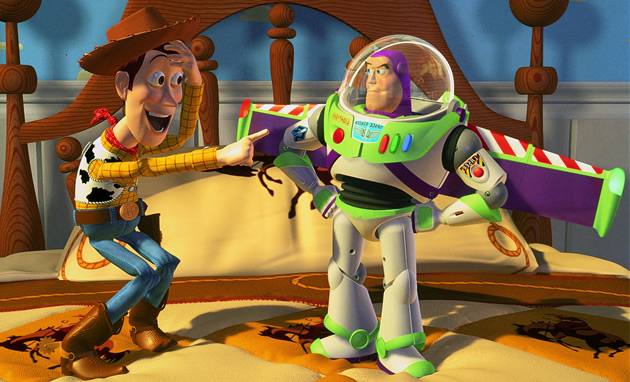 Fun fact: Hanks' brother actually serves as the voice of Woody for computer games, toys, and other Toy Story-related paraphernalia. Evidently, it's a time-consuming gig.
Hanks helped create one of the most beloved Pixar film franchises of all time by lending his voice to the character of Woody. Woody has his flaws — he can be jealous and pushy — but his unwavering loyalty and Hanks' affability makes the character lovable. All three Toy Story movies were well-received by critics and moviegoers (the first two films have a 100% fresh rating on Rotten Tomatoes; the third 99%). It's impossible to pick only one to spotlight.
Without Hanks' take on the character, it's hard to believe that the franchise would've been the commercial success it became (Toy Story 3 alone grossed over $1 billion worldwide) and an award season favorite, with nine Oscar nominations for the franchise overall.
11. Bridge of Spies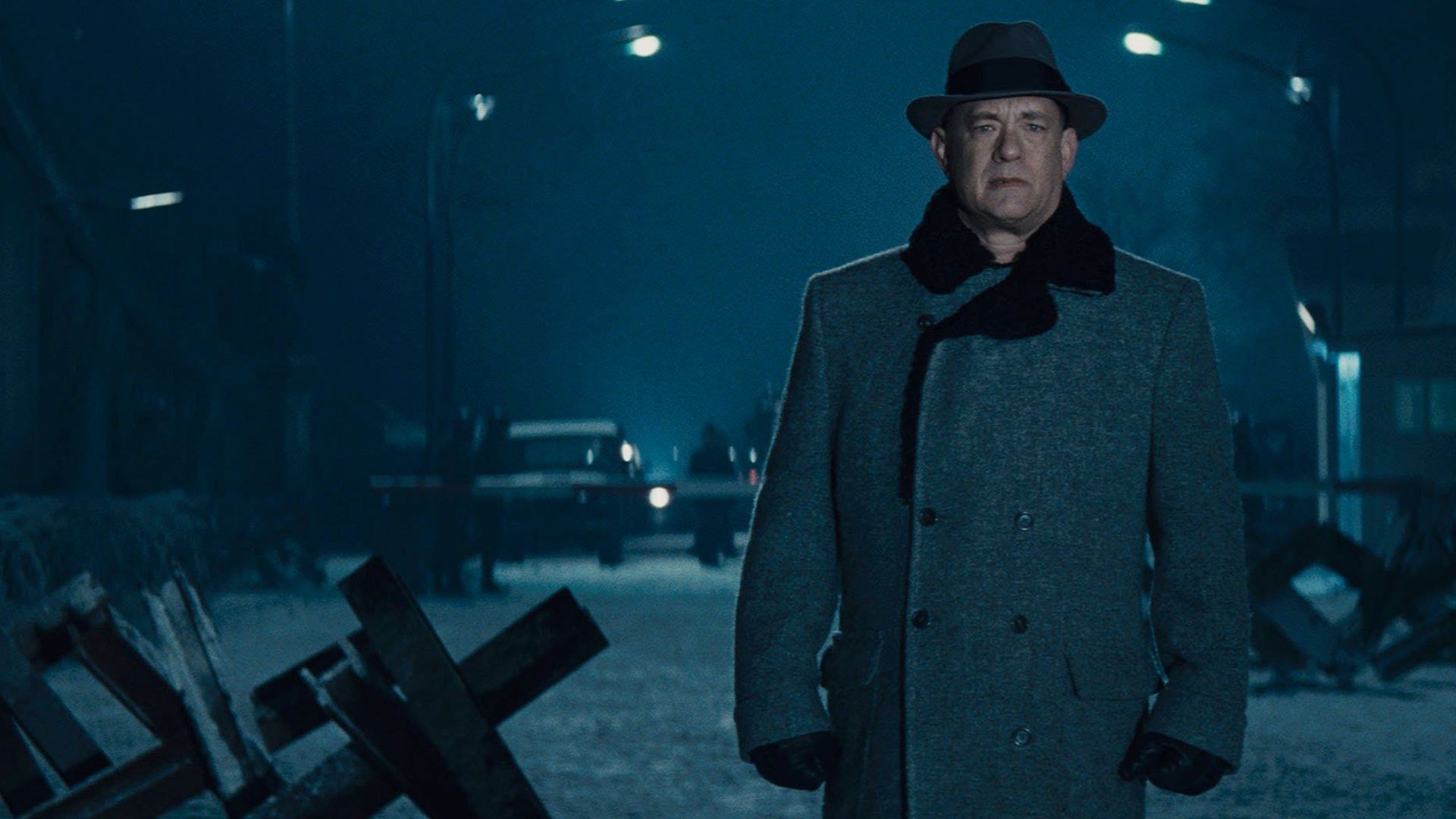 Fun fact: Hanks googled his character to learn about him and found a YouTube clip that epitomized his character's motivation. Hanks said his character "literally stated the reason why he took the case, and the reason why he carried it all the way to the extremes of the Supreme Court."
In Bridge of Spies, Hanks plays James B. Donovan, a dutiful, talented lawyer who defends a Soviet agent in this 2015 Spielberg film. As a true believer in the justice system, Donovan serves as the film's voice of conscience — a part that could easily become patronizing in someone else's hands. But Hanks makes the morally driven Donovan the perfect opposition to co-star Mark Rylance's mysterious Abel.
10. Captain Phillips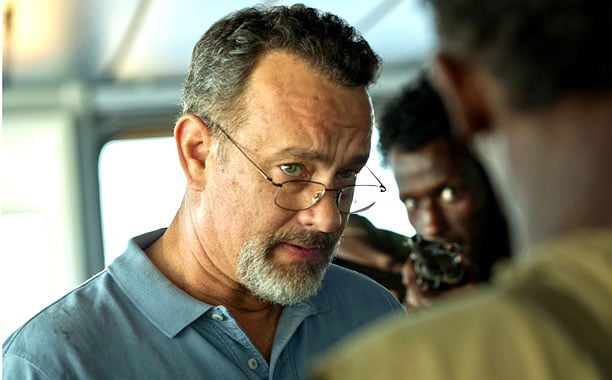 Fun fact
: The crew shot the interior lifeboat scenes inside a scale model that floated in water the whole time. Hanks claims that crew members would 
vomit on him
 because they'd get motion sick in the cramped space.
He also earned high critical praise for this 2013 drama thriller based on the true story of the 2009 Maersk Alabama hijacking. Hanks stars as Captain Richard Phillips, whose ship was taken hostage by pirates in the Indian Ocean. The box office success earned over $217 million from a budget of $55 million. The movie was also extremely well-received critically, garnering six Oscar nods, including one for Best Picture.
9. Catch Me If You Can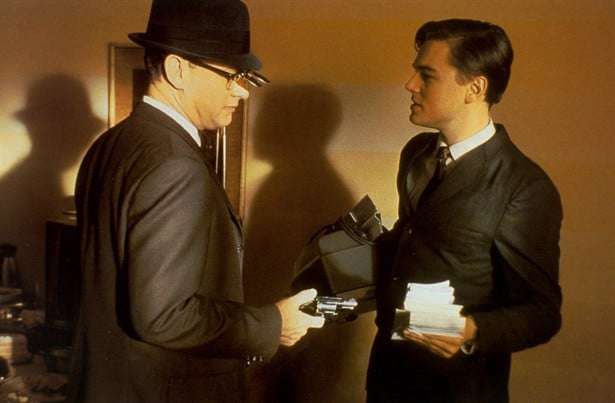 Fun fact: Hanks' character writes on a chalkboard in the film. It reads, "Steven and Tom's 4th project," because Hanks and Steven Spielberg had previously done three films together.
This 2002 biographical crime drama reunited Hanks with director Spielberg. Hanks stars opposite Leonardo DiCaprio as Carl Hanratty, an FBI bank fraud agent on a mission to track teenage Frank Abagnale (DiCaprio) after the latter conned millions of dollars from forged Pan Am payroll checks. Based on true events, the film shows Hanks doing truly great work as a man intrigued with the boy he tries to capture.
8. Cast Away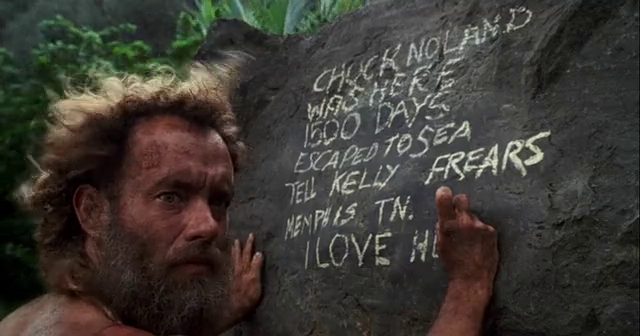 Fun fact: Cast Away waited a year between filming scenes so Hanks could grow a beard and lose 50 pounds to represent his stranded character.
It'd be difficult for even the most accomplished actor to carry a movie about an employee stuck on an uninhabited island after a plane crash with only a volleyball for companionship. But Hanks not only pulls it off, he is the film. His performance helped make the movie a critical and commercial success, grossing $429 million worldwide. It also earned Hanks another nomination for Best Actor.
7. Road to Perdition
Fun fact: Hanks and Paul Newman practiced their piano duet over and over during pre-production. They memorized it for the actual filming, so the director made sure to shoot their hands.
This 2002 crime thriller film, starring Hanks alongside Newman, Jude Law, and Daniel Craig, follows a mob enforcer and his son as they seek vengeance against a mobster who murdered their family. The movie received positive reviews, with Hanks getting singled out for praise. Though the actor didn't earn any award nominations for this particular role, his persuasive performance as a merciless criminal put his dramatic acting chops on display.
6. The Green Mile
Fun fact: Hanks had to gain weight for his prison guard role. He said, "I was completely unconcerned with my physical appearance. I didn't do any exercise, and I tried to stay as chunky as possible." Shortly after this, he had to lose all that weight for Cast Away.
The 1999 fantasy drama stars Hanks as Paul Edgecomb, a head guard overseeing death row when a new inmate arrives. Edgecomb, along with his colleagues, can't help but be moved by the new inmate, who is accused of raping and murdering a child but seems too kind to commit such a crime, especially given his unique gift of miraculously healing his fellow prisoners. The movie received positive reviews and was nominated for four Academy Awards, including Best Picture.
5. Big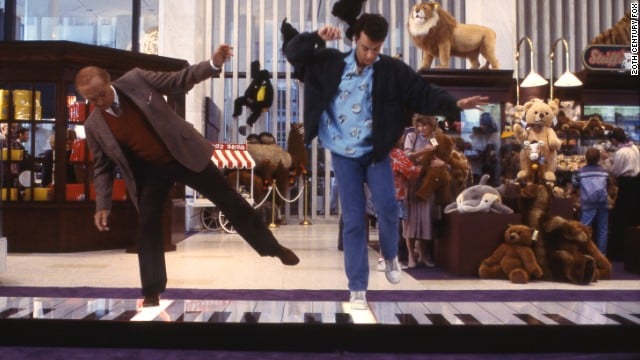 Fun fact: Hanks played the adult version of his costar (played by David Moscow), who had an awkward walk. Hanks asked for shoes that were too big so he could imitate the walk as the adult version of the same person.
This beloved 1988 film starred the acclaimed actor as Josh Baskin, who starts out as a young boy, but is aged into a 30-year-old man overnight after making a wish "to be big." As an adult, he is forced to get a grown-up job and even develops a romantic relationship with his co-worker, Susan (played by Elizabeth Perkins).
The movie earned positive critical reviews and has been listed on many publications' lists of funny films, with Hanks' comedic chops singled out. The film is also widely considered one of the best films from that year.
4.  Apollo 13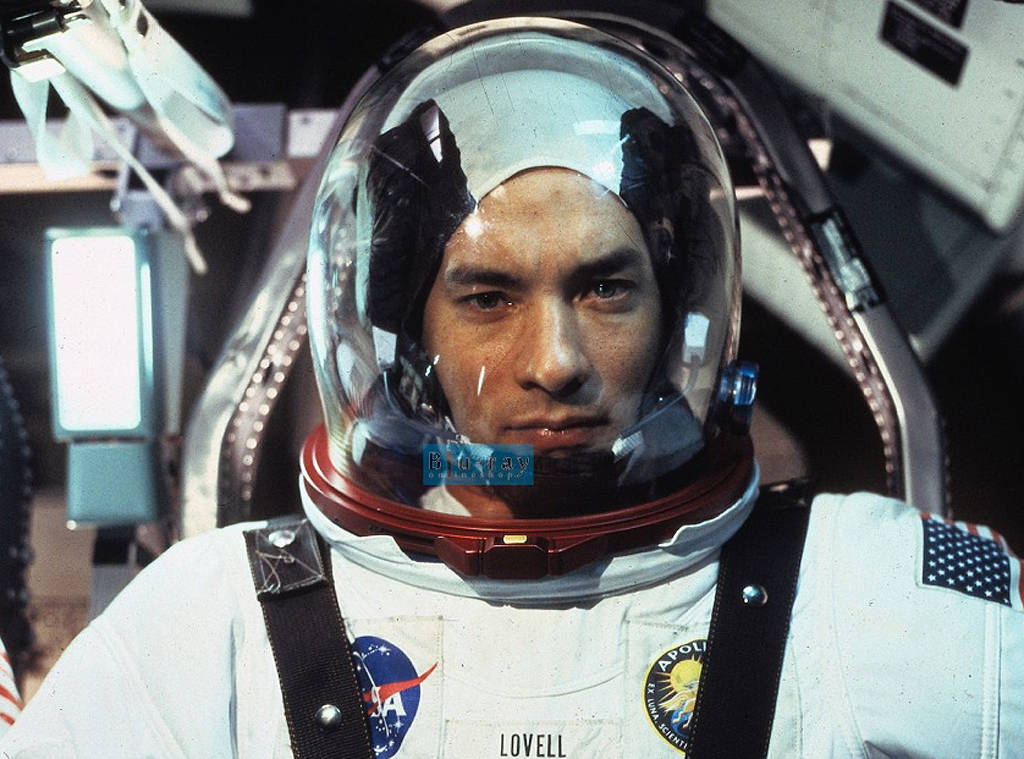 Fun fact: Hanks has an asteroid named after him due to his portrayal of Jim Lovell in Apollo 13. His asteroid is called "12818 Tomhanks (1996 GU8).
This 1995 Ron Howard-directed film relives the aborted Apollo 13 lunar mission of 1970, with Hanks starring as real-life astronaut Commander Jim Lovell. It's a gripping story, as the mission turns from an expected triumph to one of survival. Hanks is pitch-perfect as the dedicated, courageous leader, whose dream of going into space is suddenly shattered. There's nothing flashy about his performance, but Hanks brings a depth that makes this one of his impressive roles.
3. Philadelphia
Fun fact: The film uses real home videos of Hanks as a child for the end sequence.
Hanks earned an Oscar (his first) for Best Actor for his role as Andrew Beckett, a man with AIDS who is fired by his law firm because of his diagnosis and hires a homophobic small-time lawyer who's the only willing advocate for a wrongful dismissal suit. Hanks underwent a significant physical transformation for the role.
The 1993 movie made history for being one of the first mainstream, big-budget films in Hollywood to tackle issues like HIV/AIDS and homophobia. The flick garnered mostly positive reviews from critics, particularly for Hank's vulnerable and emotional performance.
2. Saving Private Ryan
Fun fact: Both Harrison Ford and Mel Gibson were considered for the role as Captain Miller. But Hanks ended up winning a Best Actor Oscar for his performance.
The 1998 epic war movie, directed by Steven Spielberg, follows a group of U.S. soldiers who go behind enemy lines to retrieve a paratrooper whose brothers have been killed in action. Saving Private Ryan received universal critical acclaim and became the second-highest grossing film of the year with $481.1 million worldwide in earnings. It also earned 11 Academy Award nominations, including a Best Actor nod for Hanks.
1. Forrest Gump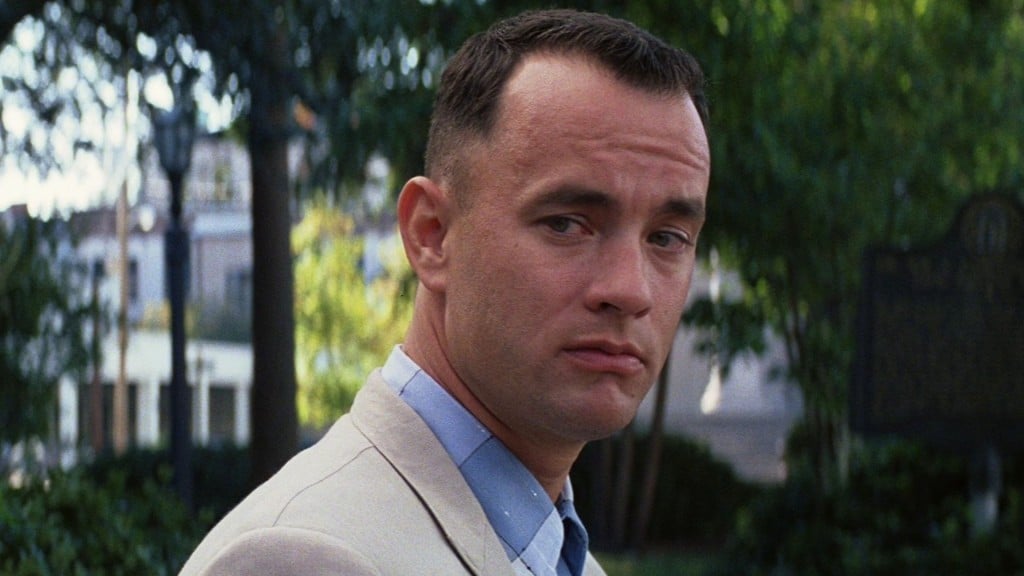 Fun fact: Hanks ad-libbed the line, "My name is Forrest Gump. People call me Forrest Gump."
It's impossible to reflect on Hanks' career without thinking of his title role in this 1994 comedy-drama. The film chronicles several decades in the life of Gump, a slow-witted Alabama native who ends up witnessing or impacting some of the most significant events in U.S. history. The movie became both a critical and commercial success, earning over $677 million worldwide and several Academy Awards, including a second consecutive Best Actor Oscar for Hanks.
Check out The Cheat Sheet on Facebook!