Rosa Salazar Says She Was Finally "Free to Exist" in 'Alita: Battle Angel'
Alita: Battle Angel – the sci-fi thriller starring Rosa Salazar in the title role – opened to mixed critical reviews. However, with great performances from the cast and a distinctive approach to presenting the struggles of adolescence, the film soars on several levels.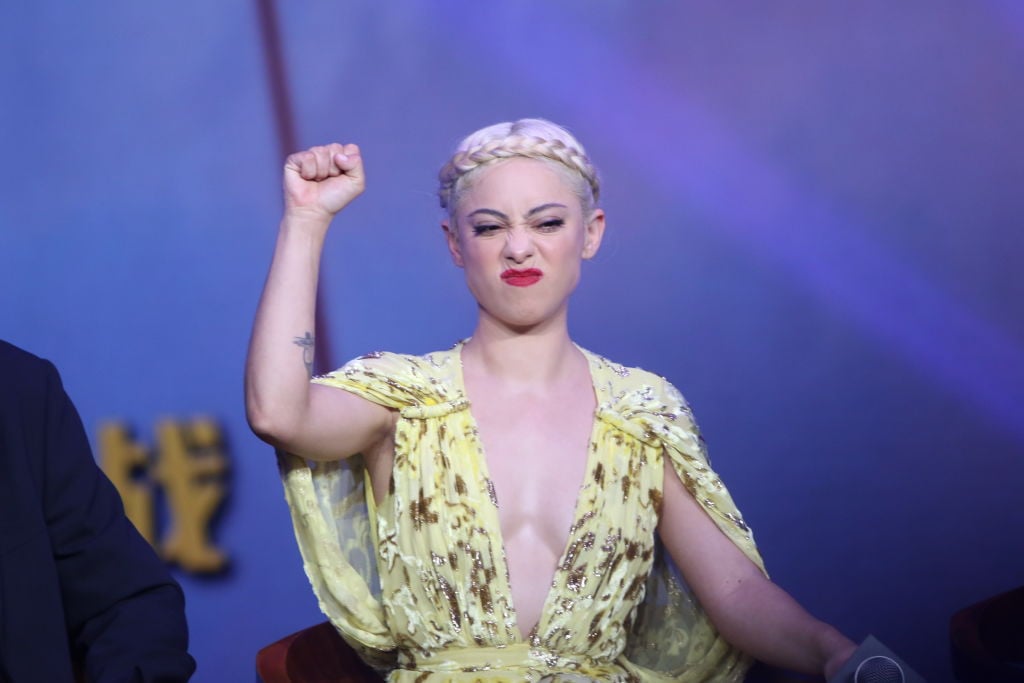 In an interview with Screen Rant, Rosa Salazar discussed her performance and working in a "groundbreaking suit…cutting edge of technology." Explaining live-action as the phase from which she has graduated, she hails her CGI-adjusted appearance, best described as half-animated in its presentation, for the acting liberties it creates. Salazar stated:

"I got really obsessed with this and the ability to create a character without the nuisance almost of making sure my angles are right. I can be really in my head and superficial if it's my coverage…The lighting and…we have to get the lighting right. With this, there's none of that. You're free. You're completely free to exist. So, it affords you that a bit. That right. That ability to play because you're free, not thinking of the superficial details of how does my face look. How do my clothes look, how does my hair look."

Screen Rant

Rosa Salazar later discusses auditioning for the part. While stating that it was synonymous to other auditions at the beginning, she noted that the suit comes out once you get far enough in the process.

Rosa Salazar's character Alita

Alita: Battle Angel, while breathtaking on a cinematic level, is also unexpectedly touching. The thematic undertones – adolescent development, identity discover, the formation of a moral compass – that reside beneath this savior story are so exquisitely interwoven with the film's plot trajectory.
Alita's characterization is what makes this movie different; she is not firmly planted in her "warrior-hood." Rather, her evolution fuels the story's expansion: as she comes into who she is, the deceit and criminality around her expand. In some ways, it's an allegory for the adolescent experience; we come to see all that our childhood innocence shielded us from, as our black and while lenses coalesce to grey.
Alita experiences the entirety of the emotional spectrum throughout this film. From love and admiration to distrust and scorn, this movie eschews superhero tropes in favor of selling us a young girl who is also a hero, as opposed to a hero who is also a girl.

'Alita: Battle Angel' supporting cast

Christopher Waltz – widely known for his Oscar-winning performance in Django Unchained, as well as his roles in Inglorious Basterds and Big Eyes – plays Dr. Dyson Ido. Starring as the man who puts Alita back together, using parts originally designed for his deceased daughter, he and Alita form an inspiring father-daughter dynamic. And Waltz, excelling in the role, convinces audiences with understated dialogue and brief tender moments.

Jennifer Connelly, Keean Johnson, and Mahershala Ali round out the rest of the main cast members.

Connelly, famous for starring across from Russell Crowe in A Beautiful Mind, plays Chiren (Dr. Ido's ex-wife-turned-complex-villain). She, hoping to be returned to Zalem – the "promised land" – and released from the treacheries of her lowly commoner existence, loses sight of herself along the way, and must rediscover where her values lie.
Keanu Johnson plays Alita's love interest; however, as a man who pins down Cyborgs and steals their parts for pay, their relationship grows complicated. Mahershala Ali plays Vector: the manipulative and deceitful whom the head of Zalem often channels himself through.
With an impressive ensemble and a moving story, Alita: Battle Angel is one of James Cameron's only underrated productions. While the movie may not be as revolutionary as Avatar on a cinematic scale, it is so on a thematic one.