Rose McGowan Speaks Up in Support of Evan Rachel Wood After Allegations Against Marilyn Manson
After years of advocating for abuse survivors, Evan Rachel Wood named her alleged abuser in an Instagram post on Monday.
The 33-year-old Westworld and Across the Universe star claimed that Brian Warner – popularly known as the singer Marilyn Manson, 52 – abused her sexually, emotionally, and physically during their relationship. Four other women joined in with their own allegations of similar treatment by Manson, who has repeatedly denied the accusations.
Several celebrities spoke up in solidarity with Wood after her claims went public. Charmed star Rose McGowan, 47, who is known for her participation in the #MeToo movement and her role in voicing allegations against Harvey Weinstein, offered her support for Wood on Twitter. McGowan was once engaged to Manson herself, having dated him for three and a half years before their breakup in 2001.
Evan Rachel Wood claimed Marilyn Manson 'groomed' and 'abused' her
Wood and Manson dated publicly from 2007 to 2010, including one engagement beginning in Jan. 2010. She appeared in his band's music video for "Heart-Shaped Glasses."
Manson and Wood's nearly 20-year age difference raised some eyebrows at the time. Wood has since claimed that they actually met even earlier, when she was 18 and he was 36.
After their relationship ended, Wood repeatedly referenced a partner from her past who was allegedly abusive to her in multiple ways. According to Vanity Fair, the Thirteen star testified about the abuse before Congress in 2018 and to California lawmakers in 2019 in an attempt to pass legislation that would help survivors of sexual assault and domestic violence.
Wood claimed the relationship in question involved "threats against [her] life" and "severe gaslighting and brainwashing" in addition to sexual assault while she was believed to be unconscious. While she didn't name Manson at the time, many suspected she was referring to him.
On Feb. 1, Wood confirmed those suspicions in an Instagram post.
"The name of my abuser is Brian Warner, also known to the world as Marilyn Manson," she alleged. "He started grooming me when I was a teenager and horrifically abused me for years. I was brainwashed and manipulated into submission. I am done living in fear of retaliation, slander, or blackmail. I am here to expose this dangerous man and call out the many industries that have enabled him, before he ruins any more lives. I stand with the many victims who will no longer be silent."
RELATED: What Is Marilyn Manson's Net Worth and How Did He Become Famous?
Rose McGowan tweeted in support of Marilyn Manson's accusers
McGowan, who dated Manson for several years, has not named him as her abuser. However, the activist supported Wood on Twitter after she and four other women released their statements about their mutual ex.
"I stand with Evan Rachel Wood and other brave women who have come forward," McGowan tweeted on Feb. 1. "It takes years to recover from abuse and I send them strength on their journey to recovery. Let the truth be revealed. Let the healing begin."
In a second video statement on Twitter, McGowan said she believed Wood and Manson's other accusers, despite the fact that her own romantic history with Manson was different.
"I am profoundly sad today and disgusted. But I am mostly proud," McGowan said. "Proud of Evan Rachel Wood and the others who have come forward against Marilyn Manson, my ex. When he was with me, he was not like that, but that has no bearing on whether he was like that with others before or after."
She went on to describe the toll that abuse takes on survivors, even long after the relationship is over.
"It takes time to come forward, and again, I am proud of these women and anybody who stands against an abuser," McGowan declared. "They steal time; they are time eaters. They steal lives. They steal hopes, dreams, freedom, sexuality, love."
The Charmed star also called for sweeping change, accusing Manson's team and anyone who associated with him of enabling the alleged abuse.
"And I'm also here to say to the Hollywood cult leaders that have employed him and sanctioned him –and Interscope Records and Sony was with him during the Evan period – you know you are accomplices," McGowan exclaimed. "All the Hollywood managers, agents, lawyers, all the Hollywood cult must be stopped."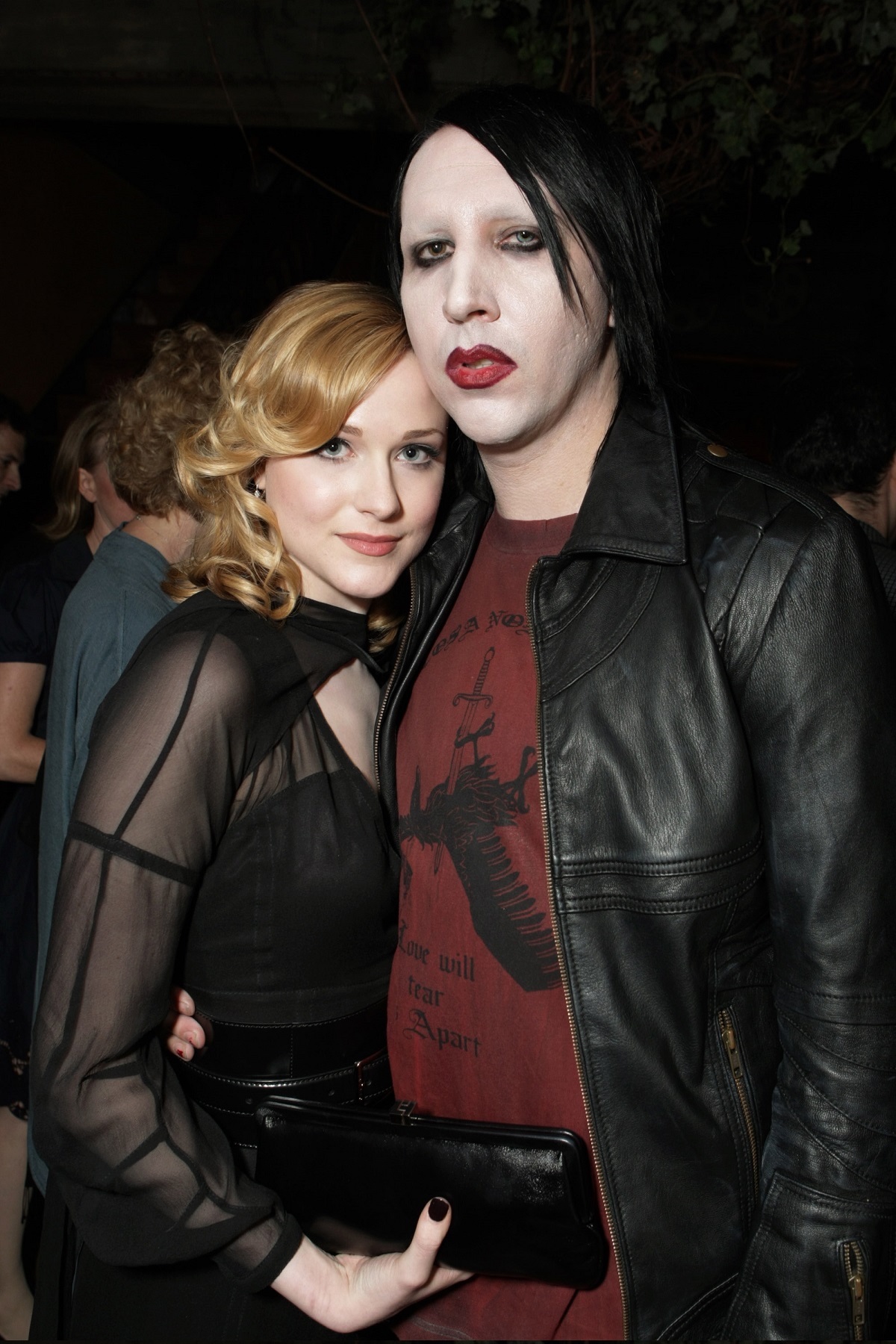 Manson was dropped from his label after the allegations
Manson, who was at one point married to burlesque icon Dita Von Teese, has categorically denied all accusations of abuse against him, both by Wood and others.
On Feb. 2, Manson wrote on Instagram, "Obviously, my art and my life have long been magnets for controversy, but these recent claims about me are horrible distortions of reality. My intimate relationships have always been entirely consensual with like-minded partners. Regardless of how – and why – others are now choosing to misrepresent the past, that is the truth."
Still, Manson's record label, Loma Vista, chose to drop the shock-rocker after the allegations were made public. According to Ultimate Classic Rock, Loma Vista issued a statement in which they announced that they would no longer be working with Manson in any capacity.
"In light of today's disturbing allegations by Evan Rachel Wood and other women naming Marilyn Manson as their abuser, Loma Vista will cease to further promote his current album, effective immediately," the company said in a statement. "Due to these concerning developments, we have also decided not to work with Marilyn Manson on any future projects."
Manson was also dropped from two shows on which he was slated to appear: American Gods, which will remove his appearance that was expected to air this season, and Creepshow, on which he will be replaced by another actor.