Roseanne Barr Got Her Own TV Show Canceled With 1 Horrible Tweet
In the most shocking entertainment-related story of 2018 so far, ABC has canceled its highest-rated show, Roseanne. There's no one to blame for this other than Roseanne Barr herself, as the sole reason for the series' cancelation is one horrible, racist tweet that she sent out on May 29, 2018.
Here's a look at why the cancellation of Roseanne is so shocking and the tweet that brought the whole thing crumbling down.
1. Roseanne was the highest-rated show of the season
To understand how shocking a story this truly is, just take a look at the ratings for Roseanne's most recent season. The revival was nothing short of a television phenomenon. When you factor in delayed viewing, 27 million people watched the premiere. For comparison, 26 million people watched the 2018 Oscars.
The show's ratings naturally declined from there, but they were still incredibly strong all season, never dipping below 10 million viewers. The most recent season of Modern Family only got an average of five million viewers per episode.
Next: The show was supposed to come back. 
2. The show had already been renewed
It should also be noted that the second season of the Roseanne revival was already a done deal. ABC had renewed the show just about a week after its historic premiere.
The season finale aired on May 22nd, but it was scheduled to return with new episodes in the fall. Earlier in May, ABC had announced its fall schedule, keeping Roseanne in its prime Tuesday night spot.
In addition, pre-production of Roseanne Season 11 had already begun.
Next: But some were gunning for the show's cancellation from the start.
3. The show was fairly controversial
But ever since Roseanne first premiered, many were gunning for it to be canceled. From the start, it was already controversial because the character of Roseanne Conner supports Donald Trump. But in addition to that, there were also some specific jokes and storylines that got viewers upset.
The most noteworthy was when the series took a jab at fellow ABC sitcoms Fresh off the Boat and Black-ish, with Dan noting after he and Roseanne fall asleep on the couch that "we missed all the shows about black and Asian families" and Roseanne responding, "They're just like us. There, now you're all caught up."
There was also a storyline where Roseanne fears her Muslim neighbors, although she ends up learning a lesson about intolerance by the end of the episode.
Next: This would ultimately be the show's undoing. 
4. Barr frequently tweeted shocking things
But the reason Roseanne was controversial wasn't even just about the show itself. Instead, Barr herself was a fairly polarizing figure, and some decided they would not watch because they did not want to support her.
In particular, she has been known to make shocking statements on her Twitter account, including promoting pro-Trump, alt-right conspiracy theories like "Pizzagate" and "Pedogate."
Barr also sometimes tweeted racist statements, like when she called Susan Rice an "ape."
Next: The one tweet that ended the show
5. A racist tweet stirs outrage
The tweet that finally led to the show's cancellation came on May 29. Barr tweeted, "Muslim brotherhood & planet of the apes had a baby=vj." She was talking about Valerie Jarrett, a former aide to President Obama, as part of a conspiracy theory that Obama spied on French presidential candidates.
Barr was widely criticized for this racist remark comparing a black woman to an ape. In addition, during the same morning, Barr tweeted a debunked conspiracy theory about George Soros being a Nazi.
Next: What Barr said next
6. Barr apologizes and deletes the tweet
At first, Barr defended the tweet. When a CNN reporter called her out, she replied, "It's a joke." She also said that it wasn't racist because "ISLAM is not a RACE, lefties. Islam includes EVERY RACE of people."
As she began to trend on social media, Barr soon apologized, saying, "I apologize to Valerie Jarrett and to all Americans. I am truly sorry for making a bad joke about her politics and her looks. I should have known better. Forgive me-my joke was in bad taste."
After the backlash continued, she announced she would be leaving Twitter altogether.
Next: This member of the crew immediately quit the show. 
7. Wanda Sykes announces she's leaving the show
Directly after Barr's tweet, the show lost a key member of its staff. Wanda Sykes, Roseanne's consulting producer, tweeted, "I will not be returning to @RoseanneOnABC."
Sykes didn't actually say anything about Barr's tweet, but it was pretty obvious that this is why she was leaving. Roseanne had previously lost producer Whitney Cummings a few weeks prior to this controversy.
Next: One of the show's main stars addresses the tweet. 
8. Sara Gilbert condemns the tweet
Soon, Sara Gilbert weighed in on Barr's shocking remarks. In addition to playing Darlene on the show, Gilbert was also an integral part of the Roseanne reboot coming together.
In a series of two tweets, Gilbert wrote:
Roseanne's recent comments about Valerie Jarrett, and so much more, are abhorrent and do not reflect the beliefs of our cast and crew or anyone associated with our show. I am disappointed in her actions to say the least. This is incredibly sad and difficult for all of us, as we've created a show that we believe in, are proud of, and that audiences love— one that is separate and apart from the opinions and words of one cast member.
Clearly, at this point, Gilbert was expecting the show to continue.
Next: ABC responds and takes action. 
9. ABC announces the show's cancellation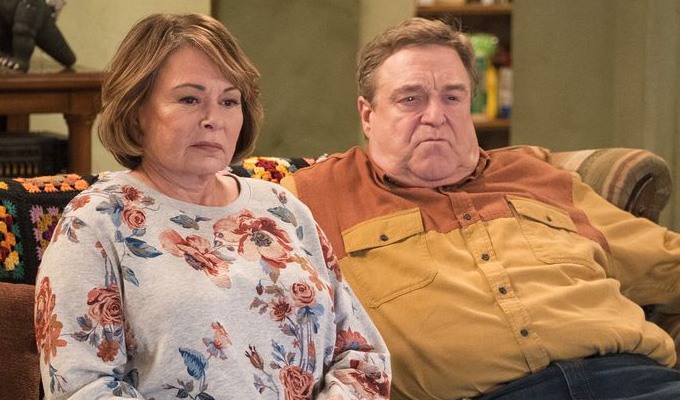 Fairly soon after Gilbert's tweet, ABC announced that Roseanne had been canceled. In a brief statement, the president of ABC Entertainment simply said, "Roseanne's Twitter statement is abhorrent, repugnant and inconsistent with our values, and we have decided to cancel her show."
Disney CEO Bob Iger weighed in by saying, "There was only one thing to do here, and that was the right thing." In addition to this being a moral stand, though, CNN's Brian Stelter reported that "advertisers were getting skittish about associating with Roseanne."
Next: This cast member says she was planning to quit anyway. 
10. Emma Kenney says she was prepared to leave the show
Even if Roseanne had returned, it would have been missing one of its cast members. Emma Kenney, who plays Darlene's daughter Harris on the show, said on Twitter that she called her manager this morning to say she was quitting the series.
However, before she could do so, ABC canceled Roseanne. Kenney later deleted this tweet. "I am hurt, embarrassed, and disappointed," Kenney said in another tweet. "The racist and distasteful comments from Roseanne are inexcusable."
Check out The Cheat Sheet on Facebook!