Royal Expert Says Prince Harry Has 'A Fiery Desire' to Live On His Own Terms, Just Like the First Duke of Sussex, Prince Augustus
Though she mostly avoids explicitly sharing her opinions about things, Queen Elizabeth is brilliant at sending subtle messages. Her Majesty is very perceptive about her family's predilections and treats them accordingly. One perfect example of this was when she gave Prince Harry the title Duke of Sussex just before his 2018 wedding to Meghan, Duchess of Sussex.
Prince Harry is only the second ever Duke of Sussex despite the royal family's propensity for recycling titles. It turns out the queen chose this title very deliberately because her grandson has a lot in common with the first Duke of Sussex, Prince Augustus.
The original Duke of Sussex was also a fiery redhead
Royal family member Prince Augustus lived centuries ago — he was born in 1773 —but his similarities to Prince Harry can't be denied. According to the New Yorker, early portraits of Augustus show a strawberry blonde, "good-looking young man" who resembles the dashing Prince Harry.
And the similarities extend beyond just the physical. One reason Queen Elizabeth decided to make Prince Harry the next Duke of Sussex was because their personalities also match up in a surprising way.
The New Yorker described Augustus as having, "a wandering youth, a fiery desire to live as he wished, and an inclination to balk at the strictures of monarchy." That sounds very familiar.
Prince Augustus was 'liberal-minded' and passionate about progressive causes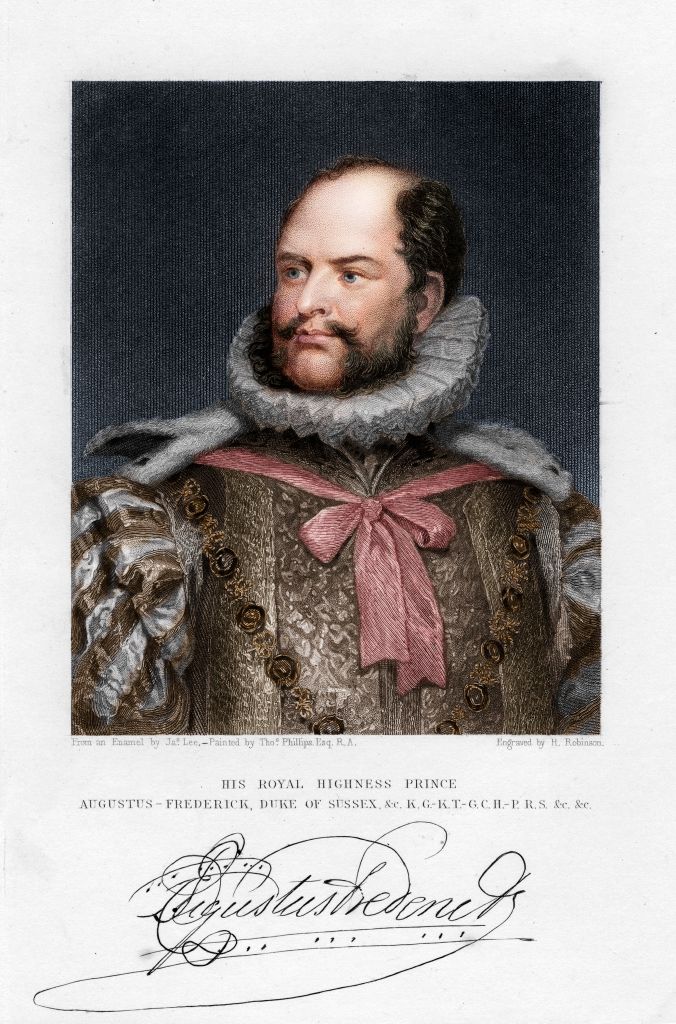 Proving that the queen knew her grandson better than he knew himself, she selected the title Duke of Sussex in part because Prince Harry shared tendencies with him, too. Prince Augustus was also liberal-minded and unafraid to express his opinions on causes he cared about. Just like Prince Harry does.
Like the younger brother of Prince William, Augustus had little chance of ever seeing the throne and grew restless with a lack of direction in life. He snuck off to marry Lady Augusta Murray, who was 10 years older than he was, even though he never procured his father George III's blessing like he was supposed to.
Prince Augustus eventually lived in exile just like Prince Harry is now
Prince Harry and Meghan shocked the world when they stepped back from royal life, testing out new boundaries in the royal family. But the current Duke of Sussex was hardly the first family member to reject the rules of royal life to forge his own path.
After marrying in secret, Prince Augustus hoped to get his father's blessing retroactively. That didn't work. So he went to the Archbishop of Canterbury to ask for his approval instead. The Archbishop rejected the Duke of Sussex's pleas and instead issued him a warning, saying, "wherever you go, or wherever you reside, you can never divest yourself of the character of a British Prince."
That sounds a lot like Prince Harry's current situation and the fact that he's banned from using his HRH title or "royal" branding as part of his image. Clearly, Queen Elizabeth knew exactly what she was doing when she bestowed Harry with the title Duke of Sussex.
Either that, or he's living up to the name in very unexpected ways.