Some Baby Gifts Given to Prince Harry and Meghan Markle Technically Belong to the Queen — Here's Why
As Prince Harry and Meghan Markle anxiously await the arrival of their firstborn child, the Duke and Duchess of Sussex have already received quite a few gifts for their royal-to-be.

However, the gifts Prince Harry and Meghan Markle receive for their child while on official business don't technically belong to them. Find out why, ahead.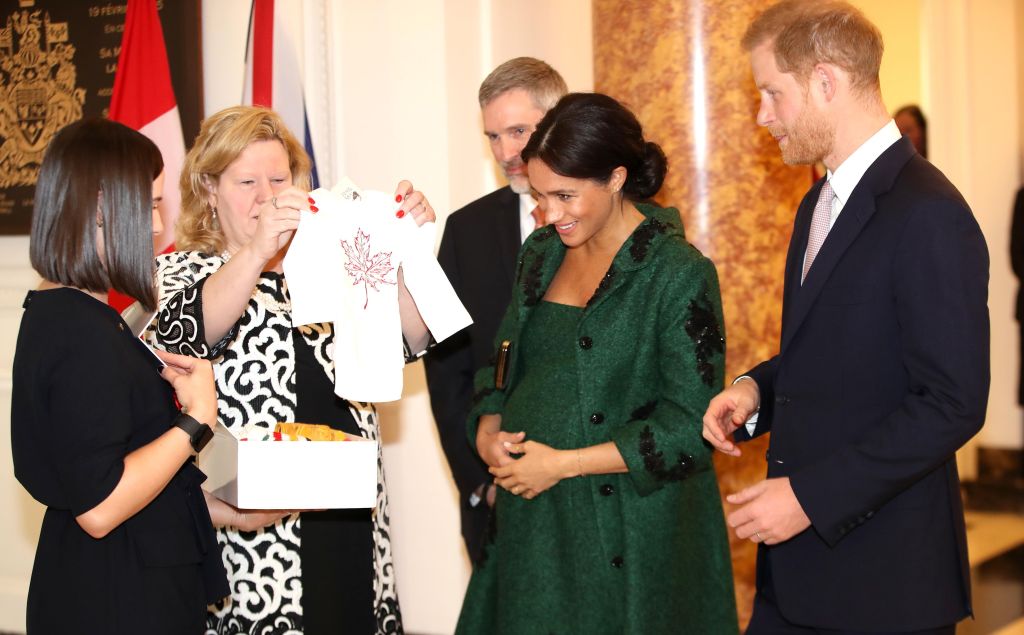 Prince Harry and Meghan Markle baby gifts

Whether it be before or after the baby's arrival — or even down the line once their child is a bit older — Prince Harry and Meghan Markle allegedly can't keep gifts given to them by world leaders, fans, or other well-wishers while representing the queen on official duties. According to the royal rules, all gifts given to royal family members while on official business are accepted on behalf of the queen, which means she technically owns the items.

However, Her Majesty is not terrible and would never take a gift from her family members, let alone her great-grandbaby. Plus, there are some other more logistical reasons why Prince Harry and Meghan Markle wouldn't be allowed to keep certain gifts for Baby Sussex though.

Royal family gifting protocol

The royal family, understandably, has a strict gifting protocol — especially when it comes to accepting gifts from the public.

According to the royal family's gift guidelines, "there are concerns about the propriety or motives of the donor or the gift itself." That means, should a royal family member receive a gift, the royal family's security team carefully examines it first. Once determined safe, the royals might accept the gift, so long as it equals less than $200. If they can't use the accepted gift, they might donate it to charity or potentially discard it.

That said, if a royal accepts a gift from a world leader, the circumstances are a little different. Depending on the item, some of the gifts given to them while on official business might go into storage (if a royal can't use it). But, to avoid storage costs, a panel of Royal Collection representatives and a senior member of the royal household review the collection every year and decide what to keep, what to loan, what to donate, and what to get rid of.

If the duke and duchess can't use a gift given to the royal baby by a world leader, Prince Harry and Meghan Markle will likely donate the item to an appropriate charity. Additionally, the Duke and Duchess of Sussex have already asked in advance that, in lieu of gifts, the public consider donating to charities close to their heart. According to a post shared earlier this week, their request raised money and items for Baby2Baby, Well Child, The Lunchbox Fund, and Little Village HQ.

Tackling the issue of gifts from the public ahead of time not only allows for less time spent sifting through items for security reasons but also for the Duke and Duchess of Sussex to use this exciting time in their lives to spread some love to organizations and inspire their fans to give back to their communities.

Check out The Cheat Sheet on Facebook!