Rumor Has It Aaliyah's Music Is Coming to Streaming Platforms in 2020
When Aaliyah died in 2001, she left behind a timeless music collection that includes the albums Age Ain't Nothing But a Number (1994), One in a Million (1996), and Aaliyah (2001). But, unfortunately, fans have only been able to stream the former, which was produced by alleged sexual predator R. Kelly, who illegally married the singer when she was barely a teenager.
Complex has faulted Aaliyah's uncle Barry Hankerson, who founded the now-defunct Blackground Records, for her missing digital discography. He reportedly owns the rights to her music except for Age Ain't Nothing But a Number and has been keeping her catalog close.
As you can imagine, this has been heartbreaking for fans. But it looks a change is coming.
Aaliyah's music appears to be headed to streaming services
A Twitter account that purportedly belongs to Hankerson broke the news on Aug. 25, which marked the 18th anniversary of the day the singer perished in a plane crash. (The Twitter account is unverified, so it's unclear if it really belongs to Hankerson.)
"We listened, this is not a drill in honor of the great legacy of #Aaliyah," read the tweet, which also tagged Spotify, Apple Music, and Tidal. The tweet closed with the date Jan. 16, 2020, which was Aaliyah's birthday. So, it seems like that's the date fans will finally gain access to Aaliyah's tunes.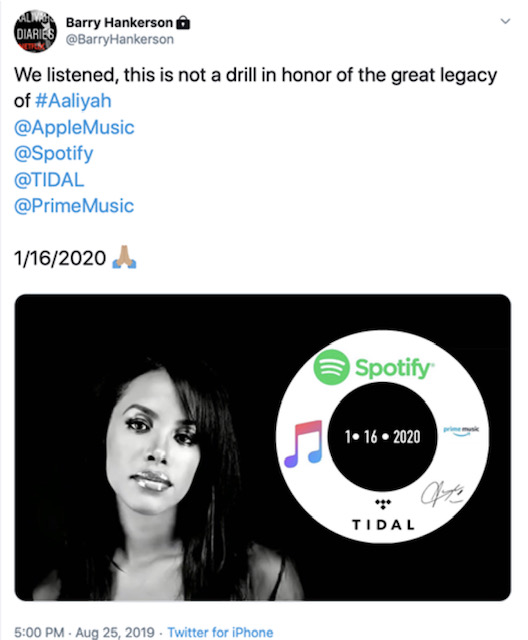 Who is Hankerson exactly, and how did he gain control of Aaliyah's music?
He's Aaliyah's uncle, manager and the founder of her label, Blackground Records.
In 1996, Hankerson scored a distribution deal with Atlantic Records, which gave him "full control" of her masters, Complex reports. The same year, Aaliyah released One in a Million, which featured hits like "If Your Girl Only Knew" and "The One I Gave My Heart To" — none of which are available for streaming.
Five years later, Aaliyah put out her self-titled album, featuring songs like "We Need a Resolution" and "More Than a Woman." But weeks after its release, the singer died in a plane crash.
She had been on her way back to the United States after filming the video for "'Rock the Boat" in the Bahamas. But the aircraft had barely made it off the runway before the pilot, who reportedly had traces of alcohol and cocaine in his system, crashed.
"Hankerson was devastated, retreating into a long period of grief," Complex reports. Sources close to the music industry executive told the publication that he "never really recovered."
Artists have tried to put out new Aaliyah music
In 2012, hip hop star Drake announced plans to create a posthumous Aaliyah album. But he faced widespread criticism, including from Aaliyah's former collaborator, DMX.
In a 2012 interview with 2012 RapFix Live (via MTV News), DMX criticized the rapper for allegedly failing to enlist artists who actually worked with the fallen singer.
"How do you disregard what [Aaliyah] did? What this beautiful angel did and say, 'Oh OK, I'm gonna take it for myself because I'm hot right now and I'm feelin' myself,'" he asked rhetorically. "How do you just go there with it? Your b***s ain't that big, son."
Eventually, Drake dropped the project. "I think the press got out of hand — they maybe had a different vision for it," he told interviewer Elliot Wilson of the decision. "It was great. It sounded really good."
Others, like Chris Brown, have incorporated Aaliyah's vocals into their music. So, in the event that her albums don't make it to streaming platforms, that's at least something, right?
…Guys?