'Runaways' Available on Disney+: Which Other Marvel Shows Can You Stream?
With news that Marvel's Runaways on Hulu is going to be no more after their third season completes, Marvel fans now turn to Disney+ to help appease their discouragement. The good news is things are only beginning at Disney+ in relation to Marvel. By 2021, the platform will expand considerably, if not becoming the streaming leader
Anyone disappointed at Runaways being the next Marvel TV show casualty should keep in mind it's available on Disney+ now. While it's only the first season at the moment, the whole series will air by 2021.
Thanks to Disney+ accommodating Marvel fans as quickly as possible, what other Marvel shows are streaming there? A few things are shows fans might have missed, including some of the animated "mini adventures."
A lot of animated Marvel shows are available that haven't received enough attention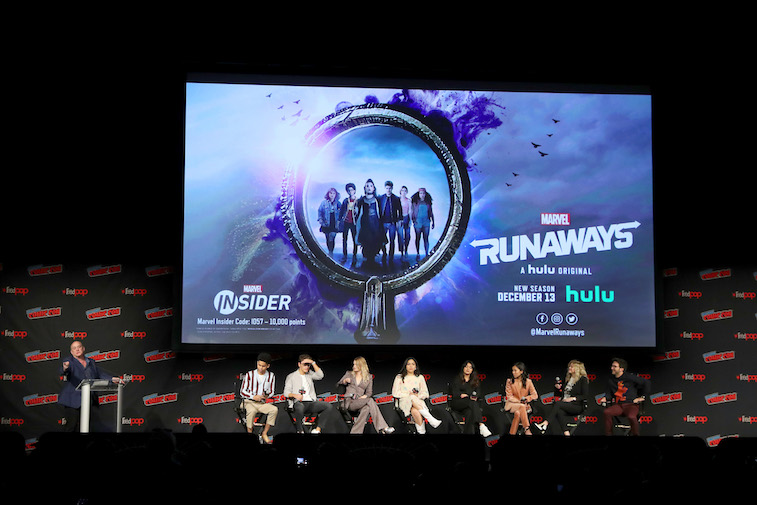 Only older Marvel fans would know animated shows with Marvel characters go back to the late 1960s. Spider-Man has been in this format on and off the TV dial for decades, and Disney+ has acquired a good chunk of them, including the older animated programs.
Three other animated Spider-Man shows to look out for there include Spider-Man Unlimited, which debuted originally in 1999 on Fox Kids, plus Ultimate Spider-Man from 2012. They also have the more recent series Spider-Man, giving linkage to Spider-Man tales from the Sony animated universe (partnering with Miles Morales) just before the Tom Holland era began.
Don't miss other animated Marvel shows that had cable runs in recent years. Some might have missed out initially on an animated Guardians of the Galaxy series back in 2015 on Disney XD. This series isn't considered canon with the MCU, but it makes the show all the more creative.
Avengers: Assemble, Hulk and the Agents of S.M.A.S.H., and Iron Man: Armored Adventures are a few other obscure animated titles worth checking out. The Iron Man series is a bit of a left-field discovery, having been produced through French and Canadian studios, yet only loosely based on the Marvel version Robert Downey, Jr. made famous.
What about those animated 'mini-adventures'?
No doubt some have looked over all the Marvel material available on Disney+ and saw those "mini-adventures" tales utilizing many of the famous MCU superheroes. These are all animated shorts produced for TV in recent years and offer alternate takes on many of the iconic MCU characters.
One to look out for is Avengers: Secret Wars where you'll find many of the famous Avengers working together in animated guises you might not recognize from the films. Ant-Man Shorts are also an interesting animated take on the superhero, with most produced within the last few years.
Plus, there's a series of shorts devoted to the Marvel characters in literal mini form. Titled Marvel Super-Hero Adventures, it was produced to continue the old trope of making classic characters into preteens. Well, they still act like mini-adults in the available short episodes.
Some canceled live-action Marvel TV shows are available as well
Reddit users have been creating threads about what Disney+ will be doing with all the canceled live-action Marvel TV shows of late across the dial. With so many series biting the dust, some fans are worried those shows never see the light of day again on Disney+ or anywhere else.
Most fans can probably take heart they will show up there eventually. Several canceled ones have already been added to the library beyond Runaways, namely Agent Carter and Inhumans.
A lot of other Marvel TV shows from the past are also there, albeit all animated. Cartoon versions of The Hulk, Silver Surfer, and Wolverine go back years and have some compelling storylines.
Since Disney+ is essentially still in a year-long testing phase, having everything produced by Marvel won't be seen there until late 2020 or beyond. Nevertheless, knowing it'll be the main repository of entire Marvel media history eventually should make the platform the ultimate digital library for serious research or for pure entertainment.