'RuPaul's Drag Race UK:' Gothy Kendoll Reflects on Her Time as a Contestant
God save the queens. The first-ever season of RuPaul's Drag Race UK premiered in the United States and the United Kingdom. Since then, fans commended their favorite queens on their looks and whit. One contestant, Gothy Kendoll, discussed her time as a contestant on the reality competition series. Learn more about it here.
This article contains spoilers from the first episode of RuPaul's Drag Race UK season 1!
Start your engines… the first episode of 'RuPaul's Drag Race UK' is here
There's plenty of tea on this season of RuPaul's Drag Race, and not just because of the drama. This season of Drag Race features local queens from the United Kingdom. The first episode premiered on BBC iPlayer and the streaming platform, WOW Presents Plus, on Oct. 3, 2019.
Since then, fans picked some of their favorite queens of this season, including performers like Scaredy Kat, Blu Hydrangea, and Gothy Kendoll. During an interview with Entertainment Weekly, Gothy Kendoll commented on the state of drag in pop culture.
"I feel like being gay is always about being accepting new things," the RuPaul's Drag Race UK contestant said. "We've always got to let things keep progressing and developing. We respect and love the queens who've set up this traditional sense of drag and are keeping it alive, but you always need to let fresh ideas and fresh perspectives come in, otherwise, it's going to die, and there won't be any drag left."
Gothy Kendoll reflected on her time on 'RuPaul's Drag Race UK' during an interview with Entertainment Weekly
After an episode full of iconic looks and spirited competition, Gothy Kendoll was eliminated, making her the first-ever contestant to go on on Drag Race UK. During an interview with Entertainment Weekly, the drag performer discussed her time on the reality competition series.
"I never perform, that was my first time lip-syncing on the show," Gothy Kendoll said. "I DJ and throw parties and do photoshoots, I don't really go to a club and host a night or perform on stage. To be doing that for the first time ever in front of RuPaul on the show was intimidating. Since then, I've gotten my teeth done and I've had a lot more confidence and preparation with performing now."
It's not easy being the first drag queen eliminated, but sometimes it's iconic. Vanessa "Vanjie" Matteo had her "Miss Vanjie" moment quoted throughout season 11. Porkchop is a beloved contestant on the series because she was the very first queen eliminated. Now, Gothy Kendoll has her meme of the roaring tiger face. However, the drag queen's legacy doesn't stop there.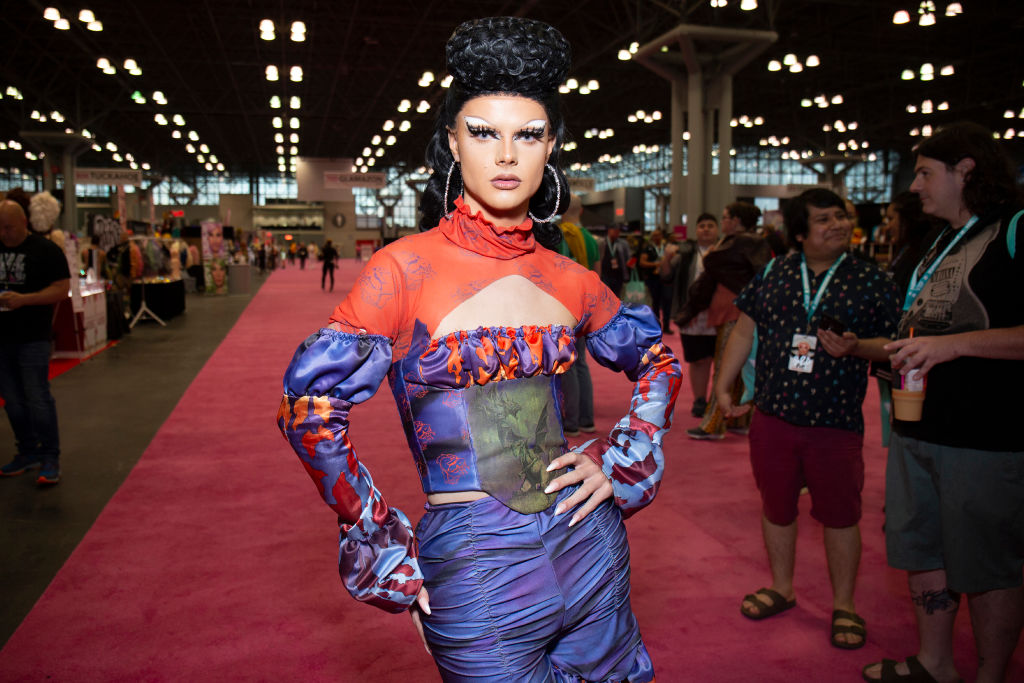 Fans can see Gothy Kendoll on Twitter, Instagram, and during live performances
Even though Gothy Kendoll will not be competing on RuPaul's Drag Race UK anymore, fans can find the drag performer on her social media accounts. To see Gothy Kendoll in person, fans can head to England, where Gothy Kendoll will appear with Soju for a few dates of the event, "Seoul Train Kpop Party."
Episodes of RuPaul's Drag Race UK are available for streaming in the United States on WOW Presents Plus. The series airs on the television network, Logo, on Oct. 11, 2019.