Who is Russell Westbrook's Wife, Nina?
Russell Westbrook, NBA star of the Oklahoma City Thunder, has been on the lips and minds of sports fans this week as trade talks dominate headlines. On the court, the point guard has earned himself MVP and all-star status, but what about life off the court?
Westbrook married Nina Earl, his college sweetheart, in 2015. Both are California natives and attended college at UCLA, where they met. The two dated for years before getting engaged in 2014 and exchanging vows on August 30, 2015. Today, they have one son and a set of twin girls. But who is Nina, the woman who captured Westbrook's heart and has been holding him down?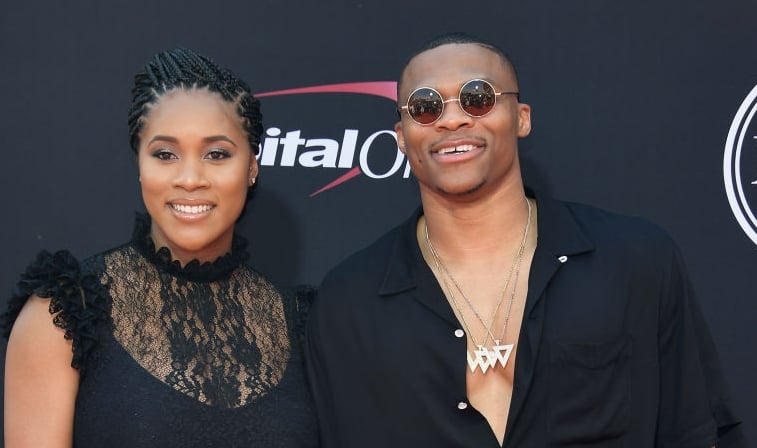 She's a former basketball player
Mrs. Westbrook, like her hubby, played basketball as a student at UCLA, which is how she met her beau. Her UCLA bio from 2010 is still available on the university's site and lists her as a 6'1 forward. A blurb on the site mentions that she's played all positions, was a starter, and referred to her as "one of fastest players on team."
Westbrook is a business owner and professional therapist
The busy mother of three makes time for work and family and runs The Little Ark, a boutique in Oklahoma City. The retail shop specializes in gifts items for moms and babies and even offers classes for parents and children. The store's website says items such as mom and baby apparel, snacks, books, and other goodies are available for purchase. But locals can also sign up for CPR courses, music activities, story time, postpartum wellness events, or kids' cooking classes.
In addition to owning The Little Ark, Westbrook works as a marriage and family therapist. It was this role that inspired her to open a boutique, but one that welcomed families and opened up classes to the community. Ultimately, she wants kids and everyone else to feel comfortable. She told the Oklahoma Gazette:
"I also wanted to incorporate the classes because I'm so used to — in my career as a marriage and family therapist — working with groups of people, with kids, adults, students. I wanted to somehow have a space where I could incorporate that aspect of my life."
She's community-minded
Westbrook teams up with her husband to handle outreach and events for his Why Not? Foundation which focuses on children. The organization promotes youth literacy and provides a program called Russell's Reading Room, and it offers help to kids dealing with hardship. Both Westbrooks can be spotted serving meals during the group's annual Thanksgiving event or surprising families in need during Christmas.
There's no word on the fate of Russell Westbrook's career in Oklahoma City, but there's no question that he and Nina have each other's backs. The pair have put down roots in the city with their family, businesses, and charity work, and the community loves them, but it's possible the family will have to pick up and move. Something tells us they'll find a way to make it all work no matter where they end up.