Ryan Gosling and Emma Stone Together Again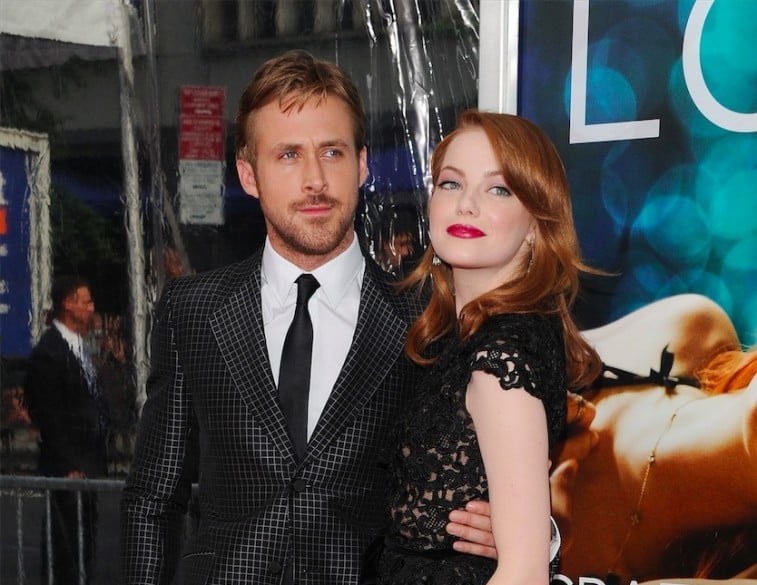 Fans of Ryan Gosling and Emma Stone are already getting excited over the news that the two actors are reportedly circling a musical romantic comedy from Whiplash director Damien Chazelle called La La Land. Deadline reported that the duo are eyeing the contemporary musical after Whiplash star Miles Teller dropped out of the project. Given how much both actors' fans loved them together in Crazy, Stupid, Love and Gangster Squad, getting them to work together again would be a smart move, as fans and critics praised their chemistry in the previous two films they did together.
La La Land is going to be a "contemporary romantic musical" from the director behind last year's breakout hit Whiplash, which won three Oscars, including best supporting actor for J.K. Simmons. That movie also involves music, telling the story of a young jazz drummer prodigy, played by Teller, and his abusive relationship with his teacher (Simmons) at the prestigious conservatory he attends.
Chazelle has already shown he knows what he's doing with musical material. La La Land sounds like it will be much lighter fare than Whiplash. Deadline's sources described the movie as a musical in the vein of the old-fashioned classics set in present-day Los Angeles. It will follow the love story between a jazz pianist and an aspiring actress.
Emma Watson and Teller were formerly attached to the project, but both had to bow out due to other obligations. Since Gosling and Stone are already known for their killer chemistry, this change actually boosts the project's prestige. The pair enjoy working together, which is obvious in the two films they've made. "She's everything, all the time," Gosling said of Stone on the red carpet for Crazy, Stupid, Love, per MTV News. "There's no one like her. As soon as she signed on for this movie, I knew it was going to be good."
"The whole film depends on my character giving it all up for her," he continued. "When she came in the room, it all made sense. Show me someone that wouldn't give it all up for Emma Stone, and I'll show you a liar."
The pair's chemistry paid off better in Crazy, Stupid, Love than in Gangster Squad, which was criticized for poor writing and sensationalized violence. Crazy, Stupid, Love got a 78% rating from reviews aggregated by Rotten Tomatoes, while Gangster Squad was not as well-received, with a 32%. While the rapport between Stone and Gosling was a highlight in both movies, the rom-com served them better. The few details Deadline's sources revealed about La La Land make it sound like the movie will be material more similar to what Stone and Gosling have had success with before.
Gosling is one of Hollywood's most sought-after leading men, though he chooses to stick to indie projects rather than take on blockbusters. He recently made his directorial debut with Lost River. Stone is coming off an Oscar nomination for the Best Picture winner Birdman and has Woody Allen's next movie, Irrational Man, co-starring Joaquin Phoenix, lined up to come out this summer. The musical material should suit her just fine, as she's been appearing on Broadway as Sally Bowles in the recent revival of Cabaret.
Fans of the actors should cross their fingers that the people involved can make this movie happen with both Stone and Gosling on board.
Follow Jacqueline on Twitter @Jacqui_WSCS
More from Entertainment Cheat Sheet:
Want more great content like this? Sign up here to receive the best of Cheat Sheet delivered daily. No spam; just tailored content straight to your inbox.ho