Sandra Oh Describes Her Last Day on 'Grey's Anatomy'
Longtime viewers of ABC's Grey's Anatomy still yearn for a reappearance of the legendary Dr. Cristina Yang. Portraying the beloved surgeon for 10 seasons, actress Sandra Oh soon became a fan favorite for her portrayal of the fiercely passionate and dedicated cardio surgeon.
After her final episode in May 2014, Oh opened up about her last day playing the iconic character.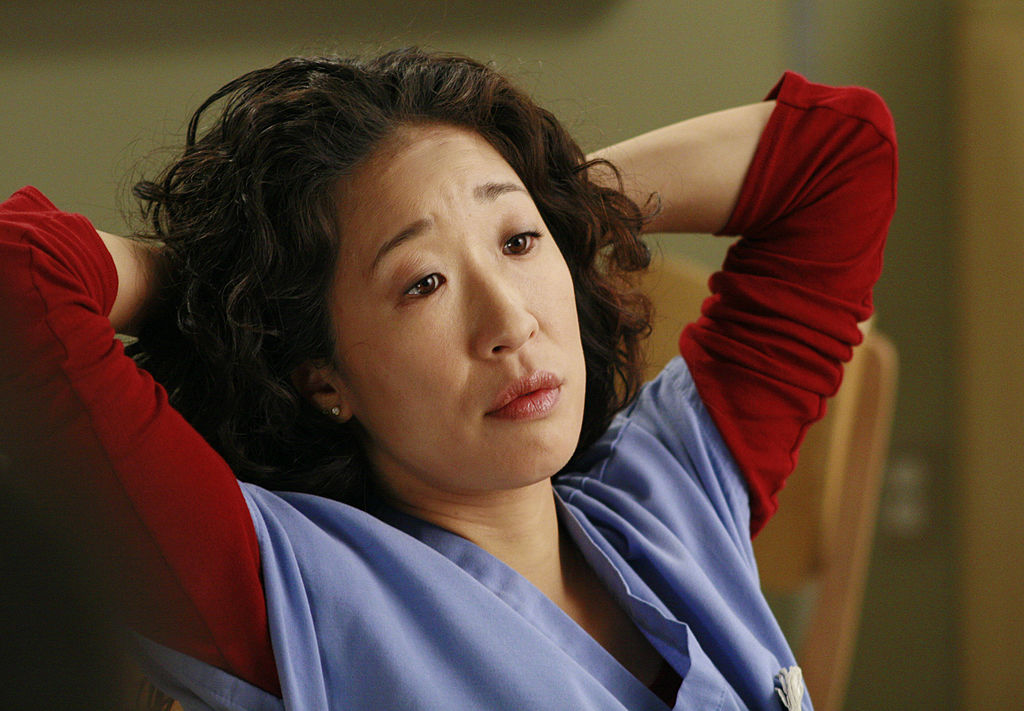 Last reading
After embodying such a strong role for a decade, Oh had to come to grips with moving on to new ventures. The routine of the table read with the cast took on new meaning when she sat down for the final run through of the script.
"I realized during this last month that the table read is definitely a ritual. I sit in the exact same spot every time because I'm a creature of habit. Every single table read for 10 years — that's 200-odd episodes. It was this ritual that we have every week, to come together to read these words. It was really rich," Oh told the Hollywood Reporter of her final Grey's reading.
The actress revealed that a show of affection from a longtime friend made the event all the more poignant. "What got me was, we were starting and as we're all sitting down, our casting director Linda Lowy came up to me — she cast the pilot and put me in a lot of stuff before Grey's like Under the Tuscan Sun — she came up to me and hugged me," Oh shared. "Then we read the script, and it was great, and I was filled with all these feelings."
Gifts and goodbyes
Oh wasn't sure what to expect on her feelings when portraying Cristina for the final time. Thankfully, her colleagues planned plenty of celebration time for the departing actress.
"I will say, my last day, people asked if I was going to be sad. I didn't know," she said. "But by the end of the day — which ended up being late since we shot late — Kevin threw me this little party. There was lots of celebration because the party was myself, [co-showrunners] Tony Phelan and Joan Rater, who [both also] left. Gaius Charles [Shane] and Tessa Ferrer [Leah] had left earlier that week. The party was joyous for me — the whole day was. I was so excited to come to work."
Oh made a point of giving out special gifts to the cast and crew to show her appreciation for their hard work while she was on the show. "To give these gifts out personally and to look people in the face and say 'Thank you' to everyone — my stand-in, the grips, post, production, the writers — that helped me process a lot," the former Grey's star said. "That is why I think the day was joyous. With each person I was able to have a personal moment and tell them what I thought about them."
The memento Oh gave out was spot on, considering Yang's medical specialty. "Because it was a celebration, it was this beautiful champagne in a box, and on it is an anatomical heart and a '10,'" Oh shared. "It's was like, 'Here's my heart in a box for a celebration. Please take it. This is my gift of thanks.' It was inscribed on the back with a card, too. I walked into the OR with this gift for Linda Klein, our medical adviser, and just started crying."
'In tears but not broken'
The Grey's alum also revealed that the crew had something special planned for her upon her departure. "I knew something was happening. The entire crew — every single person from construction to rigging — everyone was in the lobby near where we were shooting," Oh recalled. "They gave me the very first call sheet from the pilot and Cristina had this other last name. And they gave me the last call sheet. March 17, 2004, and April 24, 2014. My first and last days."
Oh was overwhelmed by the gesture. "I came apart because I saw everyone was in one room. I was completely in tears — but not broken," she explained. "It was not a place of being sad. It was a place of being tremendously moved. It's not like I broke down and I was crying. I felt so filled with the meaning of this moment that it was very emotional. I do want to try to be specific about the quality of the emotions because many people can be sad — and it is sad — but I was extremely moved."
Now that Oh is killing it – literally – on her new BBC series Killing Eve, she has previously commented that she has no immediate plans on returning to the the ABC medical drama. With rumors swirling that Grey's execs are trying to lure back a former character, Yang fans are still hopeful they will get to see their person this season.