Sandra Oh Still Has the Prop She Stole From the 'Grey's Anatomy' Set
Sandra Oh was one of the breakout stars from the hit TV show Grey's Anatomy. Her role as doctor Cristina Yang earned her a lot of notoriety, several awards, and a huge paycheck.
While Sandra Oh is no longer on Grey's Anatomy, she actually has something that will continue to remind her of all the good times she had on the series. It turns out that the actress stole a prop from the set before she left and she still has it at home. Read on below to find out what this special item is. 
Why did Sandra Oh leave 'Grey's Anatomy'?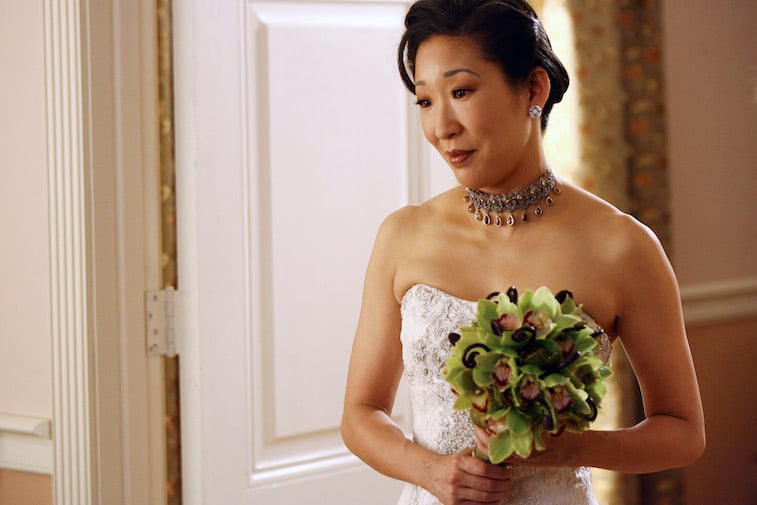 Sandra Oh first appeared on Grey's Anatomy in 2005 as one of the original cast members. She stayed on the series until 2013 when she decided that she would leave at the end of the 10th season. Her final episode aired in May 2014.
The reason for her departure, as the actress shared with the Hollywood Reporter in 2013, was simply that she had played Cristina Yang long enough.
"Creatively, I really feel like I gave it my all, and I feel ready to let her go," Oh revealed. "It's such an interesting thing to play a character for so long and to actually get the sense that she wants to be let go as well. [Cristina] wants to be let go, and I am ready to let her go."
The decision to leave did not actually come easy. After spending almost ten years on Grey's Anatomy, naturally, Sandra Oh had a hard time making this decision. She shared that she first thought about leaving in 2012 and needed "a lot of therapy" before officially telling creator/writer Shonda Rhimes about it.
Oh continued: "I gave myself two years to emotionally let go. At the end of last season, Shonda took me aside and said, 'What are your thoughts?' I said, 'I'm ready.'"
Will Oh ever return to 'Grey's Anatomy'?
Even though Sandra Oh departed the show a few years ago, Cristina Yang's presence can still be felt on Grey's Anatomy and many fans want to see her appear again.
However, Oh is still hesitant about returning. She is currently the main face of the BBC series Killing Eve, and according to Oh, she has "moved on" from playing Cristina Yang.
"I can feel it from the fans how much they love Cristina and that the show also still keeps Cristina alive, for me, [Killing Eve] is my home now," she shared with Extra. "I am Eve and that's where I plan to stay as long as the show will have me… And that's really where I want to be."
Even Ellen Pompeo, who plays Cristina Yang's best friend, Meredith Grey, agrees that Sandra Oh is doing very well on Killing Eve.
"Selfishly I would love to see Sandra Oh come back to Grey's," Pompeo said in an interview with TV Line. "But I also love Killing Eve so much, and I love seeing her have so many of these incredible moments. So, as much as I love Sandra, I'd rather see her shine out on her own. I enjoy that more. That's more gratifying to me."
What prop from 'Grey's Anatomy' does Sandra Oh have at home?
She might not be Cristina Yang anymore, but it seems that the memories of being on Grey's Anatomy will continue to stay with Sandra Oh for a long time.
In an interview with PeopleTV, Sandra Oh revealed that she once stole a rug from the set of Grey's Anatomy. It ended up being the one that was originally in Cristina Yang and Owen Hunt's apartment. "It's [still] in my living room," Oh said.