Sarah Ferguson Reveals Why She Was So Upset About Being Banned From Prince William and Kate Middleton's Wedding
Sarah "Fergie" Ferguson technically has not been a member of the royal family since she and Prince Andrew divorced back in 1996. However, she and the Duke of York do have two daughters, Princess Beatrice and Princess Eugenie, so Fergie has attended some royal events with her children over the years.
Before Princess Eugenie married Jack Brooksbank on Oct. 12, 2018, Ferguson attended Prince Harry and Meghan Markle's royal wedding but seeing her there reminded some that she wasn't invited to Prince William and Kate Middleton's in 2011. The Duchess of York did previously reveal that she was very upset about that.
Here's what she had to say and why she was banned from the future king's wedding.
Fergie reveals how she felt about not being invited
After she was snubbed from the Duke and Duchess of Cambridge's royal wedding, Ferguson told Oprah Winfrey that it was difficult not being allowed to attend the affair.
"I wanted to be there with my girls … to be getting them dressed and to go as a family," Fergie admitted. "Also, it was so hard, because the last bride up that aisle [at Westminster Abby] was me."
Fergie added that it was actually her ex-husband who tried to cheer her up and told her, "'It's OK. Just remember we had such a good day. Our wedding was so perfect.' He made me feel part of the day on April the 29th."
Fergie was also banned from this event
Fast forward to May 2018 and the duchess was invited to the wedding of Princess Diana's other son. But even though she was invited to St. George's Chapel to see Prince Harry and Meghan Markle say their vows, she was left off the guest list for the couple's evening reception thrown by Harry's father, Prince Charles.
The Prince of Wales did, however, invite Andrew, Beatrice, and Eugenie.
An insider commented on Ferguson's snub from the evening party, saying, "She is not a member of the royal family anymore and Prince Charles simply doesn't have time for her. He just can't see why she is still such a big part of his brother's life."
What her relationship with the other royals is like today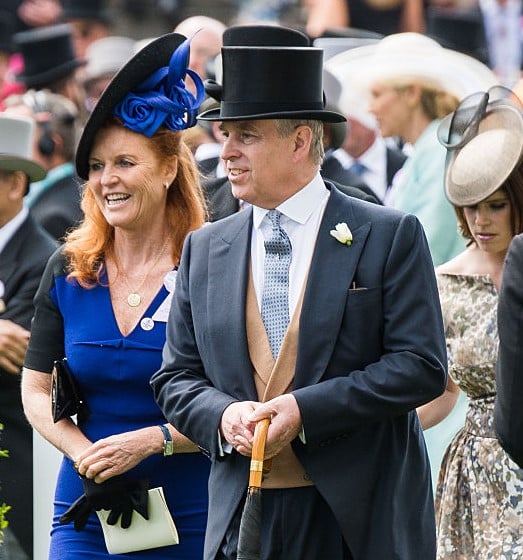 Although her relationship with Prince Philip and Prince Charles may not be great, Fergie does have a very good relationship with some other members of the royal family including her ex-husband and Queen Elizabeth II.
Ferguson and the Duke of York get along so well that they still live together under the same roof. And as for Her Majesty, she wasn't happy with the duchess after her public scandals while married to her son but over the years the two have rebuilt their friendship.
In 2018, a source told The Sydney Morning Herald that the queen and Fergie have started meeting again and enjoy tea together.
"The queen always tries to see the best in people and she has stayed in close touch, even having tea with [Ferguson] regularly at Windsor," the source said.
Read more: Is This Finally Proof That Prince Andrew and Sarah Ferguson Have Rekindled Their Romance?