Sarah Jessica Parker's Favorite Memory From 'Hocus Pocus' Is a Random One
Ask practically any '90s kid to name their favorite memory from the 1993 Disney movie, Hocus Pocus, (find out how it became a classic Halloween movie here)and they'll have an answer ready faster than the Sanderson Sisters can say, "I put a spell on you, and now you're mine." Check out every Disney movie released in the 1990s in addition to Hocus Pocus. 
Sarah Jessica Parker, who played Sarah Sanderson in her pre-Sex and the City days — the HBO series premiered in 1998 when the actress was 33 years old — has one particular memory from Hocus Pocus she fondly looks back upon more than 25 years (25 years!) later. But it's not she can share with a fan of the movie. Rather, it's a memory from behind-the-scenes. 
During an appearance on The Late Show with Stephen Colbert in 2018, Parker told the show's host she liked hanging out on her character's broom after filming her favorite scenes, which involved — surprise, surprise — flying on a broom, according to HuffPost. 
"They'd call 'cut' and they'd go to lunch or maybe they'd change the lens, and I'd just stay up there," Parker said of sitting on her character's broom. 
The 54-year-old actress then explained she'd stay up there with reading material, a newspaper, back before cell phones were commonplace.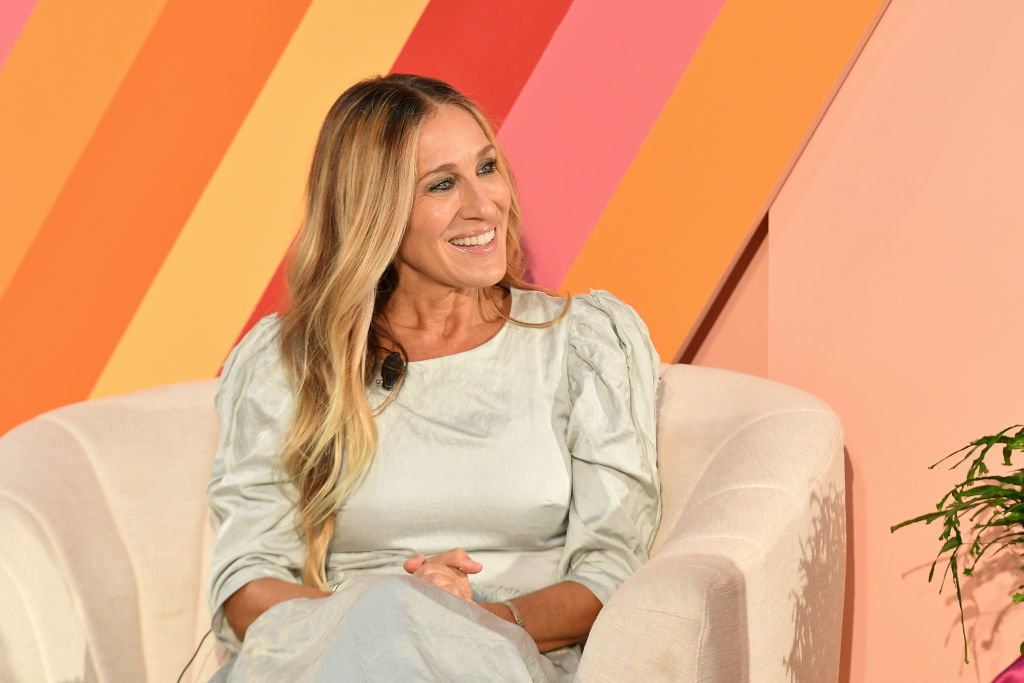 "I could fit an entire New York Times up the back of the corset. And I found that the harness was comfortable, so I would just sit up there and read the Times while people took their breaks or changed the camera and some time went to lunch," she added. 
Ah, how times have changed. These days the technology on movie sets has changed greatly while Parker'd probably have her cell phone hidden beneath her corset today. 
Parker didn't remember much of the plot
A quarter of a century later, Parker revealed she didn't remember much about the plot of Hocus Pocus.
"I don't have a lot of memories. I remember the filming of it. I just don't remember what the movie's about as much," she told Stephen Colbert.
Then she detailed what exactly she remembered about the storyline, which wasn't much.
"Three witches, I've been told that and apparently, my character's not very bright," she said before adding, "But I fly and sing and I think I like to suck the life … I think I like to kill children? I don't know."
In the movie, the Sanderson Sisters — Winifred (Bette Midler), Mary (Kathy Najimy), and Sarah (Parker) — were brought back to life for one night on Halloween when a virgin, Max (Omri Katz) lit the Black Flame Candle. To become immortal, they attempt to suck the lives out of all the children in Salem, Mass., before sunrise. 
Will Sarah Jessica Parker be in the 'Hocus Pocus' reboot?
While Parker couldn't recall many details of the plot, she's been open about her interest in revisiting the film and making a sequel, which fans have been requesting for years. 
Parker went on Watch What Happens Live with Andy Cohen to promote her TV series, Divorce, and spoke with the show's host, Andy Cohen, about reprising her role as Sarah Sanderson. 
"I would love that," she said before adding, "I think we've all been fairly vocal about being very keen but that hasn't created any groundswell of movement."
A reboot of Hocus Pocus is finally in the works but sadly, the actress nor her co-stars Midler or Najimy will be in the movie because it's been reported to have all-new set cast members.
Find out how much Hocus Pocus made at the box office when it opened here.