Sarah Palin Reveals How Cold Todd Palin Has Been During Their Divorce
Sarah Palin's homelife appears to be an absolute wreck. Rumors are swirling that her two daughters, Willow and Bristol, are not on speaking terms, and the rift has widened now that Willow has had twins. Her son, Track Palin, is wrapped up in legal issues stemming from domestic violence, and her divorce is getting ugly. Now, Sarah is publicly slamming her ex for the way he decided to broach the topic of divorce.
How did Todd Palin ask Sarah Palin for a divorce?
Sarah Palin isn't mincing words about her bitter divorce. The former GOP vice presidential candidate alleges that she was informed about her husband's desire to divorce through an email from his lawyer. She claims she received the email more than three months before Todd Palin finally filed paperwork in Alaska to dissolve the marriage. She did not share the contents of that email.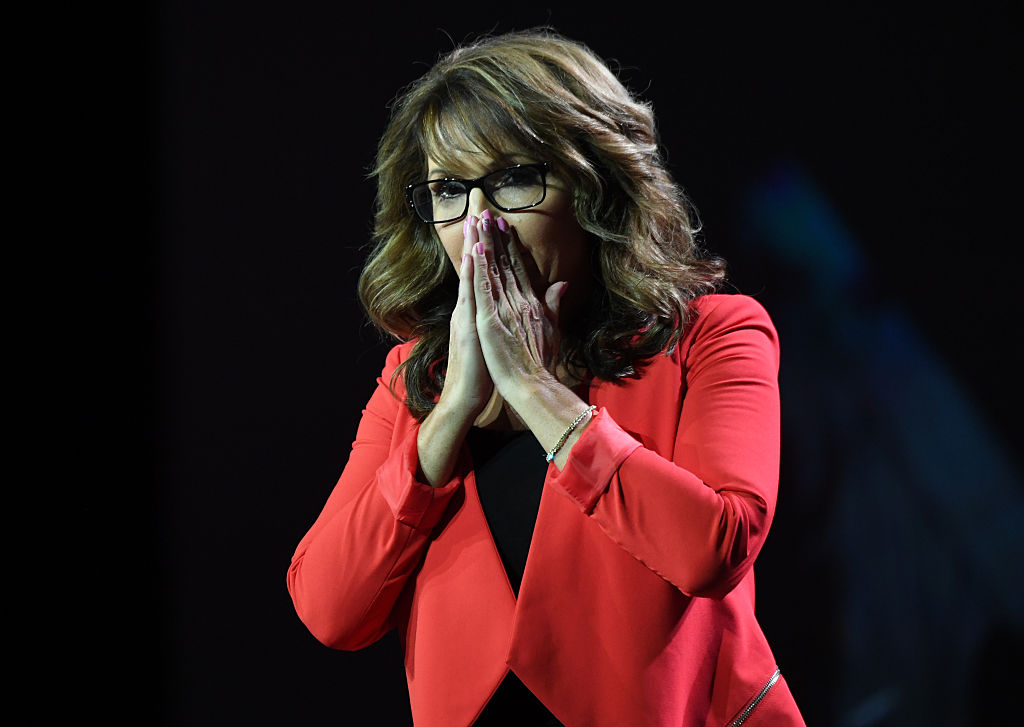 Sarah, while slamming her ex in the media, apparently still holds out hope that she and Todd will work things out. According to NBC News, Sarah told interviewer, James Dobson, that the pair are still attending marriage counseling and that there is always a chance that things will work out. Dobson is the founder of Family Talk Christian Ministry.
How long has the couple been married?
Todd and Sarah aren't your average celebrity couple getting divorced. The pair have been married for more than 30 years and, by all accounts, built a decent life together. They have five children, ranging in age from 30 to 11. They are also grandparents to seven children. Allegedly, Todd filed for divorce just a few days after the couple's 31st wedding anniversary, according to Radar Online.
The family's most recognizable child, Bristol, was thrust into the spotlight during her mother's political campaign when she was just 17. Unwed and pregnant, Bristol became a topic of conversation quickly. She later went on to star in Teen Mom OG but departed the series after one season, claiming she couldn't handle the lack of privacy.
While the couple clearly built a life together, all was not well in the Palin home. In 2016, the couple's eldest son, Track, was arrested for breaking into his parents' house and attacking his father. He was later arrested for domestic violence against a romantic partner and is believed to be at the center of the drama between Bristol and her younger sister, Willow.
Is Todd's behavior all that uncommon?
We live in a world where ghosting a date isn't all that uncommon. While it's generally accepted that a short-lived romance doesn't need a face-to-face conversation to be considered closed, a bit more care is expected when long-term partners decide to part ways.
According to Psychology Today, a recent survey found that 28% of people found it acceptable to ghost someone after a first date, while just 4.7% of people found it to be a satisfactory decision in a long-term relationship. Todd didn't ghost his wife, though. Instead, he just let a lawyer do his talking. In some cases, however cold it may seem, it might actually be better for the divorcing parties.
When a long-term relationship is ending, emotions tend to run high. If the Palins had explosive arguments before, it's possible the email was an easy way to allow the information to sink in without resulting in an outburst. Whether or not his decision is a common one, is an entirely different story. While many people claim to be blindsided by a divorce or separation, the truth is often somewhere in the middle. How often problems were discussed, or whether or not talks of separation were broached prior to filing paperwork depends on the couple and their relationship dynamic. In short, fans likely will never know what led to Todd filing for divorce so seemingly abruptly.