Sarah Paulson Says Her 'American Horror Story' Season 10 Return Depends on Evan Peters
The ninth season of American Horror Story is well underway. With only a few episodes left, fans are captivated by the slasher storyline and itching to find out how it ends. However, some American Horror Story viewers have been begging for Sarah Paulson and Evan Peters to return after their respective departures prior to 1984. Naturally, those fans are also waiting for AHS Season 10 news — just in case Paulson and Peters decide to come back. And now, it seems Paulson wants to reappear on the FX anthology series — but under one condition.
Sarah Paulson will return to 'American Horror Story' for season 10 if Evan Peters comes back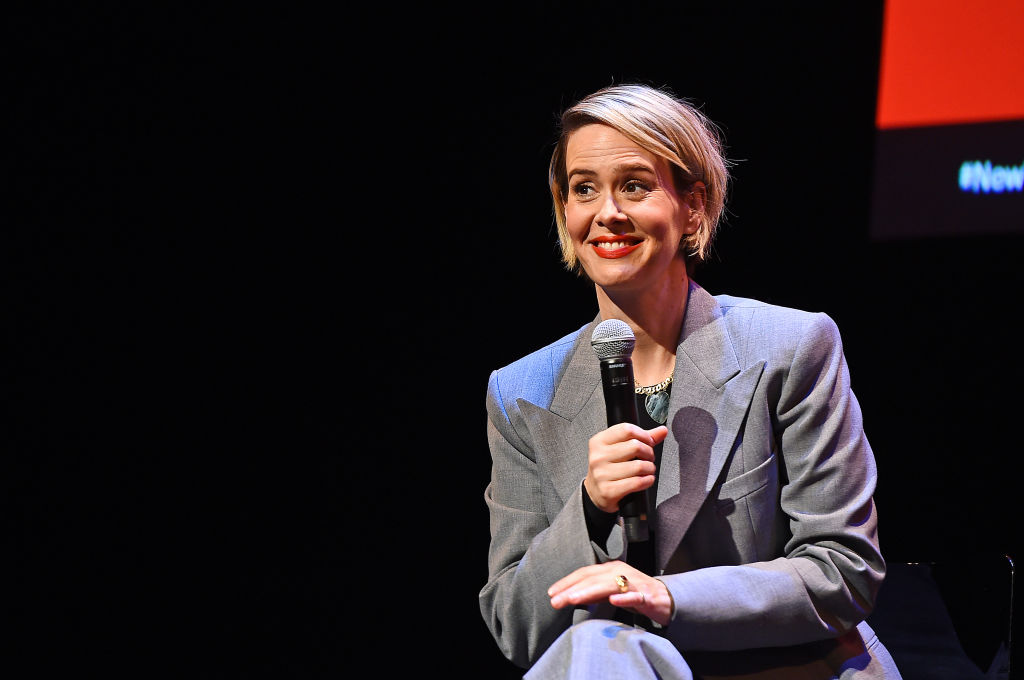 During an interview with TV Guide at the American Horror Story 100th episode celebration, Paulson revealed how difficult it was to leave AHS for its ninth season.
"It's hard to not be a part of it," Paulson said. The actress also confirmed she wants to come back for the new season of AHS, which has already been renewed by the network.
"I would love to [return for Season 10]," she said. "I need to be a part of it again."
That said, it seems Paulson is also hoping Peters will return to American Horror Story in season 10. But she took it a step further and stated she will only come back if Peters does the same.
"I would like to do something with Evan," Paulson said. "I miss Evan and I miss acting with Evan. So I'd love to have that experience again. If he'll come back, I'm back."
Sarah Paulson's previous comments about returning to 'American Horror Story'
Now, the TV Guide interview isn't the first time Paulson acknowledged her wish to come back to AHS. When speaking with Variety at the 100th episode celebration, the actress once again confirmed her absence from 1984. She then noted her desire to continue working on the Ryan Murphy-created series until the end of her days.
"I think the star of American Horror Story is American Horror Story itself," Paulson said. "The show is the thing and I think you can get a whole different group of actors and people will still watch it. I think that's the extraordinary thing that Ryan created, and I would love to be a part of it. One time, I said I'd like it be to vampires in space when I'm 99 and I hope the show is still going then."
Will Evan Peters return 'AHS' in the future?
When Peters announced he was leaving AHS, he revealed he struggled with playing darker characters.
"It's just exhausting. It's really mentally draining, and you don't want to go to those places ever in your life," he told GQ in July 2018. "And so you have to go there for the scenes, and it ends up integrating it somehow into your life."
However, in May 2019, Peters told Digital Spy he was open to the possibility of returning to American Horror Story sometime in the future.
"Absolutely, never say never," Peters said. "Yeah, we'll see what happens."
Now, it's possible Peters' AHS comeback could be sooner than fans think. When speaking with Entertainment Weekly in October 2019, Murphy announced he recently spoken to Peters about returning to the FX series. However, no definite plans have been made.
"We spoke in the past month about him coming back to the show some year and I hope we will," Murphy said.
Clearly, Paulson wants to return for American Horror Story Season 10. But will the actress get her wish and receive Peters as a co-star? Only time will tell.
Check out Showbiz Cheat Sheet on Facebook!