Sasha and Malia Obama: Did the Former 'First Sisters' Get Along Growing Up?
Any girl who has a bond with her sister knows that a relationship between sisters is like a rollercoaster — sometimes you're up, sometimes you're down. So you can only imagine what it must have been like for Sasha and Malia Obama to grow up as "First Sisters."
Sure, living in the White House has its perks, but living such a public life must have made things a little rockier sometimes, too. These two have literally grown up before America's eyes so we can hardly believe that Sasha, 18, recently partied at prom or that Malia, 21, is a real-deal adult who is enjoying life at Harvard University and dating hunky guys.
It all kind of makes us wonder: did Malia and Sasha Obama get along as sisters growing up?
Michelle Obama has said that childhood in the White House wasn't always easy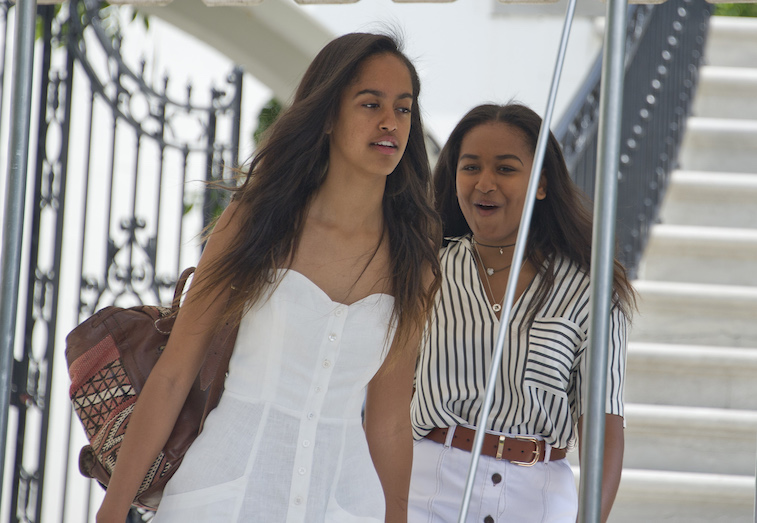 The former First Lady has been known to joke about how her two daughters may not have always enjoyed the extra scrutiny (not to mention the constant Secret Service detail) that comes with being the President's kids.
At the Essence Festival in New Orleans in July, she joked in an interview with CBS: "Imagine having Malia and Sasha come to your house for a sleepover…'Thank you for having Malia and Sasha over. Oh, and by the way, there is going to be a man with a gun sitting outside all night. If you let him use the bathroom, that would be nice.'"
Too funny, Michelle, but we can't imagine Sasha and Malia always found it humorous.
It also couldn't have been a cakewalk raising kids in the White House either, so this entire family must have had an interesting time figuring things out as the girls grew older. Luckily, Michelle seems like the kind of mom who could always be relied on to give her daughters some good advice on navigating such truly unique circumstances.
Michelle Obama's recent British Vogue interview offers some insight
Michelle Obama recently sat down for an interview in the September issue of British Vogue (as well as for a heart-to-heart with Guest Editor Meghan Markle!) and discussed how life in the White House impacted her daughters.
One thing she mentioned is how the two are actually so so different, explaining "One speaks freely and often, one opens up on her own terms. One shares her innermost feelings, the other is content to let you figure it out."
Of course, she didn't say which personality traits fit which sister, but given Malia's history of making a statement, we have our guesses.
Still, Michelle came off very much the proud mama when she added, "Neither approach is better or worse, because they've both grown into smart, compassionate and independent young women, fully capable of paving their own paths."
Obama also claimed that she and dad Barack couldn't help but be a bit controlling as parents. However, both learned to give the two young women more space to grow after being "humbled and heartened" by "the resiliency of [their] daughters."
Awww! We love hearing Michelle gush about her girls like this.
So do Malia and Sasha share a special sisterly bond?
Since leaving the White House, the two girls understandably like to keep pretty private, but they certainly seem to be getting along great these days. In June, BET reported on their incredibly fashionable French vacation where the two sisters were seen taking in the sites (and celebrating Father's Day with their parents) in a number of enviable high-fashion looks.
They seem to be living their best life and bonded in a way that can only come from experiencing a highly unusual childhood. Sasha and Malia Obama have really come into their own as young women and they've done it all side by side, so we can only imagine that their relationship as sisters is as strong and steady as ever.