'Schitt's Creek' Star Dan Levy On the Show's 'Meme Legacy'
For those who haven't heard, Schitt's Creek is, well, the s***. The Canadian comedy, which airs on Pop in the U.S. and which many found through Netflix, has aired for five seasons, with a sixth one on the way. But maybe you've only heard of the series through social media, where it seems to thrive. Here's what star Dan Levy had to say about the meme-able qualities of his show.
What is Schitt's Creek about?
If you haven't seen the series, you may be turned off by the name. Here's what you need to know: Schitt's Creek is about a wealthy family who, in the first episode, lose it all thanks to a series of poor financial decisions and a shady business manager. They are forced to leave behind their material possessions and move to the eponymous town, which was purchased as a joke years prior.
The family, which consists of businessman Johnny Rose, his actress wife, Moira, and their two adult children, David and Alexis, has to adjust to life in a tiny motel amid a group of eccentric, small-town residents. At first, things are a disaster, but they begin to learn a lot about life, and each other, over time.
Dan Levy is both the star and creator of the series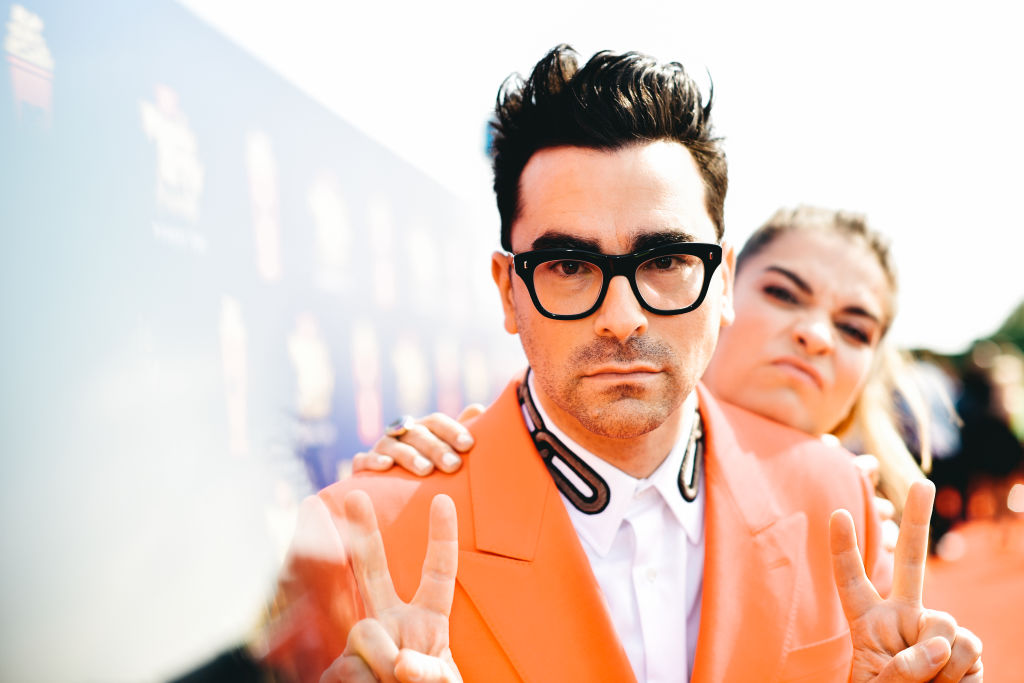 Levy, who portrays David, is also the co-creator of the series. He created is with his father, famous comedian Eugene Levy (the American Pie franchise), who also plays Johnny. And it's truly a family affair — his sister, Sarah Levy, plays a waitress, Twyla Sands, at a local cafe.
According to Levy, who hadn't acted very much before Schitt's Creek, the idea for the series came from seeing families like the Roses on screen. "I had been watching some reality TV at the time and was concentrating on what would happen if one of these wealthy families would lose everything. Would the Kardashians still be the Kardashians without their money?" he told Out.com in 2015.
He doesn't take credit for the Schitt's Creek memes
The content of the series is so hilarious, it's no wonder its become fodder for many memes, gifs, etc. across the internet. But in a recent interview with The Hollywood Reporter, Levy gave credit for that to those handling the Schitt's Creek social media accounts.
"I'm quite proud of the meme legacy this show has left behind," he said. "A lot of that I have to attribute to the Schitt's Creek social media manager, who has done an unbelievable job of turning this show into something so much more than just a show. I'm seeing my face in random text conversations with strangers — it's the strangest. I'm like, "Well, I guess that's just how my face looks." It's been truly wild."
Schitt's Creek approaches both dark and light subjects
Yes, Schitt's Creek is without a doubt a comedy. But there are more serious elements to it. According to Levy, "If your characters are grounded in something real, you can push them comedically to these different limits. You can introduce wigs. You can make the jokes. You can write the eccentricities of all these characters if they're grounded in something truthful." 
"We've always looked at the show as a drama that happens to have colorful characters and funny circumstances — but never forgetting that there is a heartbeat to the show," he continued. "At the end of the day, as funny as it is, it's really a show about acceptance and love. That philosophy has allowed us to walk that tightrope of comedy and drama and not have either of the two feel too heavy."