'Schitt's Creek': What Fans Think Will Happen in Season 6
Schitt's Creek returns for its sixth season on Jan. 7, 2020. The newest season of the show will be its last, and fans everywhere aren't ready to say goodbye to the iconic characters. So far, a few sneak previews of season 6 of Schitt's Creek have been released. With just a few weeks until the season 6 premiere, fans of Schitt's Creek have started speculating what will happen in the final season.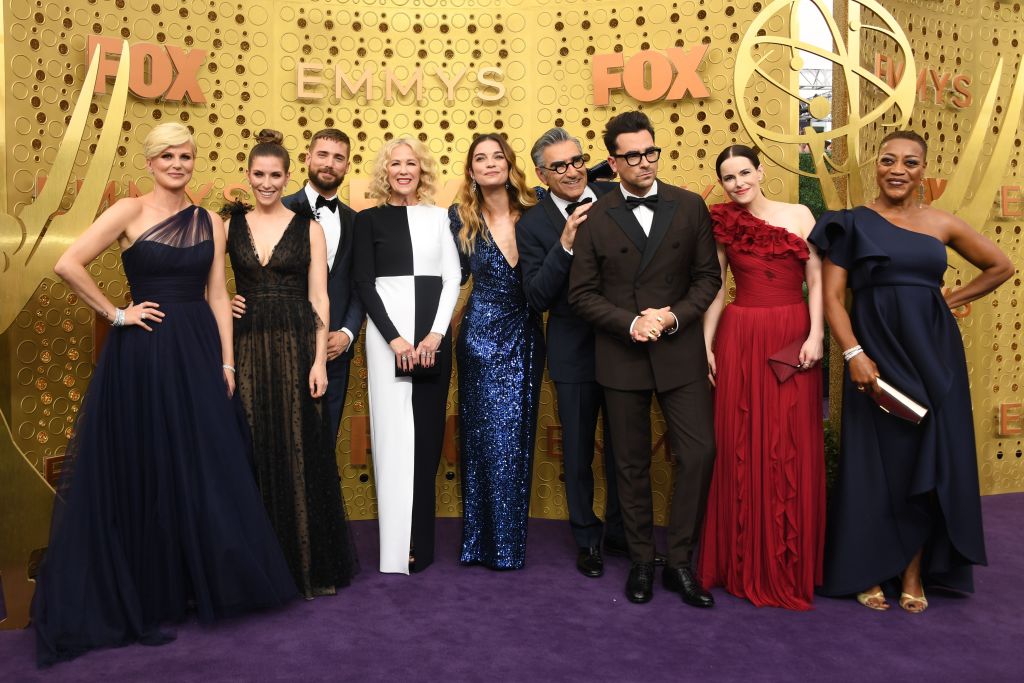 Season 6 of 'Schitt's Creek' is the last season
While Schitt's Creek just experienced a jump in popularity over the past year, the creators of the show are adamant the show will not go past six seasons.
"I think the audience, the fans of the show, have really come to rely on it as like a safe space in a dark time," co-creator Dan Levy said. "And the thought of pushing that past its expiry date for the sake of just being able to do another season — I care too much about our viewers and about our characters to risk taking them farther than they need to be taken."
He created the show with his father, Eugene Levy. The two play father and son, Johnny and David Rose, in Schitt's Creek.
"So, it was always planned that this was going to be the end. And I really had no interest in pushing that any further and potentially compromising a good thing," Dan Levy said.
The cast assured fans they will enjoy the finale of 'Schitt's Creek'
Earlier in May 2019, cast members teased fans about the finale for Schitt's Creek. The cast took part in an Emmy Awards For Your Consideration event and discussed saying goodbye to the characters they play.
"It's been strangely — I guess not so strangely — emotional, but it's definitely been cathartic and lovely and sad and all the things that you would hope for," Dan Levy said. "Having an emotional response to things ending means that you've done something right and that you care."
"The motel that my character went to bed crying every night — cried herself to sleep, hoping to get out of there — careful what you wish for," Catherine O'Hara said. "I cried."
Based on what O'Hara and Dan Levy said, the season 6 finale of Schitt's Creek is sure to be emotional. Emily Hampshire, who plays Stevie in the show, reassured fans during an interview with Bustle that the series finale will be worth it.
"You will not only be satisfied, but pleasantly surprised and hopeful," she said. "I mean even if a fire burns down the whole motel and everyone in the town dies, you're still hopeful."
Fans of the show have heartwarming theories about the finale
On Dec. 9, Schitt's Creek released a sneak peek of the upcoming season. The clip did not give much away, but it has fans excited for the final season. Fans are so excited, they have been speculating about the finale for months. Most of the theories are beyond heartwarming.
"This one is sorta broad but I think that in one episode (specifically the finale) someone is gonna come around and want to buy SC off Johnny but the rose family is going to refuse because they finally found their home," speculated a Reddit user.
"I think the business manager will finally get caught and they will get a good chunk of their fortune back. Rose Apothecary will open more stores. And that's all I've got right now," another Reddit user wrote.
While most fans think the Rose family will get some of their fortune back, one fan thinks Johnny will have known about it for months.
"… I could see it being a really funny episode where they find out that Johnny has known for a few months, the money has been returned but he doesn't want to tell anyone because he loves his family being so close and doesn't want to ruin anything," wrote a Reddit user.