Scooter Braun: Justin Bieber, Ariana Grande, and 5 of His Other Clients Plus What They've Said About Taylor Swift Drama
Scooter Braun is a big name in the music industry — his estimated net worth is $400 million — as he represents a number of very high profile artists but who exactly does he manage? Find out ahead.
Who are Braun's clients?
According to the company's website, their clients include Demi Lovato, Justin Bieber, Kanye West, Dan and Shay, J Balvin, Zach Brown Band, Idina Menzel, Asher Roth, Usher, and Karlie Kloss among others.
Braun and Taylor Swift: What's going on?
Braun along with Scott Borchetta, CEO of Big Machine Records is currently battling with Taylor Swift over her back catalog of songs. The dispute began in June 2019 when Braun purchased Swift's old music from her former record label which prompted the "Lover" singer to pen a letter on Tumblr.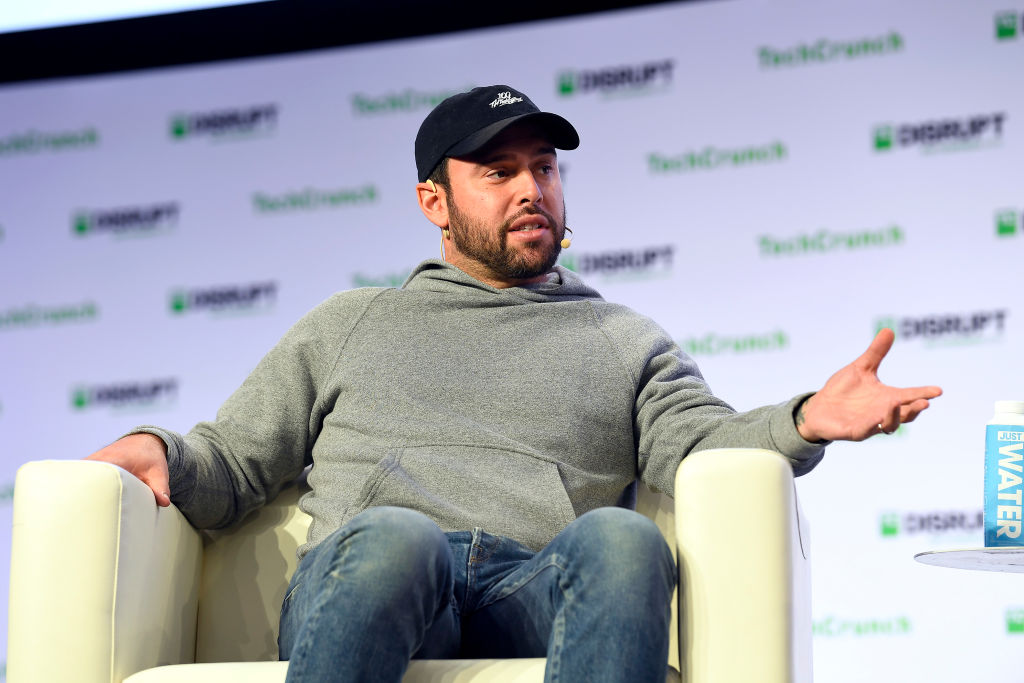 The drama continued on Nov. 14, 2019, when the "You Need To Calm Down" singer shared a lengthy letter on her Instagram Stories and other social media platforms urging her fans to aid in her quest to "perform MY OWN music."
The post came after Braun and Borchetta attempted to block Swift from singing her old songs at the American Music Awards on Nov. 24, 2019, because "they claim that would be re-recording my music before I'm allowed to next year."
Have his clients commented on Swift drama?
With the ongoing drama, celebrities have been taking sides, and some who are known to be friends of Swift's have remained eerily silent on the subject.
But that could be because they're represented by Braun and his management company, Scooter Braun Projects, or they simply prefer not to respond publicly and stay far away from the drama.
Demi Lovato says Braun's 'a good man'
The 27-year-old "Sorry Not Sorry" singer signed with Braun in May 2019 making the announcement on her Instagram.
She's among the artists represented by the 38-year-old who has spoken out about the drama with Swift. According to E! News, Lovato took to her Instagram Stories to comment and called Braun "a good man." 
Justin Bieber had a 'rough day' when drama continued
Justin Bieber and Braun have known each other for years and are good friends. The "I Don't Care" singer put himself in the middle of the drama by directly addressing Swift on Instagram following an incident with a FaceTime video call and later issued an apology.
After Swift called on Braun's artists to speak directly with him, the 25-year-old shared a mysterious message with his fans on Instagram Stories: "I'm having a rough day, thought I'd share, remind you [you're] not alone. Keep pushing."
Karlie Kloss threw shade at Swift
The model and founder of Kode With Klossy is another big name represented by Braun and has been friends with the "ME!" singer for years. Although in recent times it seems they haven't been as close as they once were with Swift being notably absent from both of the model's wedding ceremonies. And, according to Twitter users, Kloss quickly liked and then un-liked a tweet in support of Braun.
She liked a tweet that read,
"You sold "your" music, and became filthy rich by doing so. It's not "yours" anymore, it's the record label's. If I sell my car to someone else, and they won't let me to drive it anymore, it's because that's how things work."
As the drama continues to unfold, we have to wait and see whether or not other celebrities take sides in the feud. And, of course, see if Swift will sing her old songs at the AMA's.