'Scrubs' Actor Sam Lloyd diagnosed with Inoperable Cancer
You may know Sam Lloyd better as his Scrubs character, Ted Buckland. The character was the butt of many jokes on the show and was always good for a performance or two with his band The Worthless Peons.
But recently, Lloyd's life has been filled with a lot less humor than that of his Scrubs counterpart.
On Monday, the actor revealed that he had been diagnosed with cancer in January. The details of his conditions are listed in a GoFundMe page that was set up to help Lloyd with expenses.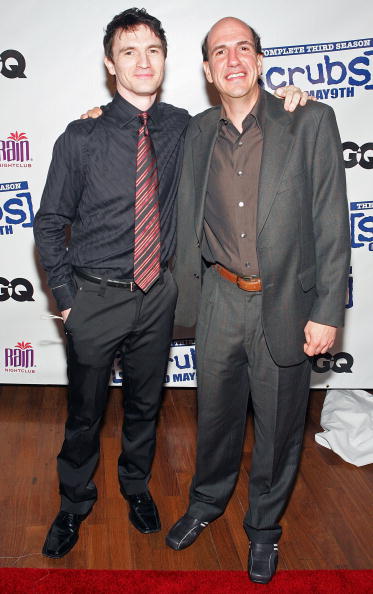 Symptoms
It all started halfway through January when Lloyd began suffering from headaches and unexpectedly lost 10 pounds. Lloyd and his wife Vanessa had just welcomed their son Weston into the world a few weeks prior, so Lloyd assumed that the weight loss and headaches were due to the sleepless nights and stress that come with having a newborn.
On January 17th, Lloyd finally decided to go see a doctor. Thinking that the issue might be a sinus problem, the doctor performed a CT Scan. The scan showed a mass on Lloyd's brain.
Cancer
After discovering the mass, the doctors immediately performed brain surgery on Lloyd the next day.
According to the GoFundMe page, the tumor "was too intertwined so the surgeons couldn't remove it."
On Sunday of that week, the doctors determined that the cancer had metastasized from his lungs and was also in his liver, spine, and jaw.
GoFundMe
Since the diagnoses, Scrubs producer Tim Hobert, along with his wife Jill Tracy, has started the aforementioned GoFundMe page to help Lloyd with his medical costs.
" In the face of this devastating news, Sam and Vanessa have been incredibly strong and positive," the page reads. "Humor and laughter, which have been a huge part of Sam's life, will undoubtedly help him with what lies ahead. Just hours after being diagnosed, Sam was cheering on his beloved New England Patriots in his hospital room. When the nurse asked him to 'cheer quieter,' Sam politely nodded. When the nurse left the room, Sam turned to Vanessa and his friends and said, 'What are they gonna do? Kill me?'"
The page goes on to describe what a great person Lloyd is.
"Sam is, simply put, a sweet, kind, and generous soul. Through his music and acting, and most of all his friendship, he has blessed all of our lives immeasurably. Throughout his wonderful life, including his more than 30 years in Los Angeles, Sam has perfected the fine art of friendship. So many of those friends have reached out, wanting to know how they can help support him and his family during this difficult time."
The goal of the page is to allow both Lloyd and his wife to take time off of work and focus on his health.
"As Sam and Vanessa face the challenges ahead, they will both have to put working on hold," the page reads. "There will be a range of medical, childcare, and other expenses. We are asking for your help so our dear Sammy can use the time ahead to GET HEALTHY, spend time with his wife, his new son, and his wonderful friends – and to borrow the title of the new song Sam wrote for his show… "Make Music Along The Way." Every prayer, every positive thought, every dollar, and every gesture of support is greatly appreciated."
Read more: Co-Stars and Friends: 12 Actors Who Hang Out in Real Life
Check out The Cheat Sheet on Facebook!