Is 2019 MTV VMA Host Sebastian Maniscalco Married?
In June 2019, comedian and actor Sebastian Maniscalco broke the news that he will host the 2019 MTV Video Music Awards on The Tonight Show Starring Jimmy Fallon. He hosted the award show back in 2002 and follows several other comedian hosts including Chris Rock, Chelsea Handler, and Kevin Hart.
Even though the comedian sold out a four-show run at Madison Square Garden, he is not up to date on pop culture. The best-selling author confused Cardi B with a spice or supplement, thought singer Billie Eilish was a guy, and mistook Childish Gambino as "Italians breaking into hip-hop."
Bruce Gillmer, the MTV VMA executive producer, said they are "thrilled" for Maniscalco because of his "comedic spin on relatable topics." Is Sebastian Maniscalco married, and does he have kids? Keep reading to find out!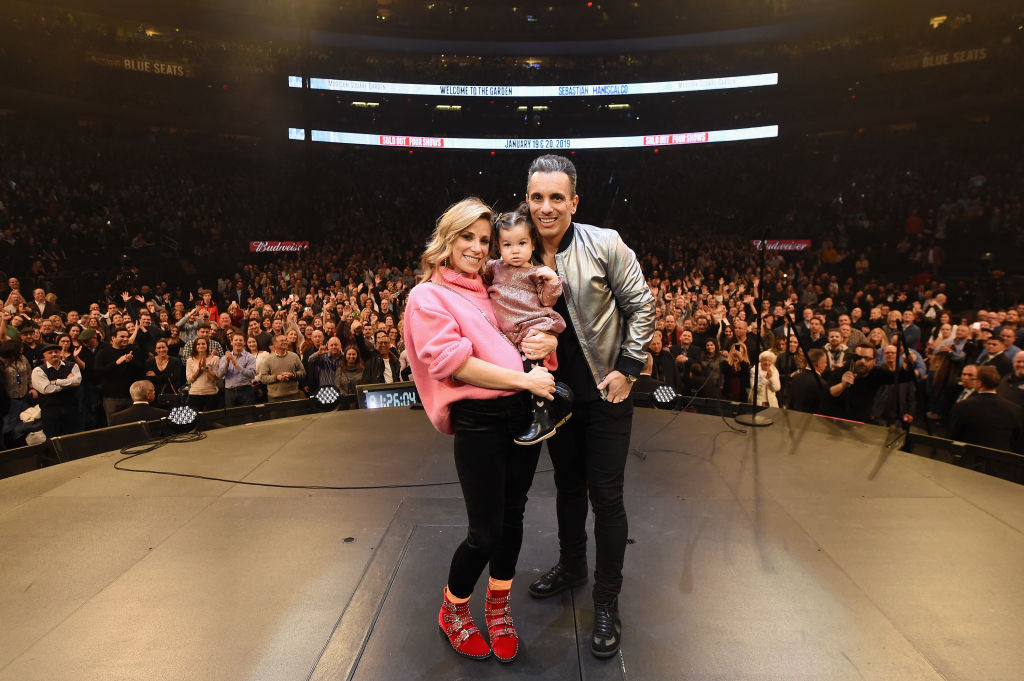 Is Sebastian Maniscalco married with children?
In an interview, the comedian told the story of how he met his wife. He said he asked his trainer to work out with attractive girls, and he introduced Maniscalco to Lana Gomez. Apparently, while Gomez ran on the treadmill, he asked her in an exaggerated Italian accent, "You want to go out with this?"
Initially, the artist rejected him; however, they ended up dating before marrying in August 2013. The comedian, an Italian-American, often uses his wife's Jewish background as the butt of his jokes during stand up shows. The couple welcomed their first child, Serafina Simone, in May 2017. Their daughter's first name is derived from the comedian's grandmother, and her middle name comes from Gomez's mother.
Two years later in June 2019, Gomez gave birth to their second child, a son named Caruso Jack. They decided on the name because of a hotel they stayed in during their honeymoon, and Caruso translates to "boy" in Sicilian.
Sebastian Maniscalco's comedic and acting career
Born in Arlington Heights, Illinois, on July 8, 1973, to Italian immigrant parents, he moved to Los Angeles at 25-years-old. He began his career by performing at open mics and in bowling alleys while working as a waiter to support himself for the next seven years. In 2005, he landed a recurring gig at The Comedy Store in West Hollywood, and then went on to perform specials for Comedy Central.
So far, he has released a total of five hour-long specials: Sebastian Live (2009), What's Wrong With People (2012), Aren't You Embarrassed? (2014) Why Would You Do That? (2016), and Stay Hungry (2019). The comedian has appeared on The Late Late Show With Craig Ferguson, The Tonight Show With Jay Leno, The Jay Leno Show, The Tonight Show Starring Jimmy Fallon, Conan, and The Late Show With Stephen Colbert.
He also acted in a few movies including The Nut Job 2: Nutty By Nature and the Academy Award-winning film, The Green Book. He is also cast in the upcoming Martin Scorcese movie titled The Irishman, alongside Al Pacino, Joe Pesci, and Robert DeNiro. The actor has cited comedians including Jerry Seinfield, Brian Regan, and Bill Burr as his influences.
Watch the MTV Video Music Awards on Monday, August 26, 2019, at 8 P.M. EST!