Seemingly Perfect Mary Berry Faced Hardship and Tragedy Before 'The Great British Bake Off'
Mary Berry is one of the most beloved personalities on British television. Over the past few years, she has built a large base of American fans as well.
Berry's sassy, prim and proper persona was the highlight of the iconic show The Great British Bake Off. Even though she is in her mid-eighties, Berry is still going strong.
Although Berry is often thought of by fans as being picture-perfect, she has actually faced a great deal of tragedy in her life. Read on to learn about Mary Berry's early life, the devastating illness that she suffered, and the other great trauma of her life.
Mary Berry's childhood illness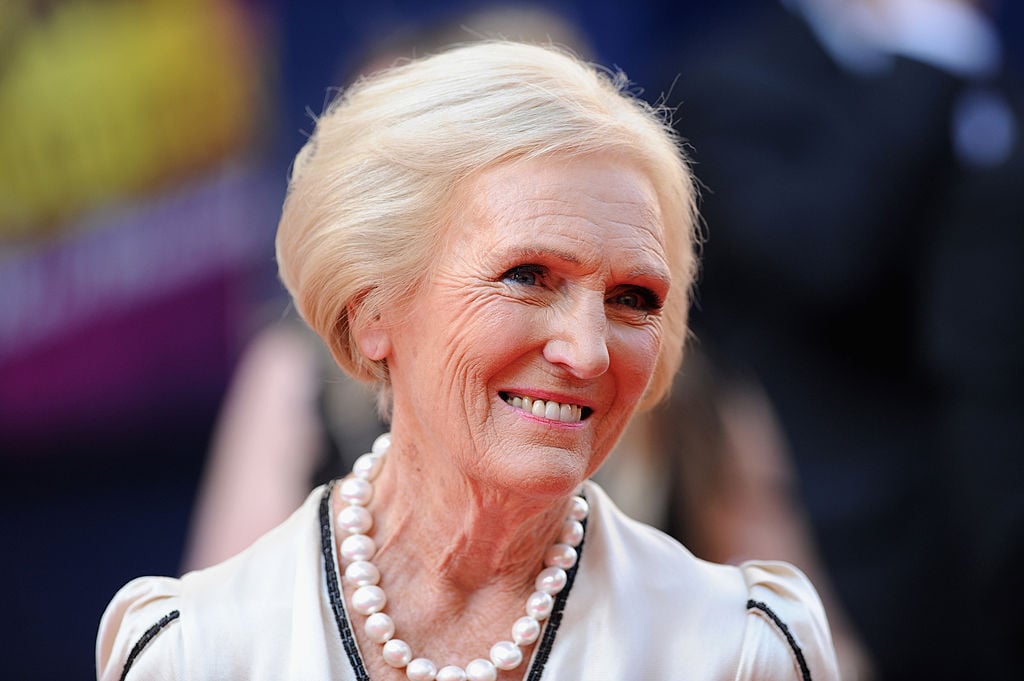 Berry was born in 1935, the second of three children. While much of Berry's early childhood seems relatively uneventful, when she was thirteen years old, everything changed.
A young Berry contracted polio and ended up having to spend three months in the hospital. In 2013, Berry opened up about her illness, revealing how she was forced to be separated from her parents behind a glass partition and that when her parents did come to visit her, she would spend the visits in a "flood of tears." 
As a result of her illness, Berry was left with a thinner left arm, a slightly twisted spine, and a weakened left hand. However, years later, Berry was able to put a positive spin on the tragedy.
In her 2013 interview, Berry revealed that when she was finally able to go home, she had a renewed interest in domestic sciences and enthusiastically plunged into her studies, which included experimenting in the kitchen.
Mary Berry's financial struggles
When she decided to pursue cooking as a career, Berry moved to France in order to attend the prestigious Cordon Bleu school. However, her experience in Paris did not come without difficulties.
Berry struggled to make ends meet while in France and frequently did not have enough money to purchase full meals. In fact, Berry would end up eating a plain baguette for supper every night of the week to try to save money. 
Berry has always been career-minded and determined to make her own way in life. She got married at the age of thirty-one and had three children: Thomas, Annabel, and William.
Sadly, Berry did not get much time to bond with each of her three children after their births. Maternity leave was not yet implemented everywhere and Berry, needing to bring in an income, had to go back to work only five weeks postpartum.
Still, all her hard work eventually paid off. Berry's cookbooks became staples around the world and she gained a following as a domestic goddess.
How did Mary Berry cope with the loss of her son?
In 1989, Berry suffered the greatest tragedy of her life when her son, William, was killed in a driving accident. Although Berry's daughter, Annabel, was also in the car with William and escaped without a scratch, William did not make it.
Looking back on the tragedy, decades later, Berry recalled that suffering from polio all those years earlier had helped prepare her to handle the immense sadness of her son's death. Berry stated that William's death brought her and her husband closer together, ultimately, and that even though he is gone, their son is still a big part of their lives.
They have his photo in the kitchen, where they "can look at it all the time" and now, her grandchildren see the photo and recognize their uncle. Even though Berry often seems perfect, it is clear that she has experienced more than her fair share of unhappiness and tragedy.