Selena Gomez's Most Unforgettable Instagram Moments
Selena Gomez has truly mastered the art of harnessing her star power online. Like most other celebrities, she uses social media platforms to keep fans updated on her career. And in doing so, she's given her contemporaries a model by which to engage with their own fanbase.
Gomez strikes a balance better than just about anybody else in the business. She uses the photo-sharing site to promote her brand, but she also lets her followers in on the more intimate and personal details of her romances and friendships.
The result is a social media experience that feels equal parts professional, fun, and perhaps most importantly, authentic to Gomez's public persona. And it's paid off big time for the young singer, actress, and burgeoning businesswoman. To date, she's amassed more than 137 million followers and in 2016, Gomez became the most-followed celebrity on Instagram. Here are 10 of her best posts so far.
10. I'd like to sell the world a coke
Celebrities, brands, and Instagram go together like peanut butter, jelly, and bread. So it should come as no surprise that Gomez has used the social media platform to cross-promote prominent companies. But when she does it, she does it with style.
Case in point? This June 2016 promo she did for Coke and their lyrics-themed summer campaign. By donning the corporation's signature color, she looks like she was born to sip the soft drink out of that red and white striped straw. And the "When your lyrics are on the bottle #ad" caption is a fun wink-and-a-nod to the fact that she's getting something out of the promotion, too.
Next: Taking on a new challenge
9. Behind the scenes
Gomez is an international superstar, thanks to her popularity as a pop singer. But she's hardly the type to rest on her laurels, and she's recently branched out to become a fledgling entertainment mogul. One of her most ambitious projects thus far was taking on an executive producer role for Netflix's controversial hit, 13 Reasons Why.
For Gomez, the series about teen suicide was a passion project. And she bucked traditional promotional trends when she posted this shot on Instagram the night the first season of the series was released. The image shows Gomez sitting in a director's chair, headphones on, listening intently as a scene is filmed. The stars of 13 Reasons Why stand around her, every bit as engrossed in the unfolding action. Even though the image doesn't tell you much about the series' controversial subject matter, you can tell — just by the intensity on everyone's faces — that it's totally captivating and worth tuning into.
Next: An image from an important interview 
8. Fashion forward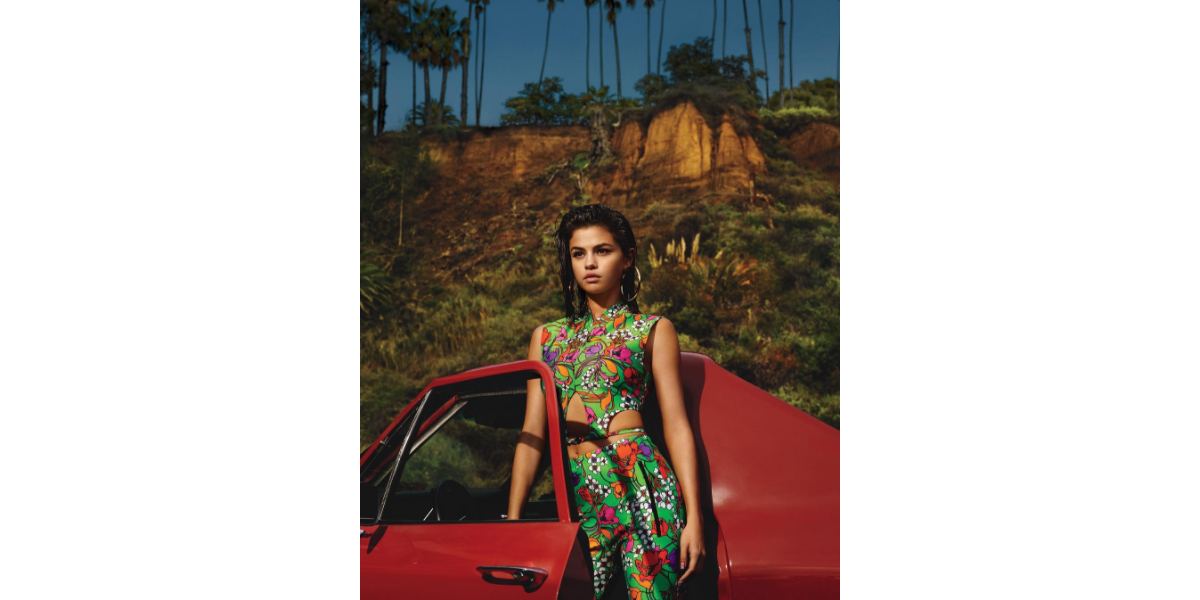 A big part of the celebrity lifestyle is doing interviews and appearing in high-profile magazines. Gomez is no stranger to this, but she rarely shares images from photo shoots on her Instagram account. That was just part of the reason why it was a big deal when she shared several photos from the March 2017 issue of Vogue.
Gomez offered a thank you to the writer and photographers behind her elaborate and deeply personal spread. The corresponding interview delved into her struggles with her physical and mental health. And by sharing this slightly haunting, but deeply beautiful image, she both got her fans excited for her big reveal and managed to prime them for what they'd encounter.
Next: Getting political
7. Weighing in on world issues
There are plenty of celebrities who are more than willing to share their political opinions with the world. Most of the time, Gomez is not one of them. But in January 2017, she broke with that tradition following the Trump administration's ban on travel to the United States from seven Muslim-majority countries.
Gomez didn't exactly weigh in on the ban herself, but she shared an image on Instagram that quoted fellow actor Ashton Kutcher's support for travelers who were stranded in airports as a result of the ban. The sentiment was strongly pro-immigrant. And in a time when the nation is divided around that issue, it proved that Gomez is willing to take a stand where some issues are concerned.
Next: Her Disney days
6. Flashback fun
Before she was a world-famous, chart-topping singer, Gomez got her start as a child actress. So, many of her fans know her from her work on series like Wizards of Waverly Place. That's why this April 23, 2,017 Instagram post struck such a sweet chord.
The dual images in the post showed Gomez and the Waverly Place cast at two very different points in their lives. We see them on set together several years ago, and then again at co-star David Henrie's wedding. It hit the sweet spot between nostalgia and "I can't believe how much they've changed" awe.
Next: A hidden advertisement
5. Credit where credit is due
Gomez is better than most at simultaneously showcasing her fun personality and getting down to business. That was certainly true of this Instagram post from May 4, 2017. At first glance, it looks like a run-of-the-mill candid shot of the pop star and her mother laughing and sharing a fun moment together. But the snap actually serves a stealthy dual purpose.
Gomez uses the caption to give a shout out to Coach, the in-demand fashion and accessory brand, for hooking her up with a brand-new red handbag. Then, she goes on to say that she gave the bag to her mother as a gift for being "the reason for (my) existence."
For both Gomez and Coach, the photo is pretty much perfect. It serves as a subtle promotion that doesn't feel too over the top. And the singer's heartfelt tribute earned her some major pre-Mother's Day brownie points.
Next: This very real moment
4. Celebrities, they're just like us: pizza and formal wear edition
Gomez is hardly the first famous person to try to highlight their more normal qualities. But that shouldn't detract from the fun factor in this January 2017 Instagram post. It features Gomez and a friend backstage at the 2015 BBC Children in Need benefit concert. But instead of striking an elegant pose befitting of the evening gown she's donned, she's scarfing down a piece of pizza.
With this photo, the star made herself look both effortlessly glamorous and entirely relatable — an impressive feat, no doubt. After all, we're used to seeing celebrities dressed to the nines at fancy events. So, seeing one of our favorites taking a moment for a quick snack is a fun reminder that they need to eat, too.
Next: Love for her fans
3. All smiles
Gomez keeps a busy schedule, especially when she's on tour. But she still makes a point to acknowledge her fans — and that's a large part of the reason she's remained as popular as she has over the years. In August 2016, she shared this photo of herself with a young fan, taken backstage during her Revival Tour.
The fan's genuine excitement at being with Gomez is apparent. The singer, likewise, looks especially happy to be hanging out with the young girl. And the corresponding caption, "One of my favorite nights on tour," proves that while the pop star has plenty of adoring fans, for her the feeling is often mutual.
Next: She knows where her fame comes from.
2. Back to the fans
Gomez hit a major Instagram milestone — 110 million followers — in February 2017. And to commemorate the event, she pointed her thanks straight at the people responsible for getting her there.
The photo above showing Gomez on stage, performing in front of thousands of fans, speaks pretty clearly to the fact that she is grateful for her fanbase. But the corresponding caption seals the deal. She tells her fans, "I promise I will continue to cherish my platform and speaking truth but more importantly, each and every one of you have changed my life. I'm very grateful."
The humble and heartfelt thank you served as a reminder as to why Gomez has achieved so much success — because she knows that it's not just about her.
Next: Her fast-paced lifestyle
1. Leaving it all on the stage
A lot goes into building a world tour. And Gomez made a point of bringing fans along for the ride when she hit the road with her Revival Tour crew in 2016. From backstage photos to quick concert clips, she used her Instagram account to keep fans updated on all her adventures.
This image, which she shared as the tour was winding down, captured the high drama and intense energy that she had to bring to the stage every night. And it hints at the exhaustion she must have felt by the time she took her final bow.
Follow Katherine Webb on Twitter @prufrox.
Check out The Cheat Sheet on Facebook!