Selena Gomez's Besties Surprised Her With The Perfect Birthday Present
Selena Gomez continues to prove that despite her immense success, fame, and fortune, she's just like us. She struggles to deal with the pressures of social media, she adores junk foods, and she still gets excited super excited about birthday presents. Just last week on July 22, Gomez entered her late 20's and celebrated her 27th birthday in style. Taking an Italian vacay with some of her very best friends, the singer seems to be doing very well. Now the actress has revealed the birthday present that two of her best friends got for her, and you'll never guess what it is.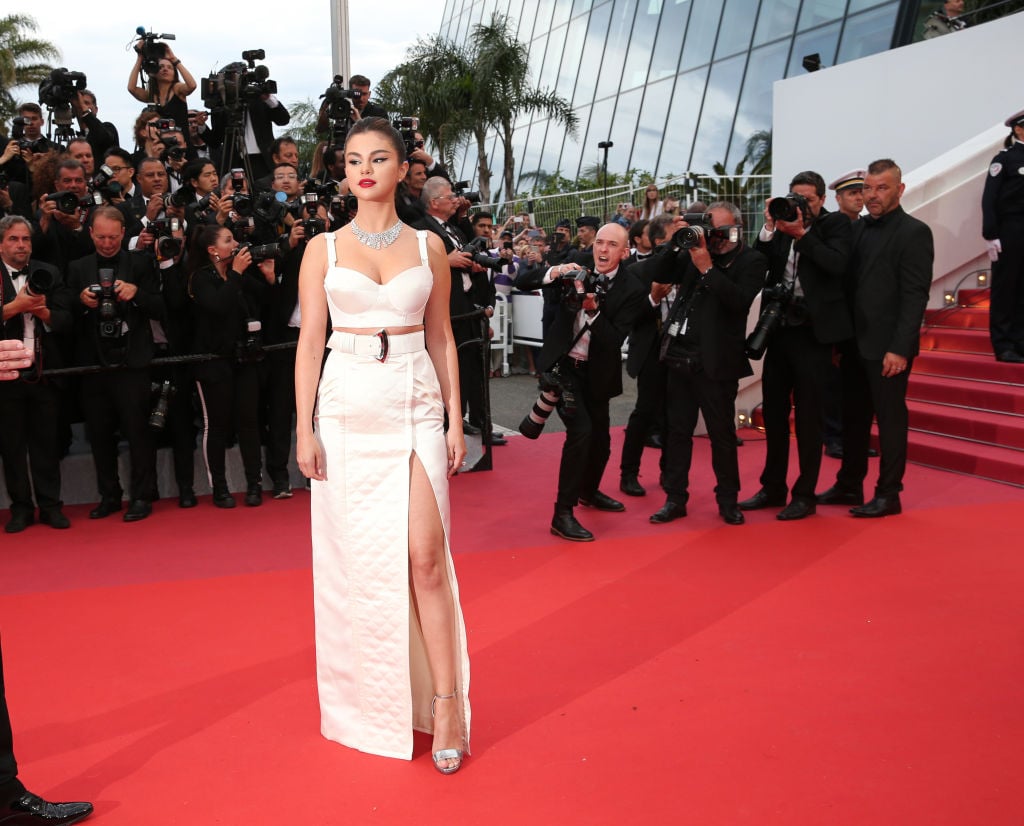 Though Gomez is one of the most-followed people on the planet, the actress still chooses to use Instagram pretty sparingly. Though she didn't post any photos or videos on her actual birthday, she did hop online a couple of days later to share her appreciation to all of her fans who sent her well wishes.
Cheers to 27
"Well, I'm 27 now. I wanted to thank each and every one of you for your words on my bday. Not just the quick notes. The thought that goes behind every word you write usually ends up with me crying grateful tears like I did last night. Praying for all of you!! I LOVE YOU," the "Good For You" singer wrote. Alongside the caption, was a picture of Gomez, grinning barefoot in a white dress, overlooking what appeared to be Rome. This caused speculation that the singer was spending her birthday abroad.
A birthday spent abroad
Gomez confirmed the speculation that she was in Italy when she posted a subsequent picture just a couple of days later and captioned it. "Me, Italy -trying desperately to look like a Fellini film." In this picture Gomez is sitting in a gondola, wearing a beautiful, floral dress peacefully smiling at the camera. We honestly can't think of a more perfect way to spend a birthday.
Shark Tank
But it seems that the trip wasn't the only way Gomez is going to celebrate her birthday. Early this morning, Gomez shared the present that two of her besties gifted her for her special day. In the video, Gomez is watching a video that serves as part of her birthday gift. After a series of clips come on the screen, all of a sudden Mark Cuban appears to deliver a special birthday message to the singer. "Hey Selena it's Mark Cuban from Shark Tank, and I just want to say happy 27th birthday. Enjoy, hope you have many many more, thank you for watching," Cuban said.
The perfect present
"Oh my god, that was so cool," Gomez says gratefully to the camera, clearly revealing herself to be a Shark Tank fan before her friends direct her attention back to the video which reads. "Shark Tank X Selena Gomez, We're going to the tank in Septemeber." "NO! We are?! OH MY GOSH, I'm so excited," Gomez squeals in delight. Her friends confirm that they will all attend a taping of a show for her birthday while she claps and covers her mouth in disbelief.
Shark Tank X SG 2019
It's so great to see Gomez have such a pure moment of joy. It's been a challenging couple of years for the actress, so it's great that she has a strong support system around her that go out of their way to celebrate her. We're wishing the singer a happy belated birthday, and we hope she enjoys her time at Shark Tank. And hey if we get a Selena Gomez cameo on Shark Tank it'll be a great gift for us too.