Seth Meyers' Net Worth (And How Much He Gets Paid to Host 'Late Night'
Seth Meyers is one of the most successful late-night hosts currently on TV. Most people know him for hosting Late Night With Seth Meyers. But he also worked for Saturday Night Live for 13 years, eventually became the show's head writer. As a writer, actor, comedian, and host, Meyers has met with amazing success — and his net worth proves it.
Ahead, discover Seth Meyers' net worth and find out exactly how much he's making to host Late Night With Seth Meyers.
Seth Meyers' net worth is impressive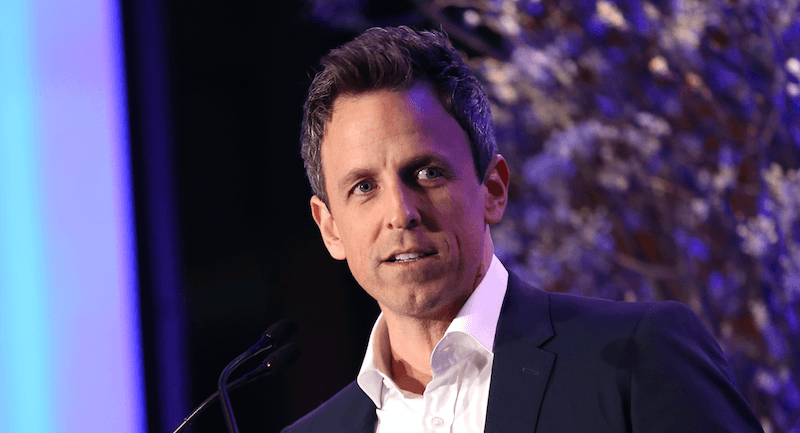 Celebrity Net Worth estimates Seth Meyers' net worth at $12 million, while Coed gives a more conservative estimate of $10 million. Heavy reports that most of Meyers' net worth "comes from his work on Late Night with Seth Meyers, but some forget he was also on Saturday Night Live for 13 years."
Heavy notes that Meyers has spent some of his money on a $7.5 million apartment in New York City's Greenwich Village. He and his wife purchased the apartment in 2016. They live there with their two sons, one of whom was born in the lobby of the building.
He makes millions of dollars each year
Celebrity Net Worth reports that Seth Meyers makes about $3 million each year to host Late Night With Seth Meyers. That means he doesn't come close to being one of the highest-paid late-night hosts. CNBC reports that Jimmy Fallon's annual salary is about $16 million, while Stephen Colbert and Jimmy Kimmel make $15 million, and Conan O'Brien makes $12 million.
As Men's Journal notes, Late Night had previously been "hosted by David Letterman and Conan O'Brien, famously neurotic comics who could be flamboyantly self-lacerating. But Meyers does not perform discontent. He doesn't obsess over ratings or even watch his own show." As the publication reports of Meyers, "Not since the days of Johnny Carson has a late night host maintained such unflappable poise and bemusement. "
Meyers was successful on Saturday Night Live, too
Seth Meyers joined the cast of Saturday Night Live in 2001, according to Celebrity Net Worth. Men's Journal reports that Meyers "spent his first few years there stressed and miserable, struggling to find a place" and trying out some recurring characters.
Meyers felt more comfortable writing, becoming the writing supervisor and then the head writer in 2006. During the 2008 election, he wrote Tina Fey's Sarah Palin impression. He also hosted the "Weekend Update" segment with Amy Poehler." But in 2014, Meyers moved on from SNL, taking over Jimmy Fallon's spot as host of the talk show Late Night on NBC. (At the time, Fallon was taking over Jay Leno's role on The Tonight Show.)
But he thinks Late Night is a step down from SNL
Seth Meyers may be earning accolades (and serious cash) hosting Late Night. But Men's Journal reports, "Talk to Meyers long enough, and you can easily get the impression this is someone who, despite succeeding in one of the most prestigious jobs in comedy, still sees hosting a talk show as a step down from his previous job."
Meyers even admitted, "It will never be more interesting to talk about an episode of Late Night than an episode of SNL." However, as Heavy notes, NBC has extended Meyers' contract through 2021 — so he has at least a couple of years before he re-evaluates whether he wants to continue.
Read more: How Much Money Does David Letterman Have, and What Does He Spend His Money On?
Check out The Cheat Sheet on Facebook!