'Shameless' Season 10: Here's The Latest Scoop
Showtime recently released the details for some of its upcoming shows and confirmed when Shameless will be back. Season nine saw Emmy Rossum depart the family dramedy and its finale included a few surprises.
For a while, fans were wondering what season 10 would hold due to the fact that William H. Macy's status was unclear with the college admissions cheating scandal and several characters seemed to be written off. Now that the hit series is returning with all of its charm, dysfunction, and depravity, what is it that viewers can expect?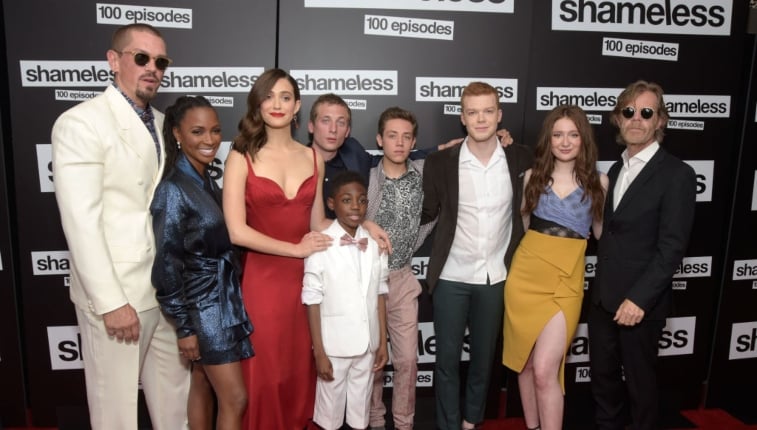 There will be a time jump
By the end of season nine, Ian had been sent to prison for his crimes as "gay Jesus," Fiona hopped on a plane to parts unknown, Liam was exploring his roots, and Debs was surprised with a hefty check from her big sis. Carl was able to go back to military school and Lip was trying to build a new relationship.
Frank, still recovering from his broken leg, was out of commission and back in the family home—on the couch. We could only assume he was cooking up his next 10 schemes.
At the start of season 10, things will have moved forward. According to a Showtime press release, the Gallaghers are a few months past Fiona's exit:
"The tenth season of SHAMELESS picks up six months after last season's finale: Frank (Macy) uses his leg injury to collect as many prescription drugs as possible and his exploits lead him to an old friend. Debbie (Emma Kenney), emboldened by the $50,000 left to her by Fiona, has stepped in as the new matriarch, ruling over the Gallagher household with an iron fist. Lip (Jeremy Allen White) navigates his relationship with a newly affectionate Tami (Kate Miner). Carl (Ethan Cutkosky) has to decide what to do with his life as he finishes military school and heads back to the South side. Liam (Christian Isaiah) is committed to learning more about black history and culture under the tutelage of V (Shanola Hampton) as Kev (Steve Howey) faces an identity crisis."
William H. Macy is coming back
During the Showtime panel at the Television Critics Association press event, entertainment president Gary Levine made it clear that Macy is back for season 10. When asked about the college cheating scandal and Macy's involvement, Deadline reported he had this to say:
"Bill was just really happy to get back to work on Shameless, and we were really happy to have someone of his talent and work ethic and the leader that he is on set. That's what we've focused on."
Macy and the rest of the cast began filming in July and according to Shameless showrunners, the show will to continue to go on as long as there are Gallagher tales to tell.
Fans will see Gallavich and some new faces
Showtime also announced the return of Noel Fisher as Mickey Milkovich and Cameron Monaghan as Ian Gallagher. The show will pick up on their prison romance, but a new character will be giving them trouble. Actress Rachel Dratch will be playing Paula, who, according to Deadline, is a dirty parole officer using her parolees to run an illegal insurance con.
Also joining the cast is Anthony Alabi. Alabi is set to play a successful, standup guy that acts as a role model for Liam as he digs into his racial heritage.
Shameless returns to Showtime on November 3 at 9 pm EST.