Here's What Fans Are Saying About Shane Dawson and Jeffree Star's Project, 'The Beautiful World of Jeffree Star'
Shane Dawson made YouTube history this October. For the first time ever, Shane Dawson is giving fans an inside look into the beauty industry, from the beginning of a concept to the finished product. Here are a few fan reactions to the first episode of the series, entitled "The Beautiful World of Jeffree Star."
This article contains spoilers from The Beautiful World of Jeffree Star!
Shane Dawson premiered the first part of his series 'The Beautiful World of Jeffree Star'
The wait is finally over. After months of teasing a collaboration with Jeffree Star, Shane Dawson finally posted the first video of his YouTube series, entitled "The Beautiful World of Jeffree Star." Within a few hours, the YouTube video jumped to the top trending spot, earning over 7 million views. Fans commended the YouTuber on this new video, some saying it felt like a real movie and not just a vlog on YouTube.
"[I'm] so proud of him and everything he's accomplished. I can't believe I went from watching him do parodies and random vlogs to watching him make actual movies. Wow. Forever proud of you, Shane Dawson. I'm so lucky to have grown up with you as my role model," said one Twitter user.
Shane Dawson and Jeffree Star discussed a lot of their insecurities during this documentary
It's not all fun and games being a "rich" YouTube celebrity. The YouTuber wasn't afraid to be personal about a few topics during the documentary. That includes his fear of flying, which he briefly mentioned during his "$20,000 First Class Airplane Seats" video.
"When Shane Dawson said 'it's like the happier I get in life, the worse my anxiety gets because I don't want it to end. I don't want to die' I felt that… so hard," wrote one Twitter user. Additionally, Shane Dawson mentioned how other YouTubers would comment on his weight. As someone about to enter the beauty industry, Dawson confessed his fear of the beauty community shading him for his physical appearance.
"Shane Dawson shading Onision when he tried to guess Shane's weight was highkey satisfying because everyone knew where that animation came from," said another Twitter user.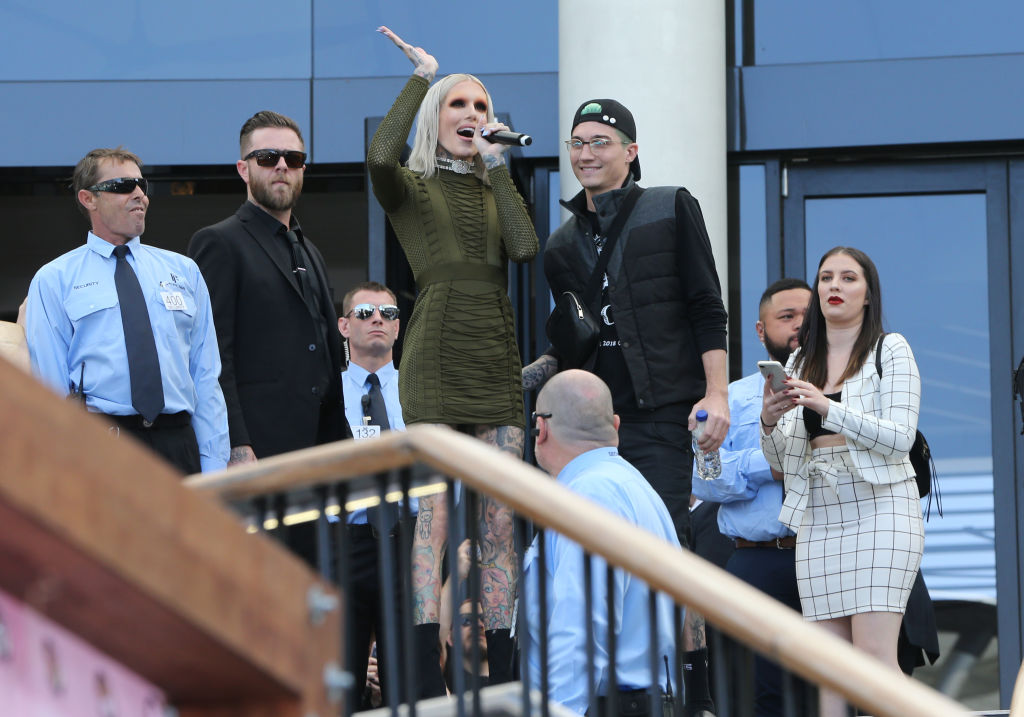 Everyone fell in love with the bodyguard Jeffree Star got for Shane Dawson
Whether Shane Dawson is handing him cotton candy, carrying bottles of root boot, or he's willing to attack someone with his pen, a lot of fans agreed that the YouTuber's bodyguard truly stole the show. Some even took to Twitter, sharing the love for this man who made a brief cameo in Shane Dawson's documentary.
"I think I speak for everyone when I say we all love Shane Dawson's bodyguard," said one Twitter user.
When does the next episode of 'The Beautiful World of Jeffree Star' premiere on YouTube?
Unfortunately, Shane Dawson has not yet announced the date for his next video in the YouTube series. However, thanks to a "post-credits" scene, fans learned that the next episode would dive into the business of the beauty industry. Jeffree Star and Shane Dawson appeared in a clip, figuring out the cost aspect of creating their eyeshadow palette.
They also briefly mentioned the beauty guru James Charles, who suffered a significant blow to his subscriber count following the drama with Tati Westbrook. Will fans learn why Jeffree Star dropped James Charles' clothing line, Sisters Apparel? Viewers have to wait until the next video to learn more.
Until then, fans can watch videos of Jeffree Star and Shane Dawson on their respective YouTube channels.