Shannen Doherty on Life After Breast Cancer: 'I'm Trying to Figure out How to Accept Who I Am Now'
Shannen Doherty, best known for her roles on Beverly Hills, 90210 and Charmed, is figuring out how to deal with life after breast cancer. Ahead, learn how it changed the 47-year-old actress's outlook and body. 
Doherty received her breast cancer diagnosis in March 2015 after which she underwent hormone therapy. When that proved to be insufficient, the actress had a mastectomy and two rounds of chemo and radiation, one after the other, almost like a one-two punch to the cancer cells in Doherty's body. In 2018, she had reconstructive surgery. The treatment worked and she's now in remission but mentally and physically, Doherty is still dealing with the after-effects of breast cancer. 
In an interview with People, she said cancer is something a person is never done with even if they're currently cancer-free. 
"I don't think you're ever on the other side [of cancer]," Doherty told the publication, adding that she thinks about how precious time is often.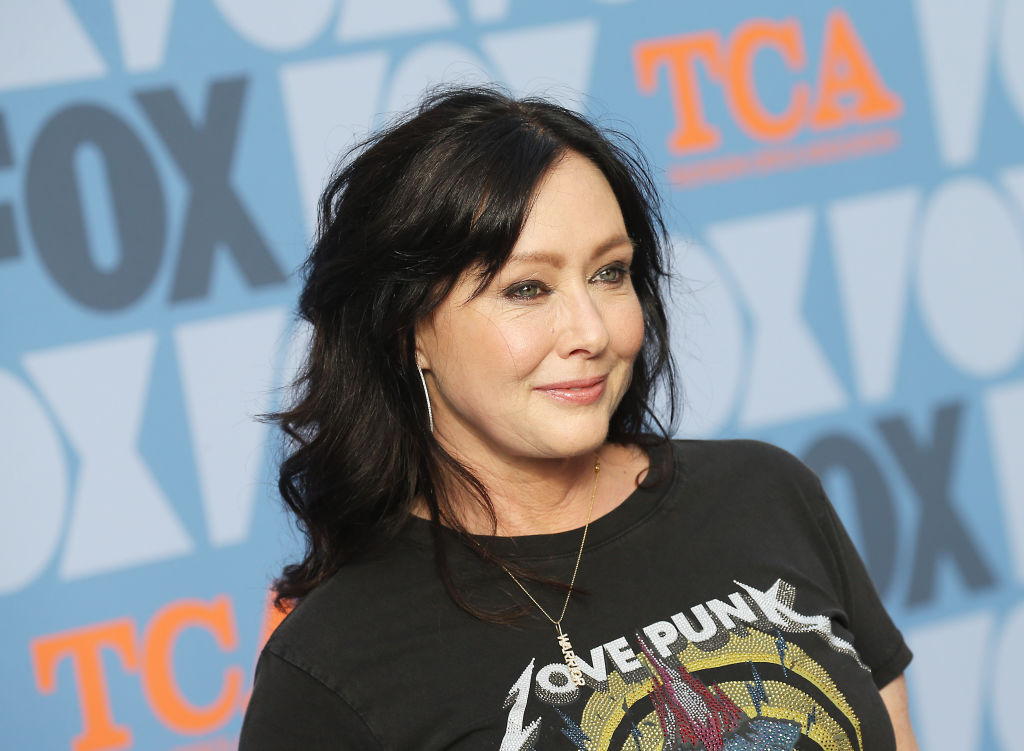 "I don't think about the fact that I'm in remission. I look at it like I'm lucky to be alive every minute, every second of the day," she said. 
Shannen Doherty on her body after breast cancer: 'I'm critical of myself'
The actress revealed her battle with breast cancer continues in certain ways even though she's in remission. Doherty's dealing with changes in her body and mind and trying to get herself to a place of acceptance.
"I'm trying to figure out how to accept who I am now," Doherty said, adding how her body's changed since breast cancer.
"I'm never going to be the size I used to be. Some of my meds that I'm on keep zapping the collagen out of me, so I'm never going to have a wrinkle-free face," she explained.
While she sees differences in her physical appearance, she knows she's been picking out her faults. "I'm critical of myself," she said adding, "But there are some things you can't fight.
She underwent harsh and invasive treatments which by nature change the body but while physical changes are expected, they're still very hard to accept but as Doherty noted she's trying to give herself a break.
She told the publication, in the end, she's trying to treat herself better. "I'm trying to be kinder to myself," Doherty said. "And I try to live each day as an amazing, precious gift that I've been given," she added.
'Your body never fully bounces back'
Doherty said she "really took good care" of herself while she had breast cancer and felt she completed treatment "in as good of condition […] somebody could be in." But even being extremely health conscious couldn't keep her body from some of the effects of chemo and radiation. The actress explained her body will never be the same as a result.
"But the funny thing with cancer is that once you're no longer on chemo or radiation, people think you're fine, that you bounce back," Doherty said. "But what they don't realize is that your body has been through something so incredibly difficult that your body never fully bounces back."
She has firsthand knowledge that her body never completely went back to the way it was previous to cancer. Doherty admitted shooting BH90210 "has taken a toll" on her because she gets "a tunnel vision mentality" when she works and self-care takes a backseat. See Doherty and other Beverly Hills, 90210 cast members in BH90210 Wednesday nights at 8 p.m. EST on Fox.