Shannen Doherty 'Devastated' by Luke Perry's Death: Shares Details of Their Last Meeting
Following the tragic death of actor Luke Perry, a flood of celebrities responded to the news, including his Beverly Hills, 90210 and Riverdale co-stars. Shannen Doherty, who played Brenda on 90210 is heartbroken and speaking out about the loss of her dear friend and former co-star.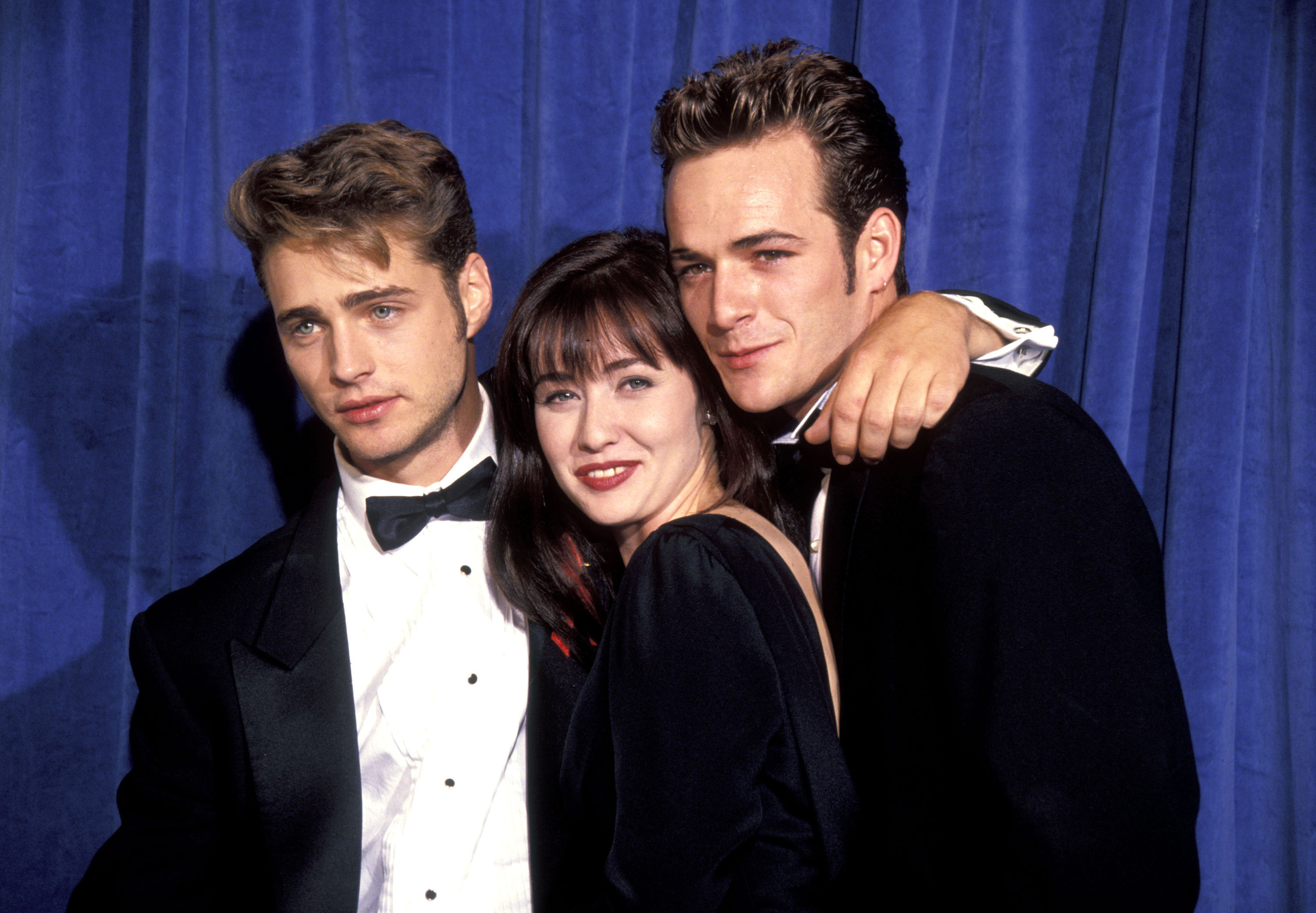 As well as being co-stars, playing on-again/off-again boyfriend and girlfriend Brenda and Dylan on Beverly Hills, 90210, Doherty and Perry's friendship extended beyond the series.
Doherty addresses Perry's passing
When Perry recently suffered a massive stroke, Doherty was asked about Perry's health and would only comment briefly, explaining: "I can't talk about it here, 'cause I will literally start crying but I love him and he knows I love him. I'm in contact. It's Luke, and he's my Dylan."
After his passing, Doherty shared her thoughts with PEOPLE, noting: "I am in shock. Heartbroken. Devastated by the loss of my friend. I have so many memories with Luke that make me smile and that are forever imprinted on my heart and mind."
Perry came back into Doherty's life when she faced health concerns
Though the two would go their separate ways after Beverly Hills, 90210 ended, Perry was there for his former co-star when Doherty shared her breast cancer diagnoses in 2015.
Doherty noted: "Luke was a smart, quiet, humble and complex man with a heart of gold and never-ending well of integrity and love. Luke reached out to me during my cancer journey and we picked right back up, albeit older and wiser, but that connection remained in tact."
Doherty addressed their "special kind of love"
Given their closeness over the years, Doherty explained that they had hoped to work together again, telling PEOPLE: "There is a special kind of love one has for each other when you are experiencing the journey we did on 90210 and of course life in general. Luke and I were working on show ideas for us. We wanted to work with each other again and create something special and meaningful for our fans at this stage in our lives."
She added: "I will miss him everyday. Every minute. Every second."
Perry's love for his family was evident
Doherty further explained how much "Luke loved his family," sharing, "He raved about his kids and how proud he was of them. He showed me videos of them often. They were his heart and for him, his biggest accomplishment."
Perry has two children, son Jack, 21, and daughter Sophie, 18.
Doherty shared a final memory of Perry
In discussing his passing, Doherty also shared the details of the last time she saw him, a warm memory that she will hold on to forever. She told PEOPLE: "A couple of weeks ago in February, Luke and I met up for lunch. He chose the restaurant based on who would allow his dog. I walked in and there he was, smiling, with his dog Penny and her bed under the booth, happy as can be. I will never forget — and will miss — Luke looking at me with that smile of his saying… Shan."
Tori Spelling and Jennie Garth share their sadness over Perry's passing
Perry's other 90210 co-stars, Tori Spelling and Jennie Garth, also released statements to PEOPLE, with Spelling sharing: "I'm in utter shock and heartbroken. I'm saddened for his kids whom he adored beyond words. He was so proud of Jack and Sophie. Luke was one of the kindest and most humble human beings I've ever known. I'm grateful for the years of friendship we had. He truly was family to me, a protector and a brother. I'm so sorry for the loss that everyone is experiencing."
Garth noted in her statement: "My heart is broken. He meant so much to so many. Such a very special person. I share my deep sadness with his family and all who loved him. Such a terrible loss."