'Shark Tank:' A Behind-the-Scenes Look at Season 11
ABC's hit reality show Shark Tank just had its premiere for Season 11, featuring new guest shark Daniel Lubetzky, founder and CEO of snack company Kind LLC. Without giving any spoilers to fans who have yet to watch the season opener on their DVR, the tank recently opened its doors to the media, allowing some behind-the-scenes glimpses at what happens between takes.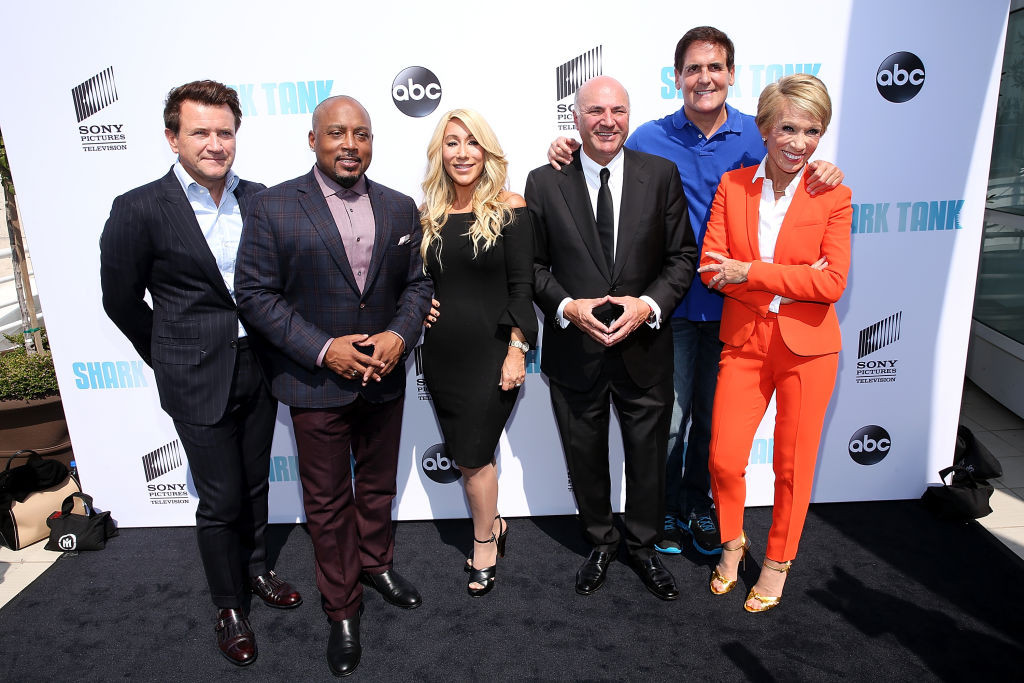 Mid-September taping
While there is rarely a look at any interactions off camera, Shark Tank recently allowed USA Today to check out what goes into a typical taping. Visiting a few weeks ago, the media outlet got to hang out with entrepreneurial bigwigs Mark Cuban, Barbara Corcoran, Kevin O'Leary, Lori Greiner and Daymond John, as well as newcomer Lubetzky.
On this particular Sunday, seven pitches by aspiring entrepreneurs were heard by the sharks, running approximately 45 minutes each, though one only made it to 23 minutes before all the sharks declared the infamous "I'm out" line.
"You never know what's going to walk through the door. Some of the best pitches and deals are the last of the day," said O'Leary, who's also known by the moniker 'Mr. Wonderful.' "That's why the show remains interesting. You just don't know what's going to happen next."
Fun facts
USA Today reports that each potential investor on the panel has an earpiece and a camera on them in closeup position. Ever wonder why they seem to wear the same clothes so much of the time? Turns out they will have on the same outfits on more than one taping day to make it easier to group segments into episodes.
While viewers see only the 5 to 10-minute edited version of pitches, executive producer Yun Lingner told the media outlet that cutting down each entrepreneur's spiel can sometimes take three weeks to package into what airs.
Wannabe company owners know getting a shot on Shark Tank can mean big bucks for their business due to exposure and the concept being validated. "Investors, venture capitalists and entrepreneurs understand the power of Shark Tank to accelerate growth. When a deal gets done, the retailers want it," O'Leary said.
Yet getting to swim in the tank is only for the chosen few. According to USA Today, about 30,000 pitches are looked at each season, with only approximately 150 making it into the tank for June and September tapings. Executive producer Clay Newbill revealed that a mere 88 pitches end up being televised.
Bigger asks in later seasons
The panel of six (including Robert Herjavec) have become famous not just in the business world, but also as reality stars. Despite now having a certain celebrity status, the sharks take their job as investors very seriously. "You have to be concentrating the entire time, listening for information, thinking about what you know about that industry, what you know about competitive companies, what you think about the entrepreneur," Cuban said.
Real estate mogul Corcoran noted the importance of a first impression when contestants walk into the tank. "Every shark, within the first two minutes of meeting that entrepreneur, has already made up their mind," she said.
FUBU founder John reminds aspiring Shark Tank pitchers that they have the advantage of having some intel on the sharks. "We don't know them. They know us," John pointed out. "They know what pushes our buttons and (upsets) us or what they should present to make us go for the deal."
Now into its eleventh season, the sharks can identify some marked changes since the show started. "Most entrepreneurs in Season 1 and 2 were asking for $10,000, $20,000 (and) had a simpler product," Corcoran said. "The minute we brought Mark Cuban, our first billionaire, onto the show, everything changed. We started getting people with giant asks, so now it's more expensive to play this game."
John also commented on how the show's audience has become more well-versed in all things finance. "Eleven seasons ago, it wasn't the common vernacular of royalties, callbacks, bridge loans, margins and things of that nature. Our audience has grown way more sophisticated and educated," John said.
O'Leary noted that this stretches to the younger viewers as well. "I had a 9-year-old girl say, 'You should have done a convertible debenture last night.' Remarkable," he said.
With the show's success and the 'Sensational Six' now familiar with each other's dealing style, Greiner shared that they have no problem tangling with each other over a investment they want in on. "I don't think any one of us stops to think twice about interrupting each other or arguing," Greiner said with a laugh. "It's all real, but when we walk away, we're like a family."
ABC's Shark Tank airs on Friday nights!