'Sharknado 2: The Second One' Devours the Competition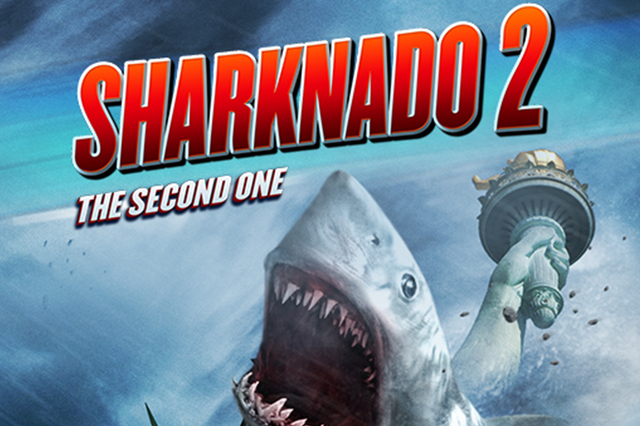 Sharknado 2: The Second One premiered on SyFy this past Wednesday and promptly went about setting new records for the TV network. With 3.9 million viewers tuning in to check out the second installment of the campy creature-feature, Sharknado 2 became SyFy's most-watched original movie ever, easily besting the numbers of the previous entry Sharknado.
The Sharknado series is produced by the small film studio and distributor The Asylum, which focuses on low-budget, direct-to-video productions that usually play off similarly titled and plotted Hollywood films. In the second installment of the Sharknado series, Fin Shepard (Ian Ziering) and his wife April Wexler (Tara Reid) are on a flight to New York City when another freak storm sends sharks airborne and into the streets of a flooded Manhattan. Joining Ziering and Reid in Sharknado 2 are Vivica A. Fox, Kari Wuhrer, Kelly Osbourne, Judah Friedlander, and a host of ridiculous celebrity cameos. 
When Sharknado premiered last July, the initial airing was watched by 1.37 million viewers — slightly below the average for SyFy original films — but the film became a viral hit through Twitter and other social media platforms, leading to an encore airing that was watched by 1.87 million viewers. By the time the film was aired for a third time, 2.1 million viewers had tuned in breaking the record for most-watched original SyFy film encore, and it was later screened in theaters for limited engagements.
But those numbers are obviously nothing compared to Sharknado 2, with numbers that defied questions as to whether the novelty of the series had run its course. The film averaged about 1.6 million viewers in the 18-49 age range — almost triple the original film's — and managed to outpace huge broadcast shows like Extant, Motive, and So You Think You Can Dance.
Sharknado 2 also continued its domination of the social media landscape. According to Nielson's Twitter TV ratings, the film generated 581,000 related tweets from 188,000 unique authors eclipsing the 318,000 tweets by 112,000 unique authors overseen by last summer's Sharknado. SyFy additionally boasted that the film was the most popular film ever on social media with one billion impressions via Twitter conversations, although Nielson's Twitter TV ratings seem to suggest 67.2 million impressions — still a sizable number that blew away the Twitter impact of every other show on the night of its premiere.
Sharknado 2 is set for encore airings on Saturday, August 2 at 7 p.m. ET and then on Sunday, August 3 at 9 p.m. ET. It will be interesting to see whether Sharknado 2 oversees a similar pattern of growing stronger through encore viewings like the original or if it will show the opposite trend of starting strong and tailing off. Even if it is the latter, don't worry about the Sharknado series ending any time soon; a third Sharknado is already being prepped, likely for next summer.
Here are some of Sharknado 2′s best celebrity Tweets:
It's all very funny live tweeting Sharknado 2 but what if there is an actual Sharknado during the movie. People will think its a joke!

— Simon Pegg (@simonpegg) July 31, 2014
When you get caught between a sharknado and New York City, the best that you can do is fall in love. #Sharknado2

— Wil Wheaton (@wilw) July 31, 2014
OMG #Sharknado2TheSecondOne There are just no words..not even SIGNS. LOL — Marlee Matlin (@MarleeMatlin) July 31, 2014
He's no Lucas Duda but Richard Kind raises the apple at #CitiField in #Sharknado2TheSecondOne. @SharknadoSyfy http://t.co/27MHfvMkyF — New York Mets (@Mets) July 31, 2014
Sharknado 2: The Death of All Shame

— Andy Richter (@AndyRichter) July 31, 2014
More From Entertainment Cheat Sheet: