Shawn Mendes Describes A Typical Day With Camila Cabello and It Includes This Disney Movie
As if Shawn Mendes and Camila Cabello haven't already won "Cutest Couple," Mendes opened up about what it's like to date the former Fifth Harmony singer. You'd think their time together involves more red carpets and stages than not, but they're actually a lot more "normal" than you might assume.
Shawn Mendes and Camila Cabello hinted at their relationship long before "Señorita"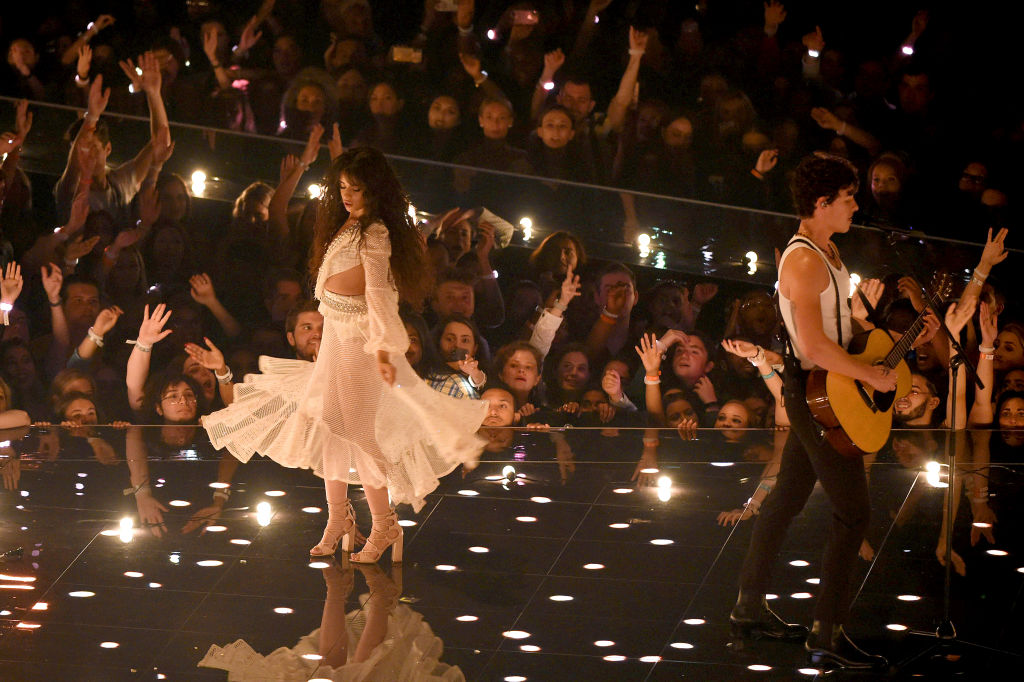 Mendes and Cabello may have been friends since 2014, but they made their relationship public official while performing at the MTV Vido Music Awards in August. Their performance sent fans into a tizzy when the couple nearly locked lips (but didn't).
However, both hinted at their romance long before their second collaboration for "Señorita." Both Mendes and Cabello have remained private about their romance while showing major PDA and social media accolades throughout the years.
In an interview with Elle, Cabello said," Honestly, this past year and a half was the first time I really experienced falling in love with another person. I think there is so much more depth to love when you know you are in it with another person. You have so much more to say — I think that's what makes me emotional."
She continued: "Love is the most sacred, precious thing to me. I want to always feel like my love is between me and that person, and never belonging to anyone else."
She admitted, however, she can't share everything from her personal life. "As much as I love my fans and as much as I love people, I like to live my life as normally as possible. In a relationship, it makes me feel uncomfortable to invite everyone in on that," she said.
In that same interview, Cabello admitted it took around eight months to nail down a decision to do a song with Mendes.
"I love him with all my heart and always have. We've known each other for a really long time…"
Ahead of New York's Fashion Week, Cabello came clean to E! News saying, "We've always been there for each other. I think we drifted because we weren't hanging out as much. It was fun to be able to reconnect and hang out again."
Likewise, Mendes has been on the same page since the beginning. During a recent Q&A, a fan asked if Mendes is in love. His response was respectable.
"Honestly, I wanna say I wanna talk to you guys about this stuff, but it's not just me in the relationship. There's another person involved, and I can't say things that I feel. It's not just me deciding, you know?"
To sum up, "Señorita" brought the two together and yes, we are all swooning.
What is a typical day for Shawn Mendes and Camila Cabello?
During the same Q&A, Mendes shared what a typical date with Cabello looks like.
"Camila and I will basically wake up and find the nearest coffee we can find," Mendes said. "She'll have, basically, half a coffee and I'll have, like, three. We're always in different countries and cities when we hang out with each other."
He continued: "Probably find some food, then an hour later we'd be like, 'Are you hungry?' and we'll eat again," he continued, with fans giggling and going, aww. "Probably watch a movie, Tangled. She loves Tangled."
Another fan asked what he and Cabello spend their time talking about.
"I don't know," he said. "Camila is so good at coming up with random topics. One time we were having dinner and she pulled out this phone and a list on this phone was like, 'What would you do if it was the last day on earth?!'"
Will Shawn Mendes and Camila Cabello's relationship last?
Based on how long Mendes and Cabello have known each other, how long they kept their romance private, and how ridiculously adorable the couple is, we hope they do last. If it's not in the cards, we only hope there's a collaborative song about it.