Should Beyoncé and Jay-Z Keep Bringing Blue Ivy to Red Carpet Events?
America does not have a royal family, but if it did, Jay-Z and Beyonce would be it. They are the king and queen of the music industry, and at this point, they are probably ready to rule the world. And, we're guessing they might be good at.
If we were to take a look behind the curtain of their family, we might find that they are not actually in charge. In fact, it looks like the person in charge of the Knowles-Carter family is actually Blue Ivy, here's why.
At only 7-years-old, Blue Ivy Carter is already running the show. When she was only two days old, her dad, Jay-Z featured her on the song Glory, making her the youngest person ever to chart the Billboard. And, because her famous parents continue to collaborate with her, the record label has to pay her.
That might be part of the reason Jay-Z and Beyonce like to take her to red carpet events, but should they? Does she even have a bedtime?
What is the downside of taking Blue Ivy on the red carpet?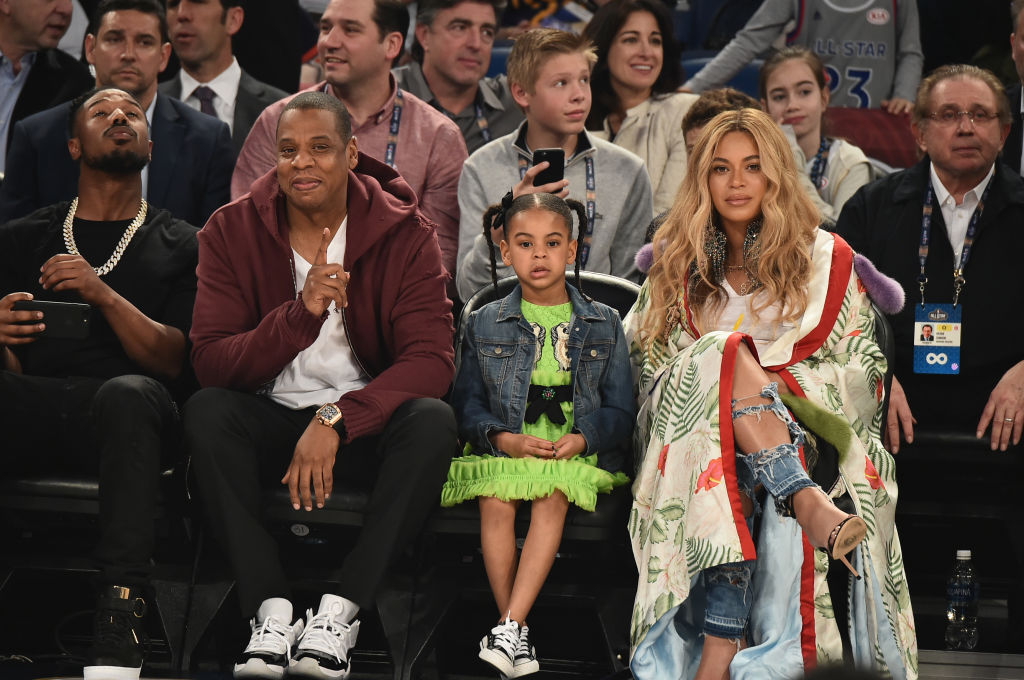 The first major downside to taking Blue Ivy on the red carpet is that she is likely going to steal all the attention. If you haven't seen this kid's style and attitude yet, you're missing out. But, don't worry, you are likely to see more of her in the future.
Another problem might be that exposing her to mature content could create confusion. She is still growing, and sometimes music and movie award shows can go beyond family-friendly.
Then again, something tells us this little girl can handle it. Besides, it's not like they are taking her to the after parties.
It is also possible that by bringing Blue Ivy on the red carpet, Jay-Z and Beyonce might be inadvertently ruining her for real life. The bar is going to be set so high, that when she goes to the movies with average people, she won't understand why no one is taking her picture. Nevermind, they probably just buy out the entire movie theater for the day.
Do any other celebrities bring their kids on the red carpet?
Blue Ivy is not the first celebrity kid to hit the red carpet. A-listers like Will Smith, Reese Witherspoon, Angelina Jolie, and Jamie Foxx have all brought their children to big events.
Usually, they choose kid-friendly events, like the premiere of an animated film. As the kids start to get older, we see their famous parents bringing them along, especially when they are trying to get in the business.
Remember back before Kate Hudson was famous she used to go to award shows with her parents Goldie Hawn and Kurt Russell. This might be the reason for Blue Ivy gracing us with her presence. She is probably going to be bigger than her mother one day, and she already has an IMDb page, with credits.
Should Beyonce and Jay-Z keep bringing Blue Ivy to red carpet events?
If Beyonce and Jay-Z weren't uber famous artists, and instead they owned a family restaurant, we probably wouldn't question whether or not they should bring Blue Ivy.
Obviously, it's not that simple, but in this case, Jay-Z and Beyonce are just bringing their daughter to work. They are incredibly busy and talented people. They, like most working parents, want to spend more time with their kids. Bringing Blue Ivy to these events, give them more time for bonding.
Blue Ivy might be in a really unique situation, but it looks to us like her parents are trying to make the best of it. And, yeah we do think Blue Ivy is going to be a big hit some day, especially if she has both her parent's game and gifts.