Should Farrah Abraham's Daughter Really Have an Instagram Account So Young?
Farrah Abraham is a figure that many people cannot stop paying attention to. The 27-year-old television star became known after appearing on various MTV shows and today she has garnered millions of followers on social media. Her fame has not been well-received, however, as much of Abraham's headlines come from her many questionable antics.
In the past few years, her ten-year-old daughter Sophia has also been brought into the spotlight when the young girl is seen on social media and inappropriate content was posted on her account. This leads many followers to wonder whether it is a good idea or not for Farrah Abraham to let her daughter on the internet at such a young age.
Farrah Abraham had a controversial rise to fame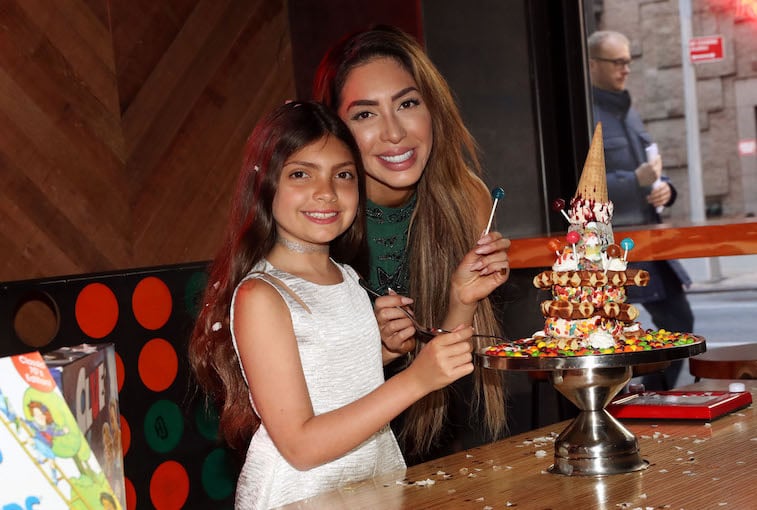 Farrah Abraham became a sensation about ten years ago when she first appeared on the MTV show 16 and Pregnant and, subsequently, Teen Mom. She was mainly known for having a big personality on camera and getting into many fights with other girls as well as her own mother. Her reality television career continued with stints on shows such as Couples Therapy and Celebrity Big Brother.
In 2013 and 2014, Abraham made headlines with the release of pornographic videos that she starred in alongside adult star James Deen, which many saw as an opportunistic move to increase her fame and notoriety.
Additionally, the 27-year-old has also released a book, recorded an album, launched a line of pasta sauces, and owned a yogurt shop.
She has faced much backlash for her parenting style
Since the beginning, critics have not been a fan of how Farrah Abraham handled her parental duties with daughter Sophia. In 2013, for example, when Abraham revealed that she was taking a break from four-year-old Sophia because her daughter "has her own life and is doing her own thing, and I'm doing mine," it did not sit well with many folks on the internet.
Farrah Abraham continued to shock the world even more when she told TMZ once that she and Sophia have naked pictures of each other on their phones.
Not only that, but onlookers have also found issues with the way Abraham is raising Sophia to constantly be in the spotlight. The ten-year-old is often seen wearing make-up like an adult and reportedly can only put on outfits that her mother picked out. Sophia is also not allowed to have friends who aren't celebrities.
Her daughter being on social media has been met with criticisms
In addition to all this, the fact that Farrah Abraham's daughter has her own accounts on social media websites and can possibly roam the internet freely, does not sit well with people who are worried about the little girl's controversial upbringing.
Sophia once had a Snapchat account and was reportedly talking to strangers. Yet, Farrah Abraham did not seem to worry much, claiming that she was always present when her daughter was doing such activities. Nevertheless, Snapchat deactivated the young girl's account since users of the app are required to be at least thirteen years old.
Sophia still has an Instagram, however, and Farrah Abraham had made headlines several times for certain things that have been posted on there. Followers once found it off-putting that there were photos of Farrah Abraham showing off her body on her daughter's page. And on Valentine's Day in 2018, Sophia was seen in a video lip-syncing to "Fetish" by Selena Gomez, which many thought was not an age-appropriate thing for a young girl to be doing.
Farrah Abraham has said many times before that she manages her daughter's page. Nevertheless, some have questioned whether Farrah Abraham exerting her influence on Sophia is actually a good idea considering the fact that back in 2013 a post on Sophia's Twitter page had a link to Farrah Abraham's pornographic video.
While Debra Danielsen, Farrah Abraham's estranged mother, does not believe that her daughter is a bad role model for the young girl, she has also expressed concerns about Sophia being on social media, saying that it worries her to see that "adult men are making inappropriate remarks to Sophia."